Jason Reitman's 'Breaking Bad' Live Read Featured Sharp Writing And Deleted Scenes From The Pilot Episode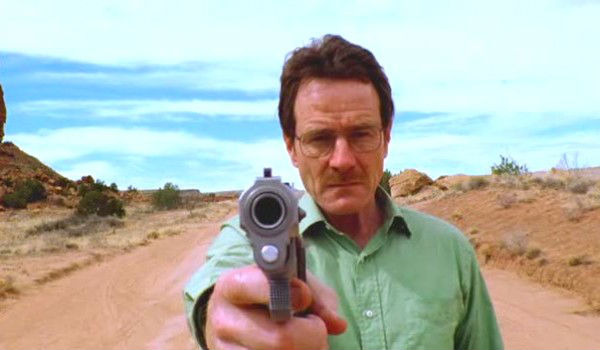 "If you're a writer tonight, you might want to hide your knives," said Jason Reitman at Tuesday night's special summer live read. "This script is so good you'll never want to write again. You f***er, Vince."
The script Reitman was referring to, the script that could get the writer/director to come back and do a live read in July when he's not scheduled to come back until October, was the pilot of AMC's Breaking Bad. The "Vince" is creator Vince Gilligan. And as fantastic the first episode of Breaking Bad is to watch, to hear it read reveals another level of brilliance. If you were to travel back in time, sit down with Gilligan in 2007 and ask him to describe what happens in the show over a few beers, that's what his writing sounds like. It's perfectly, brilliantly descriptive with a language that's filled with vulgarity and humor. It has a conversational, culturally current tone that pops off the page.
The latest live read at the Los Angeles Country Museum of Art, presented by Film Independent, revealed not only this fantastic writing, but some fun interpretations by great actors, appearances by the original actors, deleted scenes and more. Read about it below.
The night began with Reitman coming out and acknowledging that while most of the time they scripts they do are so old, the people in them are dead, this time most of the cast was in attendance. Sitting just a few rows in front of me were writer/creator Vince Gilligan as well as stars Bryan Cranston, Aaron Paul, RJ Mitte and Anna Gunn. Each would be portrayed by someone different here tonight. Before the cast was announced though, Reitman thanked them all for "the fly, the pool, the plane, the train, the flower, bacon and the bell. Ding."
Here was Tuesday's cast:
Rainn Wilson as Walter White, originated by Bryan Cranston
Mae Whitman as Jesse Pinkman, originated by Aaron Paul
Annie Mumolo as Skyler White, originated by Anna Gunn
Chi McBride as Hank Schrader, originated by Dean Morris
Ellie Kemper as Marie Schrader, originated by Betsy Brandt
Paul Rust as Walter White Jr., originated by RJ Mitte
I'm going to break this up into three sections. The first one is dedicated to some of Gilligan's more awesome nuances in the script and things you wouldn't think are part of the script, but are.
In the first scene, Walter is simply referred to as "Underpants Man" until he picks up the video camera. Everything you've seen in the pilot is scripted, down to the pleat and color of Walt's falling pants.
To describe the White home, Gilligan says "Weekend trips to Home Depot keep it tidy."
Walt gets on some contraption in the house, which is described as "just 3 easy payments of $9.95."
The Pontiac Aztec is part of the script. He describes it as "Walt's shitball Aztec."
The script specifies when Walt should cough.
The eyebrows of the Car Wash owner are in the script.
After Hank and his friends arrive at Walt's party (see deleted scene below) Gilligan says "this is 10 times the party it was before the Feds arrived."
While Skyler grabs Walt's penis for his birthday (another deleted scene below) Gilligan describes it as "There's no joy in boner town."
When Walt finally realizes the depth of his situation, the realization is "He's gonna fucking die."
The montage of Walt and Jesse cooking for the first time is accompanied by a paragraph that reads something like this. "For those of us who grew up with The A-Team, this is the scene in The A-Team where they build a plane or something out of spare parts. Same tone, same type of music, only our team is making highly illegal drugs." That's a paraphrase, but you get how awesome it is.
In the last scene, where Walt has sex with Skyler, Skyler asks "Is that you?" and the script, not Walt, answers "Damn right it is" before describing his penis as "The Mighty Oak.
The second section is dedicated to scenes that were in the pilot but got deleted, altered or condensed.
When Walt first waxes someone's tires, it's the annoying kid from his Chemistry class who dragged his stool across the room. His girlfriend jokes about their teacher working there on her cell phone.
Hank shows up to Walt's surprise party late with wine, a keg and a bunch of friends.
Skyler gives Walt a handjob for his birthday, but keeps getting distracted by her eBay auction.
After passing out at the Car Wash, there's a scene in the ambulance where Walt assures the EMT's he's fine and should be dropped off on a corner. They ask him, "Are you a smoker?" Which he is not. An early tease at the cancer.
A key scene between Marie and Skyler takes place as Skyler is shipping a bunch of eBay auctions.
When Walt first shows up to Jesse's house with materials to cook, he brings one box of sinus meds for the Pseudo. Jesse jokes that it's not enough and Walt surmises they can just talk into Wal-Mart every day and buy one. This becomes an issue a few episodes down the road.
Finally, I'll talk a bit about the performances.
From the opening monologue, Rainn Wilson made Walter White his own. Scared, stoic, but always with an air of levity. It wasn't radically different from what Bryan Cranston has done for five seasons, but it was just different enough to make it exciting and unique.
Jesse Pinkman doesn't have a whole lot to do in the pilot episode of Breaking Bad so, when he did, Mae Whitman made it count. She put the hood up on her sweatshirt, folded her arms to help make her sound tougher, but had no problem gesticulating wildly as she delivered Jesse's unique vocal stylings. Whitman would frequently touch her co-stars as she got increasingly amped up. It was a delight to see her get so into it.
As Skyler, Annie Mumolo was suitably lovable but also annoying. Out of everyone, she probably took the performance most literally, and it worked. Skyler doesn't really develop much in this episode.
Playing Hank Schrader, Chi McBride was probably even more boisterous and obnoxious than Hank is in the pilot episode. He rattled off the off-color dialogue like it was totally natural and got nothing but laughs from the audience.
Hank's wife, Marie, only has a few scenes in the pilot but Ellie Kemper was so good, it felt like it was Betsy Brandt on the stage and not her. She didn't copy her per se, but channeled Brandt's mix of superiority and humor. Kemper also provided the voice of the ill-fated partner of Jesse Emilio, which was hilarious.
Playing Walt Jr., a struggling, strong young boy with cerebral palsy is certainly a challenge, but Paul Rust was up to the task. He put on a bit of a slower, garbled voice to get into character (because, of course, he was sitting down and not walking) but what could have easily been played as funny, was played as sad. Which is exactly right.
As the reading came to an end, the first two people to jump out of their seats and give a standing ovation were Bryan Cranston and Aaron Paul. It was a fitting ending to yet another fantastic evening. Thanks to LACMA and Film Independent for making it happen. Reitman's series starts again in late October.