Nine High-Res Images From 'The Amazing Spider-Man 2'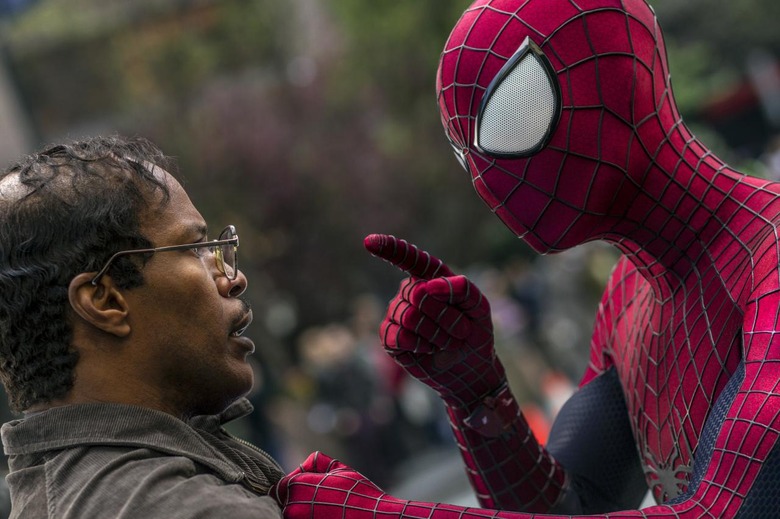 Unless you were lucky enough to attend Comic-Con this past weekend, you've still got a ways to wait for the first glimpse at some real footage from The Amazing Spider-Man 2. But until that comes, we have nine high-res pics to offer a closer look at the comic book sequel.
Spider-Man (Andrew Garfield) features prominently in them, of course, along with Electro (Jamie Foxx), Rhino (Paul Giamatti), Harry Osborn (Dane DeHaan), Gwen Stacy (Emma Stone), and more. Still no pics of Felicia Hardy or whomever Sarah Gadon is playing, but maybe those'll come in the next set. Hit the jump to check 'em out.
[via
]
These pics aren't likely to discourage comparisons between Electro and Mr. Freeze. Hopefully the first trailer, whenever it comes out, will do more to change that. The character work in the first Amazing Spider-Man was pretty good, even if the rest of the movie was kind of iffy, so I'm staying optimistic.
The Amazing Spider-Man 2 lands in theaters May 2. If you had better things to do than read /Film all weekend (how dare you!), you can go back and read our write-ups of the Comic-Con panel 
and
, and see Garfield interviewed in costume as Spidey
.
For Peter Parker, life is busy – between taking out the bad guys as Spider-Man and spending time with the person he loves, Gwen (Emma Stone), high school graduation can't come quickly enough. Peter hasn't forgotten about the promise he made to Gwen's father to protect her by staying away – but that's a promise he just can't keep. Things will change for Peter when a new villain, Electro (Jamie Foxx), emerges, an old friend, Harry Osborn (Dane DeHaan), returns, and Peter uncovers new clues about his past.