Sacha Baron Cohen Won't Be Freddie Mercury In Queen Biopic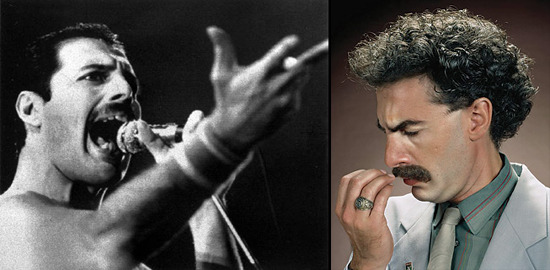 Your reaction to this story will be directly related to how you feel about comedian/actor Sacha Baron Cohen, who for a couple years has been attached to play late Queen singer Freddie Mercury in a film about the band. Deadline reports that Cohen has pulled out of the pic because he can't come to an agreement with the surviving members of Queen (who are also producing) about the tone of the film.
They reportedly want a PG movie about the band, while Cohen is said to have been hoping for "a gritty R-rated tell-all" story that would chronicle both the band and Mercury's private life. (The singer was gay, and died of complications from AIDS in 1991.)
The film has been in the works for a while, with Queen guitarist Brian May saying late last year that the film would shoot this past spring for a 2014 release. That shoot obviously didn't happen, and we don't know the status of the film at this point. Deadline reports that the hiring of Peter Morgan to script was based on Cohen's effort, not the band's, and the conversations with big-name directors were also on Cohen's initiative. At this point, no one has been announced to direct.