The Top 11 Coolest Things To Happen At Comic Con 2013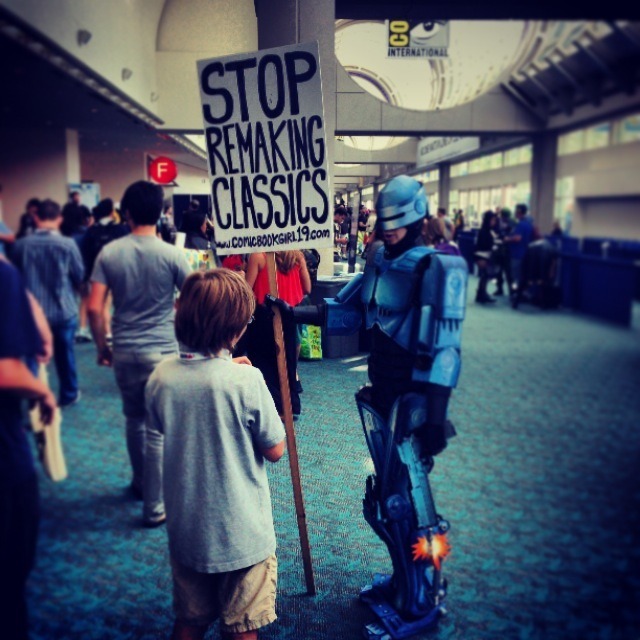 I'm exhausted. San Diego Comic-Con International 2013 is over, and boy did Saturday in Hall H deliver the goods. If you weren't in San Diego, unable to make it into Hall H (those lines got insane) or just weren't around for our coverage over the weekend or late last week — I've got you covered. After the jump you'll find a round up of everything you missed, and most importantly, the ten coolest things to come out of the convention. This is your one-stop shop for everything. Looking for a photo, a recap, a video, a trailer – we have it all. Relive the best of Comic Con from your home.
The big new trend this year at Comic Con is big actors reprising their iconic roles on the Hall H stage. We begin with those moments: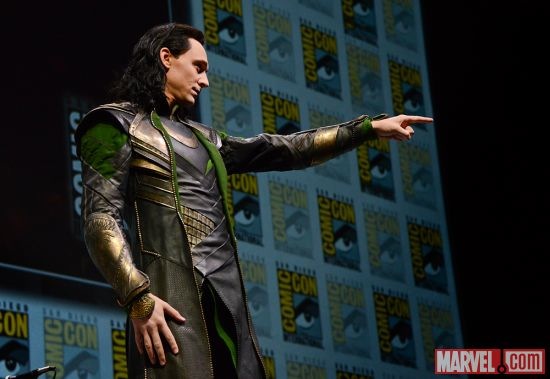 The lights went out during the Marvel panel and Tom Hiddleston appeared on the stage at Hall H dressed in full character as Loki. The resulting verbal tirade was awesome. Watch it here.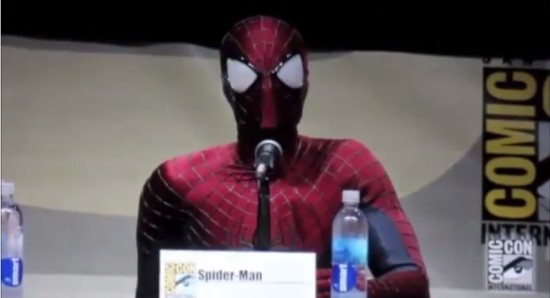 Andrew Garfield showed up to The Amazing Spider-Man 2 panel dressed and in character as Spider-Man. You can read about it and hear our reaction to the exclusive footage screened, or just watch video from the stunt here. Sony also released a teaser trailer giving us our first official video look at Jamie Fox as Electro – You can also watch that here.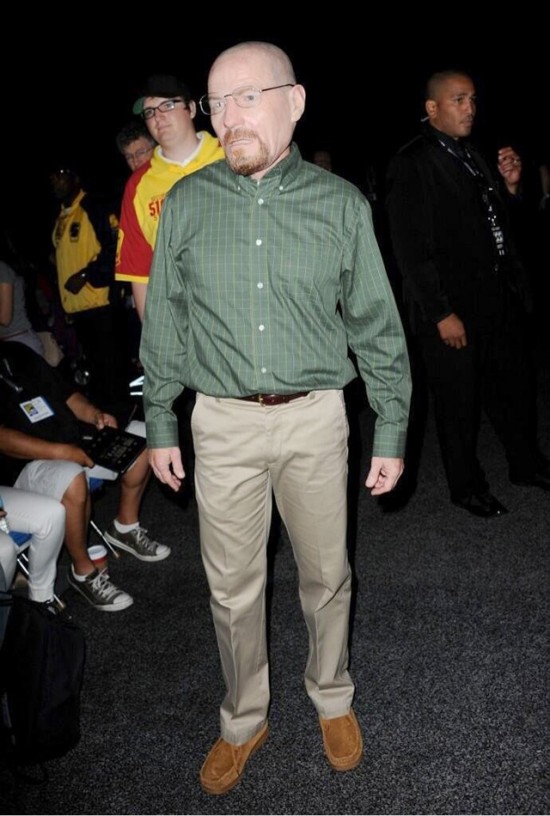 Comic Con is too large of an event for celebrities to actually walk the show floor, but that doesn't stop some of them from trying. This year, Breaking Bad star Bryan Cranston, Doctor Who's eleventh doctor Matt Smith and The Wolverine star Hugh Jackman are among the actors we know who donned a disguise and walked the show floor this year. See how they did it here.
And Comic Con this year had some big movie announcements from Warner Bros/DC Comics and Marvel:

Zack Snyder announced that he will direct a Superman/Batman Movie Inspired by Frank Miller's 'The Dark Knight Returns'. No title was announced, and no actors were mentioned, although it was confirmed in the press release that the film would introduce a new version of Batman. Snyder did say that this is effectively the sequel to Man of Steel, and a press release confirms Henry Cavill as Superman as well as the returns of Laurence Fishburne, Amy Adams, and Diane Lane. Watch this epic announcement here.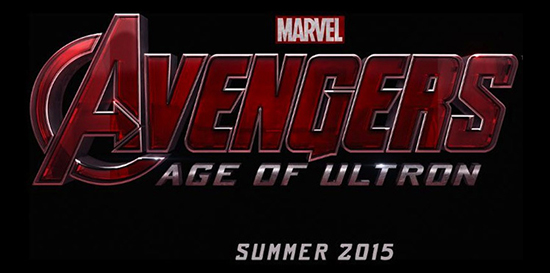 At the tail end of the Marvel Studios panel, Kevin Feige pulled a Steve Jobs and delivered a "One More Thing" brining our Joss Whedon to screen a video teaser trailer which revealed the title of The Avengers sequel — Avengers: Age of Ultron. Read about the teaser and what this means for phase 2 of the Marvel movie universe here and see Whedon talk about how he is changing the comic book origins to fit the new movie storyline.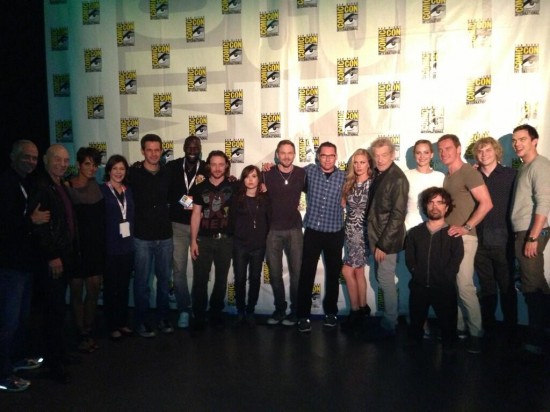 20th Century Fox surprised fans by having director Bryan Singer introduce the entire cast of his 2014 sequel, X-Men: Days of Future Past: Patrick Stewart, Halle Berry, James McAvoy, Ellen Page, Michael Fassbender, Ian McKellen, Jennifer Lawrence and Peter Dinklage sat on a the panel and talked about the footage but now, thanks to the magic of the internet, you can watch the whole thing yourself.

AMC premiered the first scene for the final season premiere of Breaking Bad. Things I had expected we'd be waiting five or six episodes to find out are revealed in this awesome cold opening. Germain Lussier has a description of the scene for those spoiler addicts who can not wait. Germain also compiled a list of the 12 Things We Learned About 'Breaking Bad' At the Comic-Con Panel; Plus a Recap Video And info on the new 'Talking Bad' tv show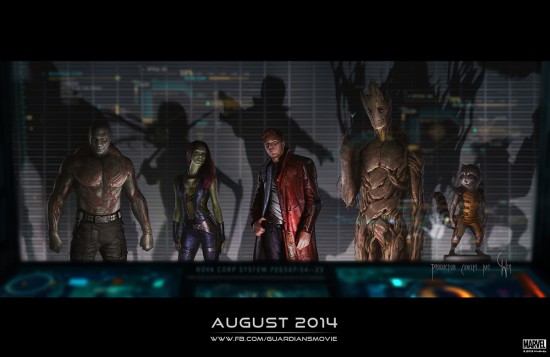 Marvel Studios kicked our ass with footage from Thor: The Dark World, Captain America: The Winter Soldier, Guardians of the Galaxy. You can watch the whole /Film team geek out about the footage in our post panel video blog reaction. You can watch the entire Marvel panel (sans copy-written footage) here. Or if you want to read a recap of the footage presented, Germain has a write-up of Captain America: The Winter Soldier, Angie has a write-up for the batshit crazy Guardians of the Galaxy footage,
Green skies, a barren desert. Close up on a pair of eyes, and a slow pan down to a huge sword. Legendary Entertainment surprised Hall H with a teaser trailer for their World of Warcraft big screen movie Warcraft. Read about the test footage/comic con teaser trailer.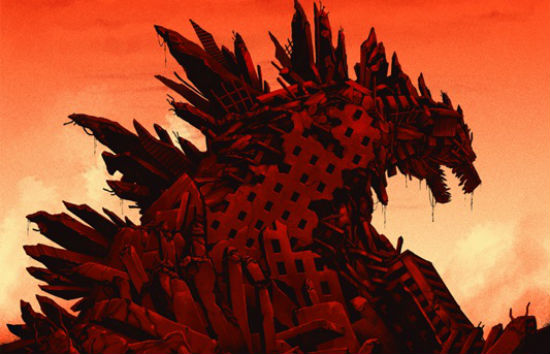 Legendary Entertainment tore up San Diego with a big green monster named Godzilla. At an offsite event, Legendary recreated a Tokyo street inside a warehouse. The "Godzilla Encounter" experience was like a Universal Studios attraction, letting you feel the experience of a Godzilla attack. Watch Peter and Germain recount their adventure seeing Godzilla stomp by them from the 26th floor of an office building. Awesome marketing. At the Saturday morning Warner Bros panel they screened an early Comic Con exclusive teaser trailer which gave us our first real look at footage from the movie. Read about that and our reaction here.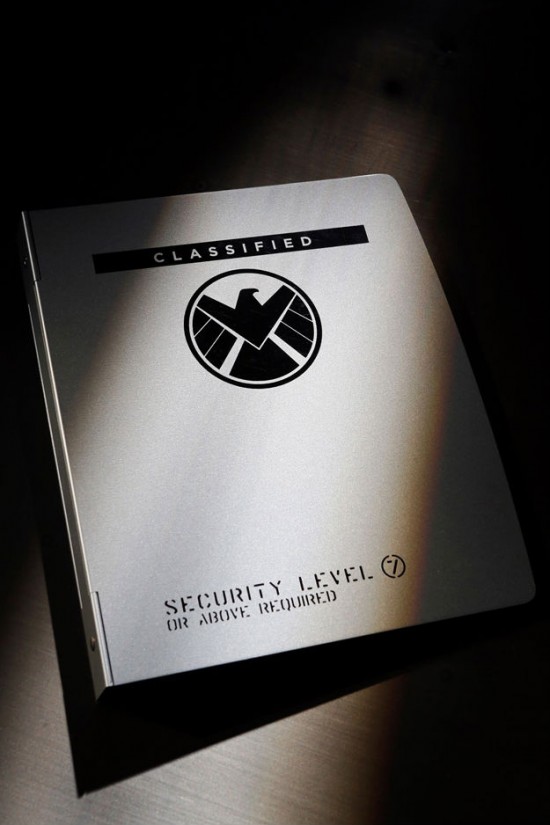 ABC sneak premiered the pilot episode of Marvel's The Agents of S.H.I.E.L.D. You can read my reaction, get some details, and even learn some spoilery bits (if you're into that) as well as watch the panel discussion.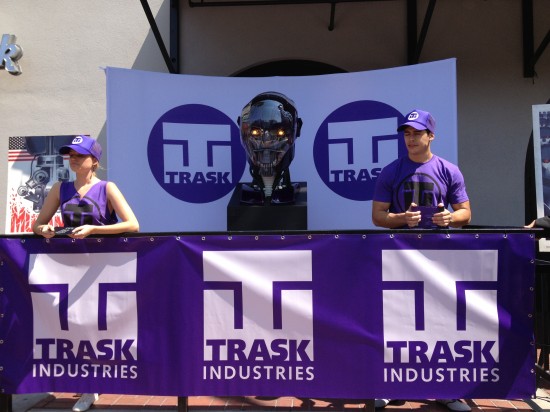 Trask Industries gave us our first look at a Sentinel head from X-Men: Days of Future Past. Flanking it were posters offering a taste of the anti-mutant sentiment that led Trask to design these killing machines in the first place.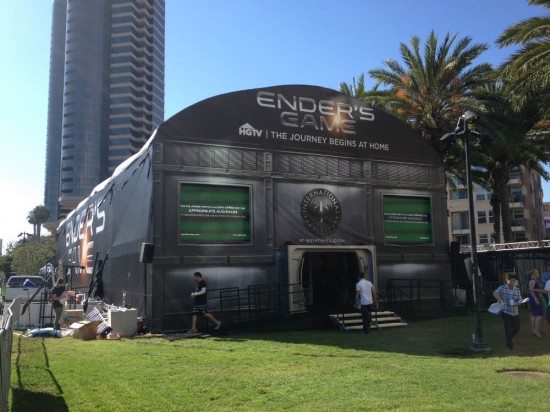 Other announcements and releases at the Con:
The Avengers star Cobie Smulders was announced as the first actress to play Wonder Woman in a big screen movie... in 'The Lego Movie' Also, Green Lantern will be voiced by Jonah Hill.
Lionsgate Films released a new trailer for The Hunger Games: Catching Fire.
Footage from Alfanso Cuaron's 'Gravity' thrilled Comic-Con with intense long takes and Sandra Bullock. Read about the footage and the panel.
The team behind the Veronica Mars movie kickstarted their panel in Hall H and even uploaded the trailer online for all the Marshmallows to watch.
'RoboCop' Panel Recap: OCP Peddles a Killing Machine With a Conscience
'The Walking Dead' Season 4 Premiere Trailer: More Violence, Heightened Stakes and Comic-Con
'Kick-Ass 2? unleashed an Extended Red Band Trailer Plus read our Panel Coverage
Vin Diesel teased Big News on the Marvel Studios Front later and released a new extended red-band trailer for Riddick.
Showtime revealed plans to release Dexter: The Complete Series Will Be Released In a very cool Blood Slide Collector's Set
Shailene Woodley Proved Her Bravery in First Footage From 'Divergent'
The 'Ender's Game' Comic-Con Panel Turned Into the Harrison Ford Comedy Hour
Watch the 'Sherlock' Panel Introduction From Martin Freeman and Benedict Cumberbatch
Angie and Russ give their thoughts on the pilot episode of the JJ Abrams-produced robot cop tv series Almost Human
Check out some Photos from The 'Ender's Game' Fan Experience
Warner Bros showed off costumes from Doug Liman's 'Edge of Tomorrow' on the Comic Con show floor.