James Gunn Confirms Thanos For 'Guardians Of The Galaxy' Says Rocket Raccoon Casting Reveal Coming Soon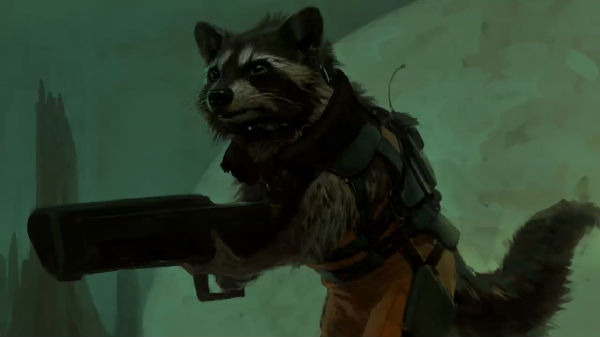 Prior to this past weekend, James Gunn's Guardians of the Galaxy was a big question mark in Marvel's slate. Serious Marvel fans know the characters, but the casting and thin advance word on the movie suggested that what Gunn is cooking up is something pretty different, both from the original comics and from the rest of Marvel's slate. Indeed, the footage premiered on Saturday was strange and funny, and promised a film that is unlike most tentpoles.
But there are still some big unknown aspects of the movie. Most of the Guardians are cast: Chris Pratt (Star Lord), Dave Bautista (Drax) and Zoe Saldana (Gamora) are the three primary team members. But there are two other Guardians who will be realized on screen primarily through CG: the tree-man Groot, and Rocket Raccoon. With everything else proceeding apace on the movie it's easy to surmise that those roles are cast already, but have not been announced.
We also don't know much about the specific direction of the story. But with James Gunn on hand at Comic Con answers to those questions at least started to creep out. Get many more details below.
At the Marvel press conference for Guardians (via Crave), Gunn said that Rocket and Groot actor reveals could happen "tomorrow, next week-ish." And to MTV, he explained the nature of Rocket Raccoon, for those who have no idea how the character fits into this sci-fi/action/comedy affair.
It's not about creating Bugs Bunny in the middle of The Avengers. It's about creating a character that's a little animal that's taken and experimented on, pulled apart and put back together again and implanted with cybernetics. He's half machine and half raccoon and he's a little gnarled, miserable pretty angry creature because there's nothing else like him and that's not easy to be.
As for casting Chris Pratt for Star-Lord, Gunn says he needed someone who could be on screen with Robert Downey, Jr. and be strong enough to go toe-to-toe with him. This also won't be another drawn-out origin story.
It's more a story about how the group came together than seeing how each of the characters... we hear a little bit about where some of the characters came from, we know what their issues are, but we don't see all the little bits and pieces of where the characters came from.
For those of you disappointed that the Avengers sequel will feature Ultron rather than Thanos as the villain, Gunn clarifies that the character has a big role in Guardians, as suggested by Djimon Hounsou on the film's Hall H panel:
We have Thanos. Thanos is the thing connecting us to the rest of the Marvel Universe at this point. And in the future we'll see what happens after this, but for right now, we're connected to the rest of the Marvel Universe because we're resetting the end of The Avengers.
He also told MTV:
We're definitely connected by Thanos. This is the first movie in the Marvel cosmic universe. We're connected to the rest of the [Marvel Cinematic] Universe. How that plays out is gonna be seen as the future comes along.
No word, however on who'll play Thanos. Vin Diesel seems more and more like the likely choice — we might have to wait until D23 for that info, however.
Guardians of the Galaxy opens on August 1, 2014. The cast also includes Michael Rooker, Ophelia Lovibond, Benicio Del Toro, Lee Pace, Karen Gillan, Glenn Close and John C. Reilly.