Tom Cruise And Emily Blunt Battle Aliens And Death In 'Edge Of Tomorrow' Footage [Comic Con 2013]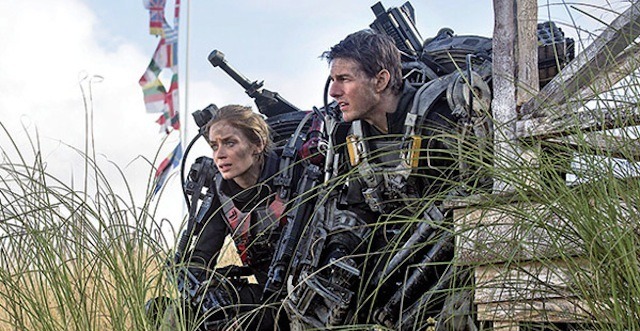 The opening text crawl for Edge of Tomorrow, the new film with Tom Cruise and Emily Blunt, was "Live/Die/Repeat." That's the film in a nutshell — Cruise plays an Army PR guy who is thrown into combat and immediately killed. But that's not his end; for reasons unknown to him, Cruise lives his last day over and over again. In the process he learns how to be a deadly soldier in humanity's fight against aliens, and he also tracks down another mysterious warrior, the woman other soldiers call the Full Metal Bitch, played by Emily Blunt.
At Comic Con today, Tom Cruise was joined on stage by Blunt, director Doug Liman, and writer Christopher McQuarrie. (And they were joined by Bill Paxton, who plays a supporting role.) Cruise charmed the hell out of the crowd, through his interactions with moderator Chris Hardwick and praise for Doug Liman and Emily Blunt. In turn, his co-conspirators praised his intense work ethic, which drove Cruise to run and fight through scenes wearing a suit of armor that weighs over 100lbs.
A brief bit of footage was shown, and we'll run down that and some of the panel info below. 
The footage shows a very scared Cruise going into battle, as battle begins to rage in and around what seemed to be the streets of London. We don't see much of the invading force, and in fact the footage was a slightly jumbled collection of scenes that only begin to get the story across. We see some hint of Cruise's evolution as a soldier, and there's some interesting action there. Rather than presenting a big slick CG extravaganza, this looked more like a film inspired by Neill Blomkamp — the exo-suits and general aesthetic stand out as inspired by Blomkamp's approach, though I wouldn't expect a similar dose of socio-political satire. I'm just not sure how much this reel would tell anyone about the movie itself.
Doug Liman gave a good intro to the story, however : "Just a few years in the future, Tom's character develops a very special power, the ability to repeat a day of life. It just happens to occur on the day when a very critical battle is taking place between human soldiers and an alien invading force."
Cruise explained further: "Bill Cage is in the army, and he's responsible for media relations. He designed the recruiting campaign to bring people into this global conflict. He's having an easy war, and has made his name off this campaign he created. And he ends up, though various mistakes he makes politically, in a combat exo-suit for the first time." And so begins the last day of Cage's life — and the beignning of a seemingly endless time loop.
Liman chimed in again: "Tom's character is an all-out coward. and Tom does an incredible coward. He's brilliant at being afraid."
Cruise emphasized that the movie has some big ideas, action, and a lot of comedy — that last element was really not represented in the footage screened today. There's more of a hint of a romantic angle between Cruise and Blunt's characters. But Bill Paxton, who plays Cruise's platoon sergeant, said, "the movie has a perverse humor to it. I've got an order that says Cruise is a deserter who has been impersonating an officer, and the whole platoon is against him. Watching him getting into the suit for the first time is like something out of a Woody Allen movie."
I liked an early draft of this script quite a lot, but the panel and footage suggested there were some notable changes once Cruise came on. The style Liman used for the film overall wasn't quite what I expected, but the action looks like it might work, and I'm interested to see Cruise's evolution from coward to soldier.
Edge of Tomorrow opens on June 6, 2014.