'Ender's Game' Comic-Con Panel Turns Into Harrison Ford Comedy Hour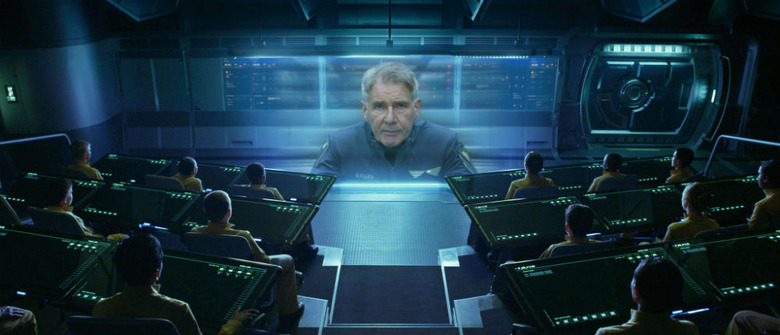 While I'd like to say the highlight of Thursday's San Diego Comic-Con panel for Gavin Hood's Ender's Game was new footage from the film, that would be a falsity. The footage – a new trailer that sells the movie as an epic action extravaganza – was suitably impressive, even if it's not exactly representative of the actual film. The real highlight was the second Comic-Con appearance of iconic actor Harrison Ford.
Ford, who first graced Comic-Con's Hall H to promote Cowboys and Aliens, returned for Ender's Game and good-naturedly rolled with punches thrown at him by moderator Chris Hardwick, writer/director Gavin Hood and fans who asked questions like, "What would Han Solo and Indiana Jones say to each other if they met?" Read more about the panel, and the footage, below.
Let's start with the footage. After seriously geeking out ("I've dreamed about this, this is amazing") about being on the Hall H stage, Hood premiered a brand new trailer. It sells Ender's Game as an epic war movie with huge space battles, and kids at the controls of it all. Which is only kind of true. It seems Summit knows showing a movie where kids float around and learn to be soldiers probably won't sell many tickets, so they're highlighting some of the larger moments of the film. And those moments look really good. Big, bombastic and impressive. We saw Ender controlling his army, using some spoilery weapons and, surprisingly, just two quick shots of the Battle Room. I can't wait to see more of that.
Then the panel began. Hood and Ford joined producer Roberto Orci and stars Asa Butterfield and Hailee Steinfeld. After making fun of Hardwick for stepping on his words, Ford explained what drew him to the project. He said it was the "complexity of the moral issues" as well as the fact the nearly three decade old novel foreshadowed warfare waged from a world away. The reliance on children for their "conceptual freedom" was also a factor. Hood said what drew him to the project were the visuals, but mostly that Ender's Game is not a straightforward story of good and evil. He said great movies need a great story to go along with the special effects.
Orci then addressed the controversy around writer Orson Scott Card, reiterating the statement Lionsgate issued recently and their full support of LGBT rights.
Then the fun began.
A fan stepped up to the mike and starting by saying "Mr. Ford, what would Han Solo and Indiana Jones..." and Chris Hardwick stopped him. "Really, man?" he asked. Before sheepishly adding, "Continue... I want to know, too." "What would Han Solo and Indiana Jones say to each other if they met?" Ford looked noticeably frustrated at the question, which has now almost become his trademark, and he said "Probably 'Hi, how are you?'" Huge laughs.
Next up, a Brazilian gentleman stepped to the mike and he and Hardwick bantered a bit, only to jokingly be interrupted by Ford. "Come on guys," he said. The question then came, "Would Han Solo have been a good soldier for General Graff's army?" We all laughed, knowing Ford was annoyed by the question, but he gave a great answer. "I don't think Han Solo would be a good soldier in anyone's army. He's more, what we call now, an independent contractor."
And like that, the panel was over.
Ender's Game will be out November 1. Check back soon for that aforementioned trailer, when it gets released, and a huge write up on our visit to the set.