Shailene Woodley Proves Her Bravery In First Footage From 'Divergent' [Comic-Con 2013]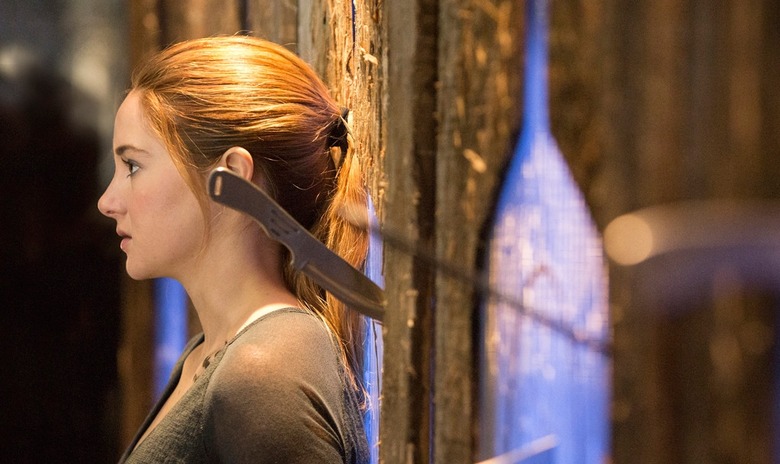 Of the many, many YA properties vying to become the next Hunger Games, Divergent seems to have better odds than most. For one thing, the books by Veronica Roth are already a smash hit; for another, the dystopian premise sets up plenty of opportunities for white-knuckle action. Toss in a strong young cast led by Shailene Woodley, and it's easy to see how Divergent could become the next big thing. Literally, even — the studio announced today that the film will be shown in IMAX when it opens next spring.
During today's panel at Comic-Con, Summit showcased the first footage from the sci-fi thriller, featuring several of the best loved scenes from the books. Additionally, Roth was on hand to hint at what she has in store for the third book, Allegiant, due out this fall. Hit the jump for all the details.
Along with Roth, director Neil Burger and stars Woodley and Theo James were also in attendance. Supporting stars Ansel Elgort, Zoe Kravitz, Ben Lloyd-Hughes, Ben Lamb, Christian Madsen, Amy Newbold, Miles Teller, Mekhi Pfeiffer, and Maggie Q appeared later in the Chris Hardwick-moderated panel as well.
Set roughly a hundred years in the future — Burger noted that he and Roth have differing ideas about the exact timeline — Divergent unfolds in a dystopian version of Chicago. All citizens are expected to pledge allegiance upon turning sixteen to one of five factions, each of which corresponds to a different quality. Woodley stars as Tris, a headstrong teenager who was raised in Abnegation, which values selflessness, but chooses to join Dauntless, which prizes bravery.
The three or so minute reel shown at Comic-Con featured Tris trying to adjust to her new faction after making her big decision. We saw Tris learning to jump on and off a moving train, the way the members of the Dauntless do, and beginning her initiation by leaping several stories down into the Dauntless building.
She's caught by a net, and promptly greeted by the handsome Four (James), her mentor and eventual love interest. The subsequent montage featured Tris training with her peers and flirting with Four, including a big scene in which the two climb a Ferris wheel as part of a training exercise. The most exciting bit, however, came at the very end, when Tris is made to stand in front of a target while Four throws knives around her. One nicks her ear, drawing blood. The two may be destined for romance, but it's clear the road there won't be an easy one.
Burger revealed during the panel that he, Woodley, and James had just wrapped shooting earlier this week, on Tuesday, and were still "processing" the experience. Roth, too, was fresh off of finishing her latest effort: the third book in the series, Allegiant. While she declined to give away any plot details, she was able to reveal that the novel was written from two different, alternating perspectives, Tris' and Four's.
If the happy Hall H crowd is any indication, there are plenty of fans dying to see Roth's Divergent brought to life. Whether that'll translate to Hunger Games-sized ticket sales, though, is another question. Lest Divergent forget that it's only one of several YA novels on the way to the big screen, one of the most memorable moments in the entire panel came courtesy of a different YA adaptation: A fan came up to the mic during the Q&A and mistakenly began inquiring about Summit's other big release, Ender's Game, instead of Divergent. Oops.
Divergent opens March 21. To find out if the Ender's Game fan ever got to ask his question, look out for Germain's post on the second half of the Summit panel.