Sequel Bits: 'Tron 3', 'Expendables 3', 'Boondock Saints 3', 'Veronica Mars'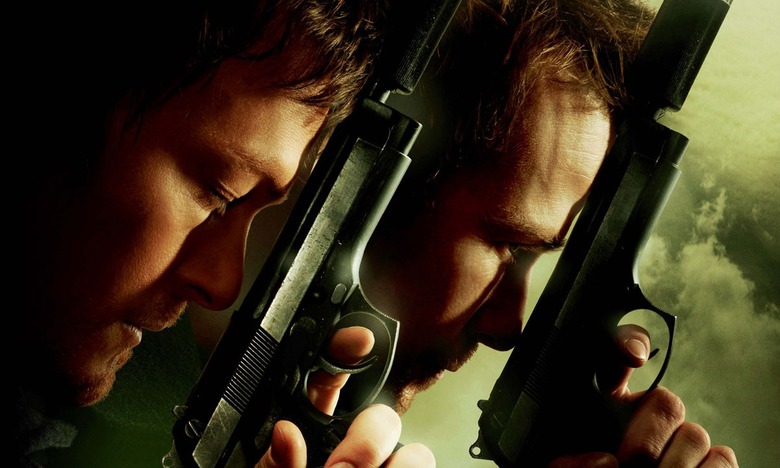 We're sure to have tons of sequel-related news coming up later this week from Comic-Con, but in the meantime we have a bunch of other, non-SDCC news to share with you. After the jump:
Troy Duffy is cooking up more Boondock Saints
Joseph Kosinski offers a minor update on Tron 3
Chinese superstar Han Geng joins Transformers 4
The Veronica Mars movie is getting book sequels
Dumb and Dumber To gets embroiled in a lawsuit
Mel Gibson is in Expendables 3, says Sly Stallone
Watch another trailer for Disney's Cars spinoff Planes
I'm still working on the third film too. I'm trying to find my way through that plot. [...] I'm about halfway done [with] the script. So ya, that's definitely on the front. We're doing a third installment.
Duffy described the new script as "more introspective," adding that he "couldn't be more pleased with how it's turning out." Stars Norman Reedus and Sean Patrick Flanery remain set to return, and Duffy hopes he can get Willem Dafoe back as well.
Meanwhile, for those who prefer their vigilante justice on a smaller screen, Duffy also confirmed that the rumored TV series was "still on the hopper." "I kind of envision a re-birth of The Boondock Saints for a new generation," he explained. "With television you can go so much more in depth and tell a lot more story. I'm excited about it." [We Got This Covered]
Now that Oblivion is done, director Joseph Kosinski's working on two other sci-fi projects that could hit in the near(ish) future: Tron 3 and Disney's The Black Hole remake. In a recent interview, he offered updates on both.
Both projects are being written right now by two really talented writers. Jon Spaihts is writing Black Hole and Jesse Wigutow is writing TRON 3. Both scripts are in progress, I'm really excited about both. The fundamental ideas of both are really interesting. The TRON sequel kind of takes where we left off with 'Legacy,' that idea presented in the last few minutes of the film and really expands on it in a really exciting way.
Garrett Hedlund is expected to reprise his role as Sam Flynn in Tron 3. No release date has been set. [SHH]
The latest addition to Michael Bay's Transformers 4 likely won't ring a bell for most Western moviegoers, but Asian audiences should be pretty excited. The director announced this week:
He's one of Asia's top stars in the worlds of music, television and movies and has become one of the most influential entertainers in China. Now he'll also be known for Transformers 4. Welcome Han Geng to the cast of Transformers 4.
If you're curious to see what the guy can do, here's his music video from the Chinese soundtrack for Cloud Atlas (via Film School Rejects):
Transformers 4 opens June 27, 2014. [MichaelBay.com]
Following next year's movie sequel, the further adventures of Veronica Mars will be chronicled in book form. Vintage Books and Alloy Entertainment announced this week that they would launch two new books about the pint-sized detective, to pick up where the film sequel leaves off. Show creator Rob Thomas will develop and co-write the novels.
"I started my career as a novelist. Veronica Mars was first imagined as a novel. I'm thrilled that I'm going to get the opportunity to continue telling Veronica Mars stories in a form I've loved and missed," Thomas said.
But don't worry, that doesn't mean Veronica's necessarily done with the big screen. While the literary series will be their own thing, they could also "serve as a bridge to a potential movie sequel," should the film take off. [THR]
Dumb and Dumber To has hit yet another tough spot. Red Granite, who's producing the comedy sequel, has just sued to keep original Dumb and Dumber producers Steve Stabler and Brad Krevoy out of the new movie entirely.
According to the company, the pair have threatened to take legal action unless they get producer credits on the sequel, and of course, the paycheck that comes with them. It's unclear at this point whether the lawsuit could delay the sequel, but as of now pre-production is still scheduled to get underway next week. [TheWrap]
Sylvester Stallone's been busy calling up everyone he can think of to join The Expendables 3, and now it looks like's finally gotten a yes from Mel Gibson.
Mad Max vs Barney Ross......

— Sylvester Stallone (@TheSlyStallone) July 16, 2013
The wording hints that Gibon will play the villain, as previously rumored. The Expendables 3 opens August 15, 2014. [via ScreenCrush]
Cars and Cars 2 have long drawn criticism for being below Pixar's usual high standards. Maybe the spinoff, Planes, will get to escape those sky-high expectations by not being from Pixar at all. Instead, it's a movie that DisneyToon Studios cooked up as a straight-to-DVD effort before deciding to bump it up to a theatrical release. Check out the newest trailer below.Planes lands in theaters August 9. [via Bleeding Cool]