Neill Blomkamp Has An 18-Page Treatment For 'District 10,' Turned Down 'Star Wars' In Favor Of Original Projects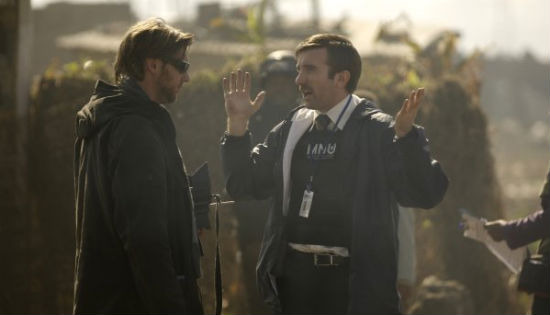 Neill Blomkamp exploded on the scene in 2009 with his gritty sci-fi feature District 9, which was released to critical and commercial praise. Since then, we've waited four years to see the director's sophomore effort, now a mere few weeks away. The film, Elysium, opens August 9. After that, he'll make a movie called Chappie.
All that time, fans have been clamoring to see a continuation of the world Blomkamp created in District 9. The writer/director has said it was something he was interested in, it simply hasn't all come together yet. In a new interview, Blomkamp gives his most significant update yet on the sequel, tentatively called District 10. He's co-written an 18-page treatment for the sequel with his wife/partner Terri Tatchell which he describes as "really f***ing cool."
Below, get more info on that as well his next film Chappie, another idea he has called Mild Oats and confirmation that he turned down working on Star Wars.
Blomkamp did a long profile with Wired Magazine to promote Elysium, and The Playlist grabbed some of the highlights.
The main one is that 18-page District 10 treatment. Here's the excerpt:
He and Tatchell have written an 18-page treatment for District 10—about which he'll say little more than that the story is "really f***ing cool"—but he's not prepared to commit to it. He's sure he'll come up with any number of other really f***ing cool ideas he might want to pursue first.
Two of those ideas are Chappie, which will be his next film and starts shooting in September, and Mild Oats, which he describes as "somewhere between John Waters and Jackass." Here's the article's description of Chappie:
Chappie, Blomkamp says, is about sentience: "If something is as smart as you, do you treat it differently if it isn't a human?" He's cowriting Chappie with Tatchell, who describes the script as laugh-out-loud funny but also emotional. "It's fairly touching," Blomkamp confirms. "But, you know, fraught with gunfire."
And some info on Mild Oats:
Blomkamp wants to show off a prop from Mild Oats, a low-budget movie he's developing that he describes as "somewhere between John Waters and Jackass." He removes a panel from a nearby wooden crate, uncharacteristically giddy. "You should be scared," he warns. He's right: The crate houses a 3-foot-tall, photo-realistic silicone puppet rocking a mullet and jailhouse tattoos. The deranged redneck stands completely naked, revealing six nipples and a prodigious, uncircumcised penis. The character's name, Marvin, is inked on said organ in gothic lettering.
Those projects are both born in the mind of Blomkamp, which is where he prefers to be at the moment. That was one of the reasons the director turned down an opportunity to do something in the Star Wars universe, when producer Simon Kinberg brought it up to him [Note - We called it.]:
He turned down the possibility of working on a new Star Wars movie after the subject was "gingerly" broached by Elysium producer and close friend Simon Kinberg, who's deeply involved in the revitalized franchise.
For Blomkamp, the future then looks something like this. Elysium next month, Chappie starts filming the month after that, and then maybe Mild Oats. But, if he gets creatively inspired before that, it could be something else or it could be District 10. We know he has great ideas for both. For more on Blomkamp, be sure to read the Wired article.