Cool Stuff: Ton Of Cool Additional 'Pacific Rim' Art From Mondo, Odd City And Chogrin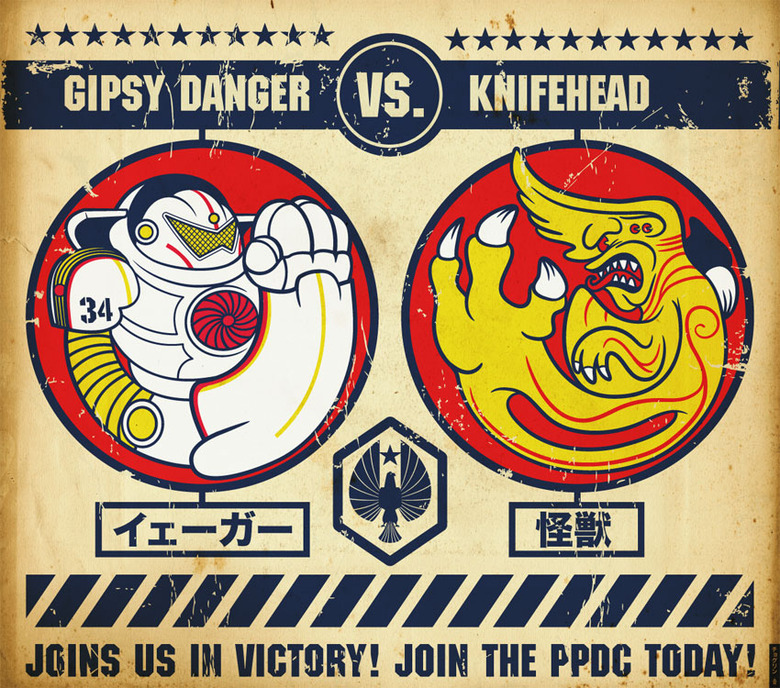 Guillermo del Toro's Pacific Rim is now in theaters and for the past few weeks, one thing has been made abundantly clear. No film in recent memory has sparked the imaginations of graphic artists quite like this one. We've posted multiple articles featuring gorgeous art inspired by the film and now there's even more to behold.
At Comic-Con Mondo will introduce a brand new artist, Ash Thorpe, with a striking, two poster take on the film. Odd City Entertainment ends their ongoing series with popular artist Todd Slater and Chogrin has brought together a ton of artists who just wanted to make art based on the movie.
Below, check out a whole bunch of new Pacific Rim-inspired art.
First up, here are Ash Thorpe's Mondo posters for Pacific Rim. These will go on sale Wednesday at Comic-Con and each is a 24 x 36 inch screenprint in an edition of 350. Cost is $50. They look good on their own, or even better together.
Next up, Odd City will release these two Todd Slater posters on their website Tuesday at a random time. The regular is an edition of 175 and the foil variant is and edition of 75. Costs are $55 and $85
Pacific Rim screenwriter Travis Beacham tweeted out this fan art by artist quillery. Pretty impressive endorsement.
Finally, Chogrin posted a very, very cool series of images inspired by the film over at this link. Here's are just a few of our favorites, but there are more at the link.
Which of these are your faves? Are you surprised Pacific Rim has inspired so much great art?