Star Wars Bits: 'Angry Birds', 'Club Penguin', Star Tours, Barack Obama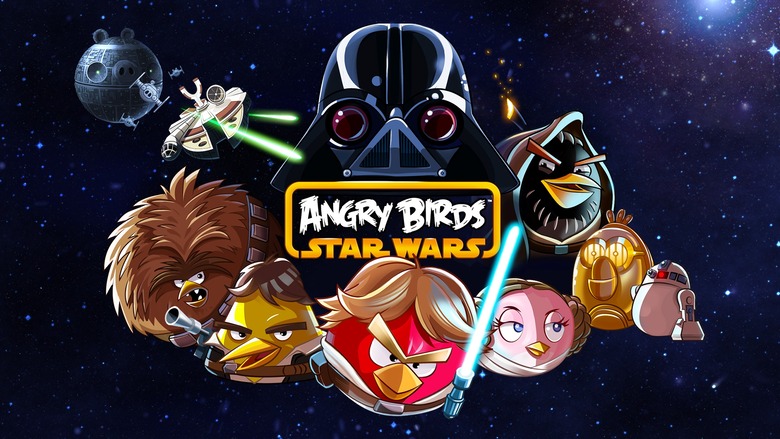 Get ready to revisit the prequels, Angry Birds-style. Also after the jump:
Knights of the Old Republic gets a birthday sale
Star Wars will take over Disney's Club Penguin
The Star Tours rides are getting an update in 2015
George Lucas says Star Trek made Star Wars possible
President Obama gives George Lucas a hug and an award
Does anyone in Star Wars actually know how to read?
Billy Dee Williams leads a Star Wars cantina singalong
Just as Star Wars eventually went back in time for Episodes I-III, so, too, is Angry Birds Star Wars delving into its history. Rovio Entertainment has announced Angry Birds Star Wars II, which will tackle the prequel trilogy with "a wide roster of never-before-seen Angry Birds Star Wars characters," according to Rovio. The company is staying mum for now on whether that includes the much-maligned Jar Jar Binks.
The new game will hit app stores September 19, around the same time that Hasbro releases its new line of over 30 Telepods figures. Players can put the toys near their devices to "teleport" the character into the app. Users will be able to choose between helping the birds, or "joining the pork side" by playing as a pig. Watch the trailer below.
[Variety]
Star Wars is taking over Disney's Club Penguin. The game site will host a three-week "party" with three Star Wars-themed mini games, 18 Star Wars-themed rooms, and over 20 Star Wars-themed costumes, starting July 25. Players will be able to join the fight against Darth Herbert and his evil Empire. In the image below, a group of penguins are joining forces to destroy the Death Star and save the galaxy.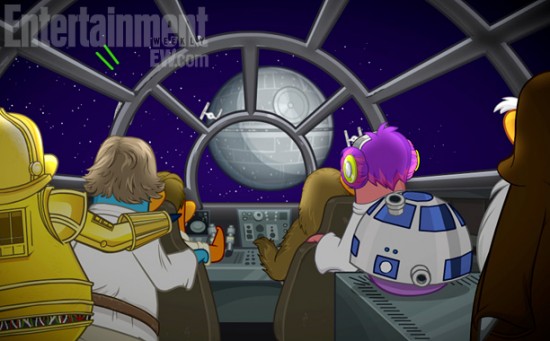 [via EW]
Disney's Parks and Resorts division is looking to update their current Star Wars attractions. A Star Tours update is expected to hit Disneyland and Disney World in 2015, to coincide with the release of Episode VII that same year. Details on the new Star Tours are currently scarce, but it's probably safe to assume that the revamped ride will incorporate elements of Episode VII. [Disney and More]
Though the Star Trek-Star Wars rivalry has raged for decades, George Lucas himself is happy to acknowledge that his franchise owes a great debt to Gene Roddenberry's.
Star Trek softened up the entertainment arena so that Star Wars could come along and stand on its shoulders. There was an effective group of people in the beginning who accepted it. That it wasn't that far out. For the studios it was way far out — 'what is this?' But there was a fanbase out there. The fanbase was primarily the Star Trek fanbase, who understood science fiction, who understood visual science fiction, and was ready for something like [Star Wars] to be in the feature arena.
Meanwhile, as JoBlo points out, Star Wars repaid the favor by helping to pave the way for Star Trek to hit the big screen. So let's all kiss and make up, shall we? [LAT Hero Complex]
President Barack Obama got some flack earlier this year for confusing Star Wars' Jedi mind tricks with Star Trek's Vulcan mind melds. But he was perfectly clear about his admiration for George Lucas when he presented the filmmaker with one of the National Medals of Art this weekend.
"I remember when I first saw Star Wars. There's a whole generation that thinks special effects look like they are today, but it used to be you would see the string on the little model spaceships," he said. Obama gave Lucas a warm embrace during the ceremony, as you can see below.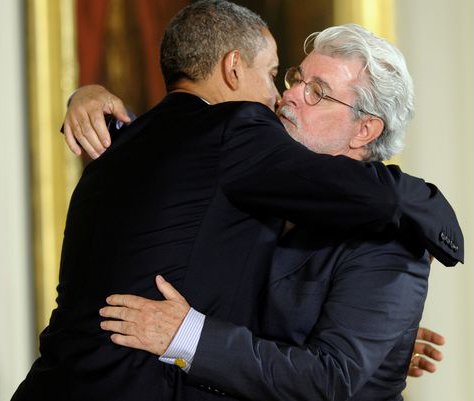 [THR]
It takes a lot of education and training to become a Jedi knight. And yet, one fan theorizes that everyone in the Star Wars universe may be essentially illiterate. "Not once in any Star Wars movie does someone pick up a book or newspaper, magazine, literary journal or chapbook handmade by an aspiring Jawa poet," points out Ryan Britt at Tor.com. "If something is read by someone in Star Wars, it's almost certainly off of a screen (and even then, maybe being translated by a droid), and it's definitely not for entertainment purposes."
That move away from the written word comes with a toll, Britt argues. "Those who know how to build and repair droids and computers probably have better jobs than those who can't," he says. "This is why there seems to be so much poverty in Star Wars: widespread ignorance." [via THR]
Aside from the fact that it's patronized by weird-looking aliens, the famous Star Wars cantina isn't that different from a regular old bar here on Earth. It even hosts the occasional karaoke night, as demonstrated in this video.
Billy Dee Williams leads a rousing rendition of Coconut Records' "West Coast," to an audience that includes Coconut Records' Jason Schwartzman, Patton Oswalt, Carrie Keagan, Mike Phirman, and Chris Hardwick.
More info about Course of the Force here. [via Bleeding Cool]