Image, Teaser Poster And Featurette Give First Look At Wally Pfister's 'Transcendence'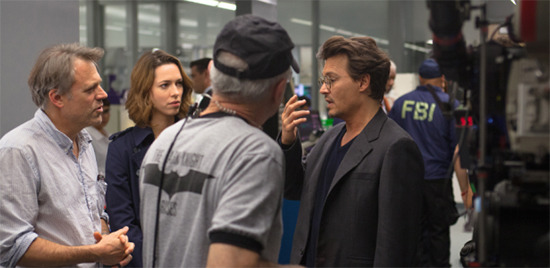 The film Transcendence is the directorial debut of Christopher Nolan's long-time cinematographer Wally Pfister. The film has mostly been a mystery so far; we know the cast, which includes Johnny Depp, Morgan Freeman, Rebecca Hall, Cillian Murphy, Clifton Collins Jr., Kate Mara, and Paul Bettany. And we know that the story involves the transferrence of consciousness from a human (Depp) into a computer.
Most of the rest of the details have been under wraps. And they'll remain so, but a few more teaser bits have come to light. Above is the first still from the production of the movie, showing the basic look Depp and Hall sport in the movie. And a brief behind the scenes featurette, embedded after the break, gives you a bit more info to go along with a Chinese teaser poster and quote from one producer about the aims of the film.
In a piece about the film's work in China, producer Dan Mintz told the LA Times the following:
Without giving away too much, Transcendence is about that moment when human consciousness and the insanely fast rise of computing power collide. It pulls from the idea of singularity to tell a truly meaningful story that is more 'science reality' than science fiction. This is something that is likely to happen in our lifetimes and that makes it a story everyone can get into.
Here's the behind the scenes look, which along with the poster below comes from Mtime.
Transcendence opens on April 18 2014.