'Mandela: Long Walk To Freedom' Teaser: Today, We Are Cancelling Apartheid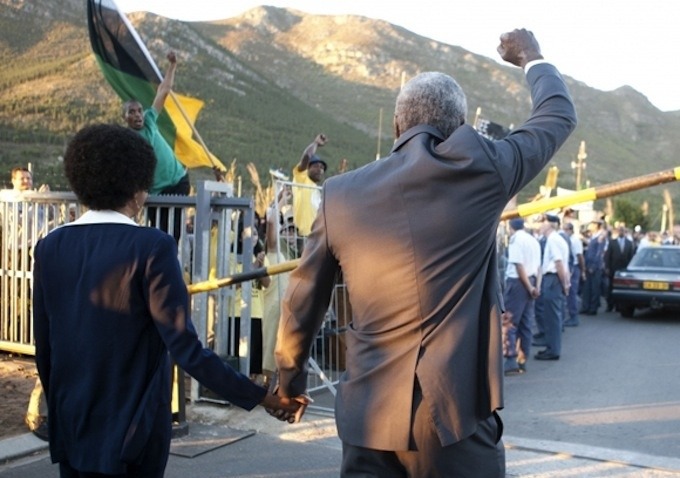 This weekend's Pacific Rim sees Idris Elba leading the charge against massive sea monsters known as Kaiju. In another few months, though, he'll be demonstrating heroism of a more grounded sort.
Directed by Justin Chadwick (The Other Boelyn Girl), Mandela: Long Walk to Freedom stars Elba as anti-apartheid revolutionary Nelson Mandela, who became the first-ever South African president elected in a non-segregated democratic vote. Watch the first teaser after the jump.
There isn't much to see here. The teaser shows Elba's Mandela on a literal long walk, presumably to freedom, through a grassy field. The camera circles around him from the sky, and laughing kids come to join him. We don't even get a close-up of the guy's face.
Still, it offers a little taste of Elba's performance as Mandela through a voiceover declaring that "love comes more naturally to the human heart" than hate. It's powerful stuff, even if it doesn't quite have the sports-arena thunder of "Today, we are cancelling the apocalypse!" As for whether he nails the accent, someone with a better ear for South African speech than I do will have to make the call.
Adapted by William Nicholson (Elizabeth: The Golden Age) from Mandela's autobiography of the same title, Mandela: Long Walk to Freedom follows the leader's journey from the small rural village where he spent his childhood, to his inauguration as the first democratically elected president of South Africa.
Naomie Harris (Skyfall) plays his wife Winnie Mandela. South African actors Tony Kgoroge, Riaad Moosa, Zolani Mkiva, Jamie Bartlett, Lindiwe Matshikiza, Deon Lotz, and Terry Pheto also star.
Between the subject matter and the talent, there's already talk that Mandela: Long Walk to Freedom could be a serious contender come awards season. The Weinstein Co. certainly thinks so — they've scheduled the biopic for a limited U.S. release on November 29.