/Film Visits London To See Edgar Wright, Simon Pegg And Nick Frost In 'The World's End'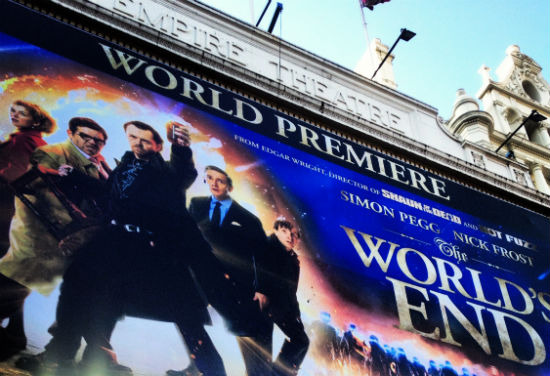 Twenty-four hours in the air, 12,000 miles traveled and six years of anticipation is a lot to live up to. This was the bar set as I traveled from Los Angeles to London to attend the world premiere of Edgar Wright's new film, The World's End.
In reality though, this story starts way before that. It starts in 2004 when American audiences were first exposed to the work of Edgar Wright. That was the year Shaun of the Dead was released in the US. It made me and many others into huge fans of the writer/director, along with his frequent collaborators Simon Pegg and Nick Frost. Shaun made us go back and revisit their series Spaced and since then we eagerly anticipate any new work by the team.
The World's End is the thematic conclusion to that story, and the third film in a loose trilogy. Popularly called The Three Flavors Cornetto Trilogy, it's a series of films that began with Shaun of the Dead and was off-handedly continued in 2007's Hot Fuzz. Each film is linked by their sharp sense of humor, genre leanings, lead actors, and a British ice cream treat. The World's End gets the band back together to tell the story of five friends who return to their hometown to drink twelve beers at twelve pubs in one determined pub crawl. Then all Hell breaks loose. For all those reasons and more, it was my most anticipated film of 2013. Plus, being as it's a quest film, 24 hours of flight across the globe to see it a few days early felt about right.
Not only did we get to attend the premiere, we sat and chatted with the three heads of the Cornetto braintrust and even shared a pint with Wright at the actual World's End, a bar in the Camden section of London. It was a whirlwind 72-hour trip of drinking, movies and fun, all for a film that will screen in the US at Comic Con in mere days, and open everywhere August 23. It was worth it.
Our trip began at Los Angeles International Airport at 5 p.m. PST on Monday July 8. That's where I, along with four fellow LA based journalists, took off, only to land in London at 3 p.m. Tuesday July 9. From there it was straight to the hotel, drop off bags, meet another five journalists (from NY and Austin) and head to another hotel to meet with Wright, Pegg and Frost. Pegg came in first and since we hadn't seen the movie yet, we talked about Star Trek Into Darkness and some of what he has coming up. Frost was next and he, along with Pegg, told us a bit of their history with the actual World's End that we'd be heading to later. (To surmise, lots of vomit and beer.) Wright came in third and explained how he used to meet friends, such as Pegg and Frost, at the bar because it was central between their homes and a local movie theater.
After a quick 15 minute discussion, Wright, Pegg and Frost all had to attend a signing so we jumped in our ride and headed to The World's End. Located on a busy corner in London, the front section looks like a typical, semi-dank, small bar. Wood paneling. Dark colors. Lots of shiny beer taps. But when you walk around the back corner, the bar opens up. There's sunlight coming in from the roof, two levels of seating, smelly bathrooms and themed paintings on the walls to make it look like an outdoor market. In short, nothing like the pub in the movie. They did, however, put up a few posters for the movie in the bar.
After enjoying a few pints of World's End Ale, as the characters in the movie surely would have, we went outside into the alley. This alley, Wright explained, was where he shot the infamous fake gun slow-motion battle from Spaced. I vividly remember first watching that scene and being giddy with delight. Now not only was I standing there with the man behind it, he told us where the house from the show was. Which is how we ended our first day.
The following day, Wednesday July 10, the only thing on the schedule was the film itself at 7 p.m. so I had a day to trek around London and sightsee. (My first time in the city and all.) Buckingham Palace, Big Ben, the London Eye; I checked all the biggies off my list. But the biggest one was yet to come: Leicester Square, Empire Theater. The World's End.
A premiere in Leicester Square (at least this one) is very different from a Hollywood premiere. There's still the red (or in this case blue) carpet, the paparazzi, media, and screaming fans. This premiere, though, was almost an outdoor happening, with a huge jumbotron showing clips from the film, live interviews and the cast and crew arriving. Imagine the Oscars for just one movie.
We pulled out our tickets, passed security and walked down the carpet, looking and feeling like a million bucks. Upon arriving inside the theater, we were each handed a delicious ice cream treat. Yup, my first Cornetto. Mint flavored. What better time and place, right?
We were assigned seats in the back row of the floor section of the Empire's biggest screen, right in front of the stadium seating. Absolute dead center, perfect seats. At each and every turn this trip was turning out so perfect to actually sit down and watch this movie, a movie I'd been waiting for and hyping up in so many ways, seemed almost unfair. But after an introduction by Wright, his cast and producer Nira Park, the curtains opened, the lights went down and The World's End began.
I won't go into a full review of the film yet but I will say this. The World's End lived up to my incredible expectations. Simultaneously, it was the exact film I wanted it to be after Shaun and Hot Fuzz, but also something much more surprising and mature. It takes the settings of Shaun of the Dead, some of the themes of Hot Fuzz, and blends them together beautifully to be something that both stands on its own and is part of the whole. There are plenty of laughs, references, cameos and kick-ass action, but there's a much bigger discussion to be had, too. One that'll best had in a few weeks once everyone has seen it. I still think Shaun of the Dead is far and away my favorite film of the trilogy, and some people will find things to complain about here, but for my money The World's End is a rousing, fitting and fun end to the trilogy.
After a party like that, there's only once place to go. The after party. However, a quick lap around a club called DSTRKT one thing was blatantly missing: beer. Specifically, beer on tap. We'd just watched a movie about five guys doing a bar crawl drinking pints of beer, and there were no pints of beer to be had. Instead there were drinks named after the pubs in the bar: Drinks like The Old Familiar and The Beehive. Delicious, but not what your taste buds crave after The World's End.
All credit to Devin Faraci from Badass Digest who had the simple idea to leave the party, find a bar, have a pint, and then return. In an almost Wright-esque quick cut montage we did exactly that and then headed back to the party. There we all got to tell Wright, Pegg and Frost how much we enjoyed the film and chatted a bit about some of its bigger surprises. I then embarrassingly approached Michelle Dockery from Downton Abbey for a photo because when do Americans get a chance to actually talk to someone from that show? She obliged, was incredibly sweet, and we chatted about the film which she also enjoyed quite a bit. It was just one of those fun, magical evenings where everyone is friendly, happy and excited they've all shared a fantastic film.
And the next morning it was over. I packed up my suit and tie, bought a few gifts for friends and headed to the airport to fly 11 hours back to Los Angeles. Which is where I am right now as I write this. Good old seat 35C.
The World's End is a movie about five friends who decide to go on their own personal quest called The Golden Mile. One mile, twelve bars, twelve pints. Well, this trip to London to see The World's End was almost our own, exponentially longer, golden mile. From stop to stop to stop we got to experience things few ever get to do and I'm bafflingly humbled at how beyond privileged I am to have done it.
Now, I just can't wait for other people to see The World's End so we can talk all about it. There's no doubt it's a film that'll quickly become part of our familiar geek lexicon and to experience that from its inception, in the country of origin, with the men and women responsible, was truly a slice of fried gold.