Sequel Bits: 'The Raid 2,' 'Horrible Bosses 2,' 'The X-Files,' 'Fast & Furious 7'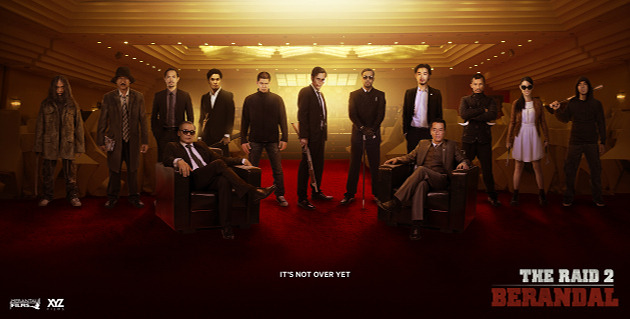 That image above is the first teaser art for The Raid 2: Berandal. The film is in production now, with Iko Uwais returning in a lead role, and Gareth Evans directing once more. Expect more action and violence in the vein of the first, but on a bigger scale. Thanks to Twitch. After the break, you'll find:
More talk of a third X-Files film.
Christoph Waltz won't be in Horrible Bosses 2.
What's up with a third Bridget Jones film, now that the new book is out?
Mark Wahlberg blames the Entourage delay on greed.
See a Fast & Furious 7 stunt setup photo
Thor 2 is tracking well.
Paul Greengrass comments on the chance of Matt Damon being Bourne again.
Give someone with a microphone the chance to talk to David Duchovny, and chances are there'll be a question about a third X-Files film. So when the actor did a panel with series co-star Gillian Anderson at the New York Comic Con last weekend, naturally that's exactly what happened. Duchovny first threw out the boilerplate answer: "We'd love to. Chris [Carter, the show's creator] would love to." When the subject came up again, with respect to series ideas that weren't finished in the TV show, he elaborated:
The thinking was that we were going to do movies. I shouldn't speak for Chris [Carter}. but I would imagine that the reason that he didn't tie up all the loose ends was that he wanted to play with them in the movies. ... I think we would love to see a return to the conspiracy stuff," he replied. "It seems like that was the heart of the show and we'd love to get back to that.
If you want more X-Files now, there's always the comic book series from IDW. Now that story is even going to add other recognizable characters. In 2014, The X-Files: Conspiracy will see Mulder and Scully cross over with investigations of Transformers, Teenage Mutant Ninja Turtles, The Crow and Ghostbusters. So...yeah. There's that. The story involves "a potential plague apparently set to destroy humanity in the near future" and in general, this crossover thing is something that IDW likes to do. If they sell well, we can only blame ourselves. [THR]
A couple weeks ago there was a report that Chris Pine and Christoph Waltz were potential new hires for Horrible Bosses 2. And while Pine was hired and has a deal, Waltz has passed on the movie. Turns out the idea was to have he and Pine play a father/son duo, and with him skipping on the film, we don't know if the characters will be changed, or if a new actor will be found. The latter is, obviously, the most likely option.
Sean Anders and John Morris, who wrote We're the Millers, are directing. Jason Bateman, Jason Sudeikis, Charlie Day and Jamie Foxx are all going to reprise their roles from the original film. [THR]
Will there be another Bridget Jones movie? A third film, Bridget Jones' Baby, was written by creator Helen Fielding and planned to shoot last year, but was shut down, supposedly to work on the script. Now Fielding's third novel featuring the character, Bridget Jones: Mad About the Boy, is out and selling well. But film rights to have have not been sold. THR speculates that there are a combination of factors, but mostly that Renee Zellweger, who really is Jones, is not the star now that she was when the first two films were made.
For a minute there it seemed like an Entourage movie was really going to happen, for better or worse. But the delays have kicked in, and when asked about the film while going about his own personal business, producer Mark Wahlberg told TMZ that it'll happen "as soon as them guys stop being so greedy." Who are "them guys"? We don't know, and that's the problem with ambushing people at the airport, as TMZ did — there's not a lot of chance for a follow-up question.
Here's a photo from the Fast and Furious Instagram feed, of an Atlanta warehouse or stage with gear set up to capture stunts for Fast & Furious 7.
The first wave of tracking for Thor 2 is quite good, lifted no doubt by the popularity of Chris Hemsworth, and the success of his recent film Rush. Deadline reports that the film is ranked much higher "as a 'definite interest' and 'first choice' among young and older females" than would usually be the case for a similar film. Not that it comes as a surprise, but right now analysts are predicting big success for the sequel. With things the way they are, the surprise will be when a Marvel movie really fails to perform.
Finally, in a Reddit AMA, Paul Greengrass was asked about Matt Damon returning for another Bourne film. He said,
I don't know, you'd have to ask Matt. I don't know the answer to that. I think with those movies, you have to know when to stop, you know? Of course they'll make more movies, as they should do, but with franchise movies, you make a contribution and then other people are going to come in and make their contribution to take the franchise on. That's how I feel, but I can't speak for Matt.