'Captain America: The Winter Soldier' Concept Art Teases An Epic Showdown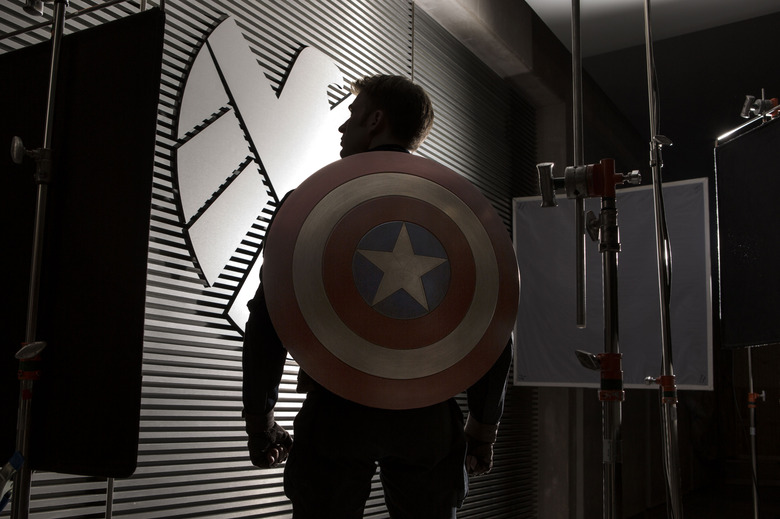 Roughly seven decades will have passed between Captain America: The First Avenger and Captain America: The Winter Soldier, but Steve Rogers (Chris Evans) will learn the hard way that the past still has a way of catching up with you.
Those familiar with the comics know that the new film's title refers to James "Bucky" Barnes (Sebastian Stan), Cap's onetime BFF who returns as a powerful nemesis. We've still got some time to wait before we see the two cross paths, as The Winter Soldier doesn't land until next spring. But a just-revealed bit of concept art hints at what their fiery showdown might look like. Check it out after the jump.
EW posted the new artwork. That's Captain and Bucky in the foreground of course, and if you' look closely you'll also notice Falcon (Anthony Mackie) unleashing some major firepower in the background.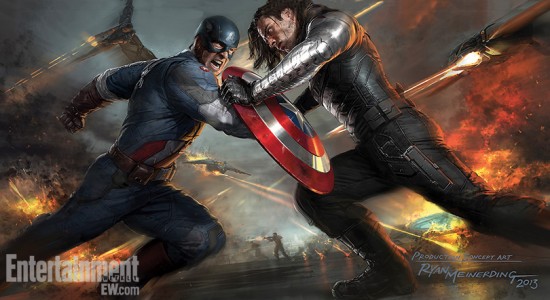 Bucky was last seen falling off a train to near-certain death in Captain America: The First Avenger. Since then, though, he's been not just resurrected but "improved." He's now a super soldier like Captain America. Unlike his old pal, however, he's also been brainwashed and turned into an assassin.
One of the Winter Soldier's shiny new features includes a bionic limb, which he's using in the picture to grab Cap's shield. It's a move he tries a few times throughout the movie — see also here and here — and if the teaser poster is any indication, the thing ends up taking quite a beating. The two seem to meet more than once, but judging by the sheer number of explosions going on in the background, this image appears to be from the climactic battle between the two.
Joe and Anthony Russo are directing Captain America: The Winter Soldier, which opens April 4, 2014. Scarlett Johansson, Samuel L. Jackson, Cobie Smulders, Robert Redford, Frank Grillo, Emily VanCamp, Maximiliano Hernández, and Hayley Atwell also star.