First Look And Poster: Hayley Atwell In Marvel Short Film 'Agent Carter'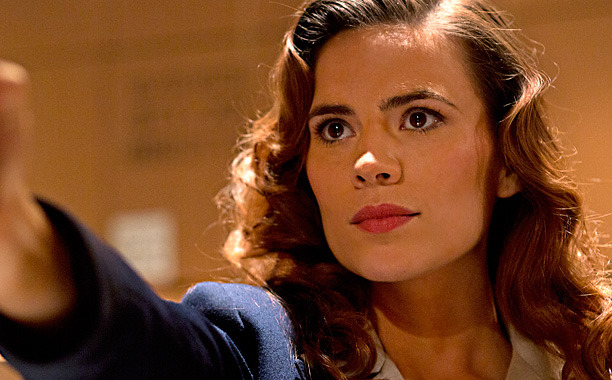 Poor Captain America never saw his lady love again, but we're about to. As it turns out, even after her superpowered boyfriend plunged into the Arctic Ocean, Agent Peggy Carter (Hayley Atwell) kept fighting the good fight with the Strategic Scientific Reserve (SSR), the precursor to S.H.I.E.L.D.
Marvel's new short Agent Carter picks up a year after the end of Captain America: The First Avenger, following the SSR analyst on her quest to find the mysterious "Zodiac." In advance of the film's premiere at Comic-Con, Marvel has revealed a new poster and a trio of images. Hit the jump to check 'em out.
Marvel Studios co-president Louis D'Esposito explained to EW that Agent Carter will serve to connect Iron Man 3 and Captain America: The Winter Soldier. He's not giving away all the details just yet, though. The nature of "Zodiac," for example, is being kept under wraps.
Zodiac in the books has been many many different things. We just want you to know it's deadly, it's important, bad guys are guarding it, and it's imperative she gets it.
Unfortunately for Peggy, villains aren't the only ones standing in her way. She's also butting heads with Flynn and his sexist attitudes.
He knows her background but insults her by saying the only reason why she's gotten anywhere is because she was the girlfriend of Captain America. We know that's not true, but he's intentionally suppressing her and not allowing her to go on a mission when the opportunity arises.
Much more supportive is Howard Stark (Dominic Cooper), future father of Tony Stark, who also helped her out in The First Avenger. Other MCU characters may crop up in the film as well, but EW isn't saying who.
The film is set to play on Friday night (July 19) at Comic-Con, for those lucky enough to snag tickets from Marvel's Comic-Con booth. If you aren't one of those, however, don't despair — it'll also be included as a special feature on the Iron Man 3 Blu-ray release, which hits shelves September 24.