Sequel Bits: 'Star Trek 3', 'Expendables 3', 'The Raid 2', 'Machete Kills'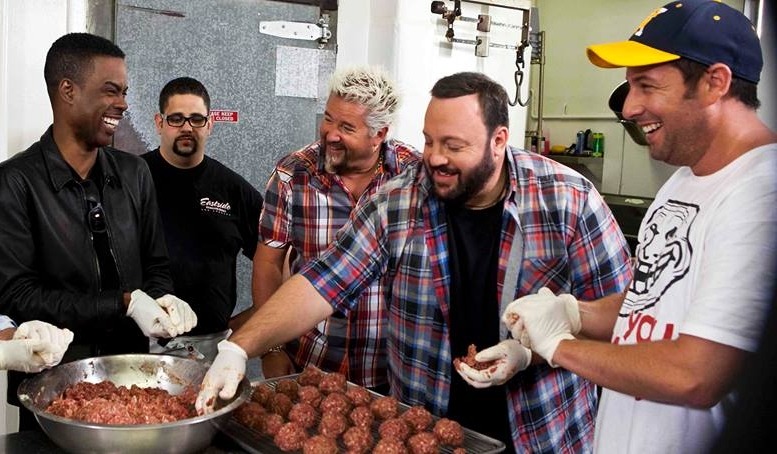 Who better to make a special Grown Ups 2 chili recipe than Guy Fieri? Also after the jump:
Legendary doesn't seem optimistic about Hellboy 3
Neill Blomkamp isn't interested in Star Trek 3
Steven Seagal might do Expendables 3
Transformers 4 sets up a Chinatown in Detroit
Optimus Prime sees some action in new set videos
Machete Kills will premiere at Fantastic Fest
Charlie Sheen gets his own character poster
Rub a dub dub, it's a guy from The Raid 2 in a tub
The gang's all here in The Best Man Holiday trailer
Seeing how we don't own the rights to Hellboy, there may be lawyers that would get upset about that. But you know, in Guillermo's world, maybe he can make that go away. I don't know. [Laughs]
That's not a flat-out no, but it's very far from an enthusiastic yes. Oh well. At least del Toro's got plenty of other stuff to keep him occupied for now. Like Pacific Rim, which opens this weekend. [io9]
Who'll direct Star Trek 3 is still an open question, but Neill Blomkamp told Filmz.dk to count him out of the running.
I used to be a Star Trek: The Next Generation fan, like, big time. But no, I probably wouldn't do that.
I don't know if me getting involved with a franchise is the best thing for me. When studios smell franchises, they smell money. And they'll try to do what they can to the franchise to make it make the most money it can make, and a lot of those interesting ideas kind of fall by the side of the road.
Do I like Star Trek on its own without the politics of making it? Yes, absolutely. But do I think that you could make it in the way that I would want to make it? Probably not, which makes me not want to make it.
It's probably just as well. Someone needs to keep making original sci-fi, after all. Blomkamp's next, Elysium, opens August 9. [via Channel 24]
Steven Seagal's been rumored for The Expendables franchise pretty much since the first film was announced, and now one report claims he'll finally make his appearance in The Expendables 3. According to fansite ExFlix, various Bulgarian outlets are confirming that Seagal has signed on. Additionally, they're reporting that Mel Gibson's casting as the villain is set.
I'd take all this news with a grain of salt for now, since the Seagal rumors seem to come and go every few months. Really, they're not going to go away until he signs on once and for all. Maybe that should be incentive enough for him to do it. The Expendables 3 opens August 15, 2014. [via CinemaBlend]
Transformers 4 production crews have been spotted constructing "some kind of Asian-inspired town" in downtown Detroit. As previously reported, the film will take place partially in China, so it's hard to tell whether Detroit will serve as a stand-in for an Asian city, or whether this new set is an Asian neighborhood in the US. MLive has more.
What we know for sure, though, is that the film will feature plenty of action. Set videos show Optimus Prime dodging explosions in Adrian, Michigan.
Transformers 4 lands June 27, 2014. For more video, visit MovieWeb.
Based on what we've seen and heard of The Raid 2 so far, it should be every bit as bloody and violent as the first one. The latest still from the film, however, looks downright serene.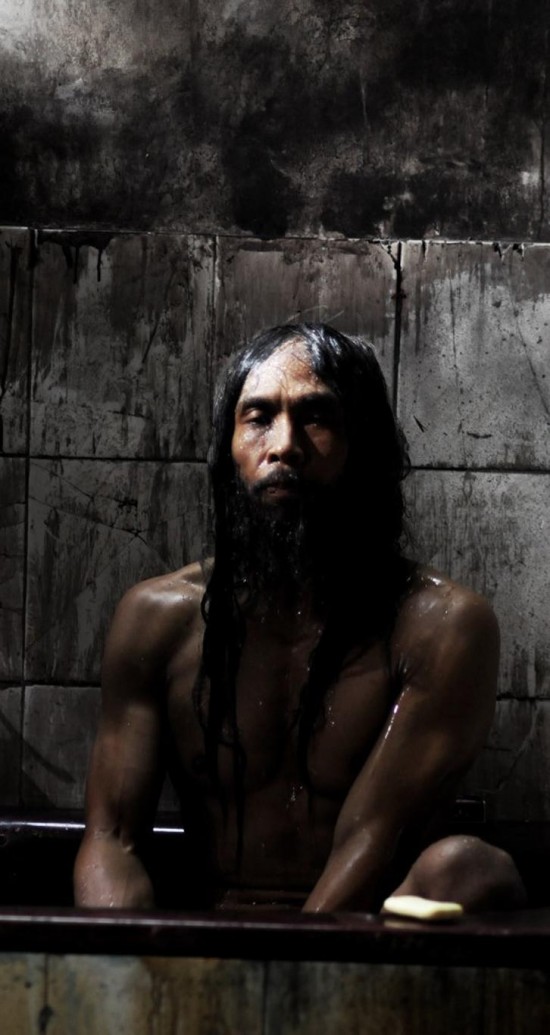 That's Yayan Ruhian, who played Mad Dog in The Raid: Redemption but plays a completely different character named Prakoso this time around. "Prakoso bears no relation to Mad Dog (no he's not a twin brother etc)," director Gareth Evans explained on Twitter. "Actually, he's probably the most sympathetic character in the film." [Twitter]
All hail President Charlie Sheen — I'm sorry, I mean President Carlos Estevez — in the new poster for Machete Kills.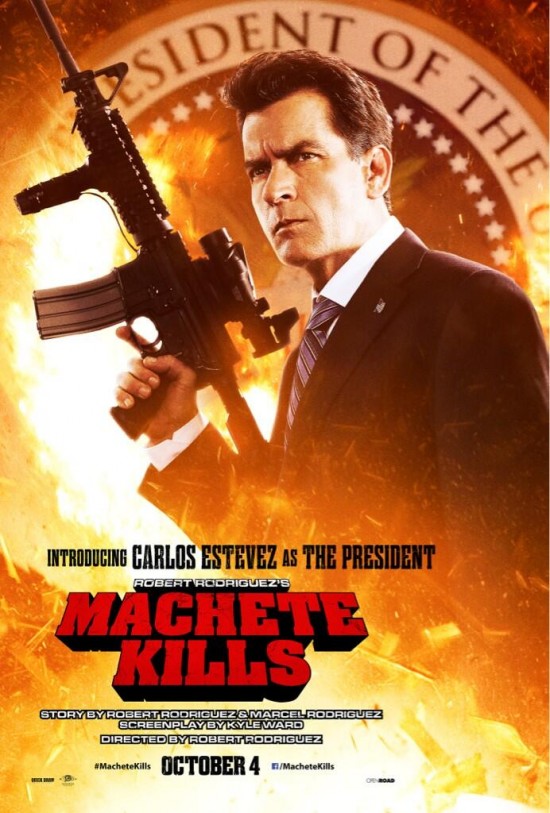 The film's release date was recently pushed back to October 4, but it'll get a world premiere a few weeks before that, in Austin's Fanastic Fest on September 19. Director Robert Rodriguez and star Danny Trejo will be in attendance. [Twitter, Indiewire]
Plenty of sequels can boast star-studded casts and terrible jokes, but how many have their own chili recipe lovingly crafted by a celebrity chef? Guy Fieri cooked up a new variation on the comfort classic to celebrate the cast of Grown Ups 2, who joined him on a recent episode of Food Network's Diners, Drive-Ins, and Dives.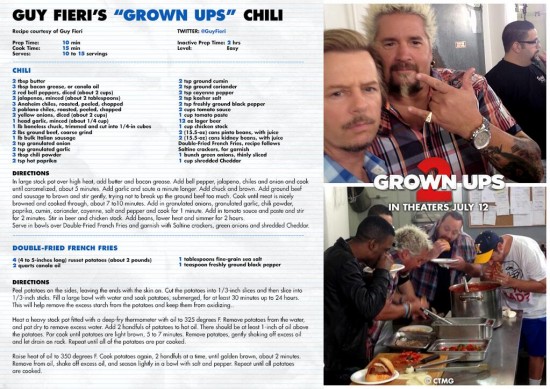 See if the chili makes a cameo in Grown Ups 2 when it opens July 12. [Twitter]
Universal brings us Christmas in July with their new trailer for The Best Man Holiday, which reunites Morris Chestnut, Taye Diggs, Regina Hall, Terrence Howard, Sanaa Lathan, Nia Long, Harold Perrineau, Monica Calhoun, Melissa De Sousa fourteen years after the first The Best Man.
Malcolm D. Lee directs. The comedy opens November 15. [Apple]