Guillermo Del Toro Wants Benedict Cumberbatch For 'Frankenstein'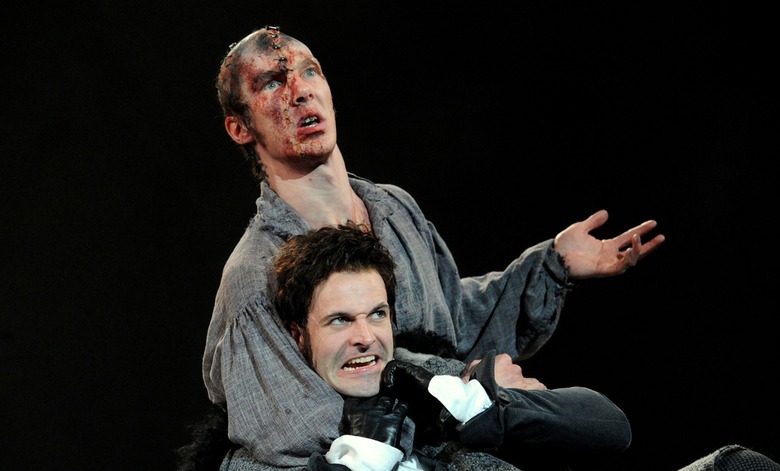 As a director, Guillermo Del Toro isn't unusually prolific. He's made eight films in the last two decades, which puts him comfortably between pre-Tree of Life Terrence Malick and post-Tree of Life Terrence Malick on the productivity scale. But at any given moment, he's talking up so many intriguing projects that it's easy to forget he can't actually make them all at once.
Currently, he's waiting for the opening of Pacific Rim while getting the pieces together for Crimson Peak. Beyond that, he's also working on Dark Universe, Slaughterhouse Five, and possibly Hellboy 3 and Pacific Rim 2. All of which means it'll probably be a while before he gets to Frankenstein, but he already has an idea of whom he wants to star when he does: Benedict Cumberbatch. Hit the jump for more deatils.
Frankenstein has been in development since about 2009, and Del Toro has previously said that he wants Hellboy actor Doug Jones to play the monster. However, it's unclear now whether Del Toro is hoping Cumberbatch will join Jones as Dr. Victor Frankenstein, or replace him as the creature. Either way, the Brit actor should fit in easily. In 2011, he and Jonny Lee Miller co-starred in Danny Boyle's stage production of the story, switching between the two leads on alternating nights.
Of course, Del Toro's comments don't amount to much more than wishful thinking at the moment. He'll be tied up with Crimson Peak for the next year and half, so even if he chooses Frankenstein for his next project it won't shoot before 2015 at the very earliest. And there's no guarantee Cumberbatch will be free at that point, either. The star has four more films due out in 2013, plus the Alan Turing biopic The Imitation Game, the third Hobbit movie, and Del Toro's own Crimson Peak coming out after that.