'The Lifeguard' Trailer: Kristen Bell's Not-Quite-Midlife Crisis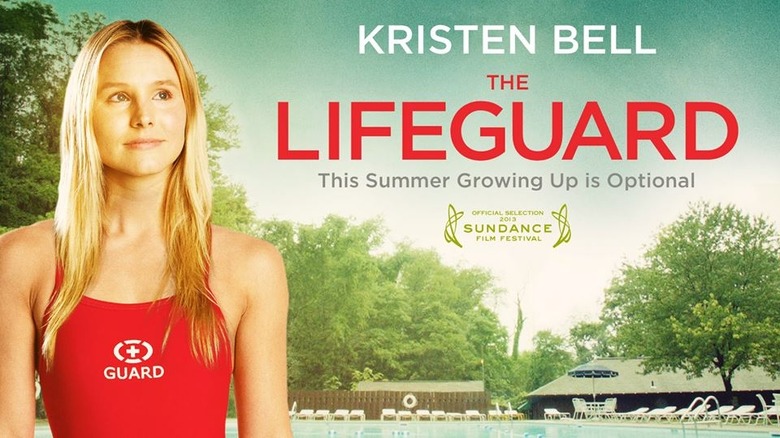 Like next year's Veronica Mars sequel, The Lifeguard features Kristen Bell returning to her hometown and reconnecting with old pals. Unlike Veronica Mars, though, The Lifeguard's Leigh London is in the midst of a personal crisis that sends her regressing into adolescent behavior. That includes moving back in with her parents, resuming her high school job as a lifeguard, drinking and smoking pot like a rebellious teen, and even striking up a flirtation with an actual teen (David Lambert).
At first, Leigh's two best friends, closeted Todd (Martin Starr) and school vice principal Mel (Mamie Gummer) are happy to tag along for the ride, but as Leigh falls into deeper trouble they find themselves dragged down with her. The first trailer for the Sundance dramedy has just hit the web, and you can watch it after the jump.
Indie dramas like this are a dime a dozen, and as charming as Bell, Starr, and Gummer look it doesn't sound like director Liz W. Garcia has anything new to offer the subgenre. Reactions out of Sundance were pretty poor. Film School Rejects, in their C review, complained that the film left them "disappointed and frustrated" — and that was one of the more generous writeups. Collider blasted the film as "deluded" and "cheap," and gave it a firm F.
If, after all that, you'd still like to give The Lifeguard a shot, it hits iTunes July 30, and theaters August 30.
Leigh (Kristen Bell) is almost 30, and living a seemingly perfect life in New York. But when her career and love life both come crashing down, she flees to her suburban hometown and regresses right back into teenage life and behavior. She moves into her old room with her parents, hangs around with friends who never left town, and reclaims her high school job as a condo-complex lifeguard. But as Leigh enjoys shirking adult life and responsibilities and enters into an illicit affair, she begins a chain reaction that affects those closest to her. With an all-star cast that also includes Martin Starr ("Party Down," "Knocked Up"), Mamie Gummer ("Side Effects") and Oscar nominee Amy Madigan, it's a journey that's both hilarious and heartfelt. Presented by Screen Media Films & Focus World, the alternative distribution of Focus Features.