Early Buzz: Edgar Wright's 'The World's End' Is The Cornetto Trilogy's Tasty Finish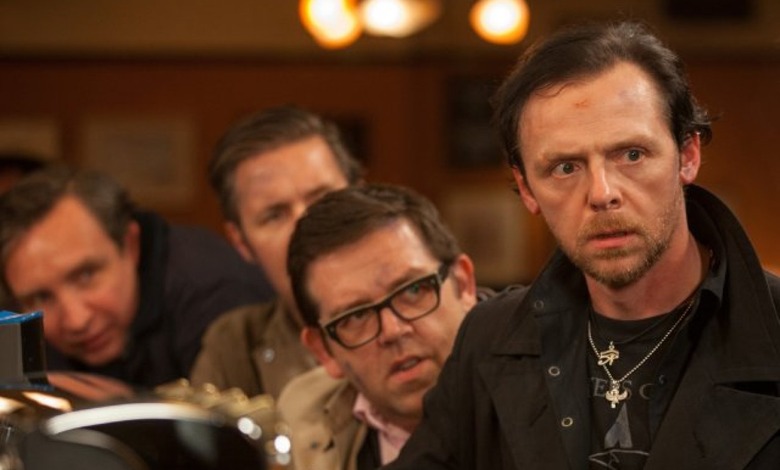 We Americans cheered when Edgar Wright's The World's End got bumped up from October to August, but our cousins across the pond are even luckier — they'll get to see the film in just a few more days, on July 19. Thanks to that earlier UK date, the first reviews have already hit the web.
That the film is drawing raves won't surprise any fans of Wright's work. What's more interesting is that this new film sounds a bit different from previous installments of the Cornetto Trilogy, in that the laughs and action come with a bittersweet tinge. Get the early buzz (well, early for us) after the jump.
Bravely refusing to rigidly adhere to a formula that has been so successful, Wright, Pegg and Frost's Cornetto Trilogy closer has tonal shifts you won't expect, but the same beating heart you've been craving.
[D]espite the arrested development humour and the fantastic soundtrack, there's a surprisingly gloomy atmosphere as the group get drinking. [...] While it's not as funny than its two predecessors, the decision to try a different approach should be applauded. We've already got a Shaun Of The Dead and a Hot Fuzz, this is something different.
IGN:
It's not as immediately likeable as the first two Cornettos, admittedly; it's not as funny or fast-paced, but it's arguably the most heartfelt and thoughtful of the three. I suspect some audiences might not warm to such a change, but as the film rightly points out, to do otherwise is to become Gary King, resting upon wilted laurels.
But this is a tighter, smarter film than either 'Shaun of the Dead' or 'Hot Fuzz', and buried beneath all the blue-goo aliens and terrible punning is a heartfelt meditation on the perils and pleasures of nostalgia. [...] Wright has upped his directorial game in the wake of 'Scott Pilgrim vs The World', and after the halfway point the pace doesn't flag for a moment.
Although a fraction less gut-bustingly goofy than its predecessors, this sci-fi-themed quest story about a deadly pub crawl has more emotional heft, partly thanks to impressive supporting turns from Paddy Considine and Eddie Marsan, dramatic heavy lifters who flex strong comic muscles here.
In a nice change from his usual genial character roles, Simon Pegg's Gary is a pretty seedy soul – a man lost in the past, who is selfish and bombastic (despite being well meaning in his own way), and certainly a challenge for his old friends to feel sympathy for. His relationship with Andy is at the core of film, and it is great to see Nick Frost really come into his own as the gentle and loyal man whose tolerance is supremely tested.
Though hilarious in parts, and heartwarming in others, The World's End has the great misfortune of simply being branded as a "fun" comedy, and one that is sadly unlikely to amount to being too much more than that. Given the immense quality we have seen this trio be capable of in the past (Spaced, anyone?), it's hard not to feel somewhat underwhelmed by this middling comedy flick.
The World's End tries to wrap three styles up in one movie: sometimes it's a rather downbeat comedy-drama – Pegg's character is initially rather a tragic, seedy figure against his usual type – at others it's a wisecracking romp, and elsewhere an all-action blockbuster, where the comedy takes a back seat to the full-throttle special effects and adrenaline-pumping chases. [...]
Although the film is a little uneven, there are some very funny scenes here – normally down to either that old staple, the comedy drunk, or a beautifully timed putdown from Frost – while the final showdown at the World's End is both hilarious and surprising stirring, showing it can pack an emotional punchline as well as a jocular one. Though that might just be the drink talking.
Like that nugget of pure chocolate you get at the bottom of the cornet, this is a fittingly satisfying end to the Cornetto trilogy.
The World's End opens August 23 in the U.S.