Disney Could Lose $150 Million On 'The Lone Ranger'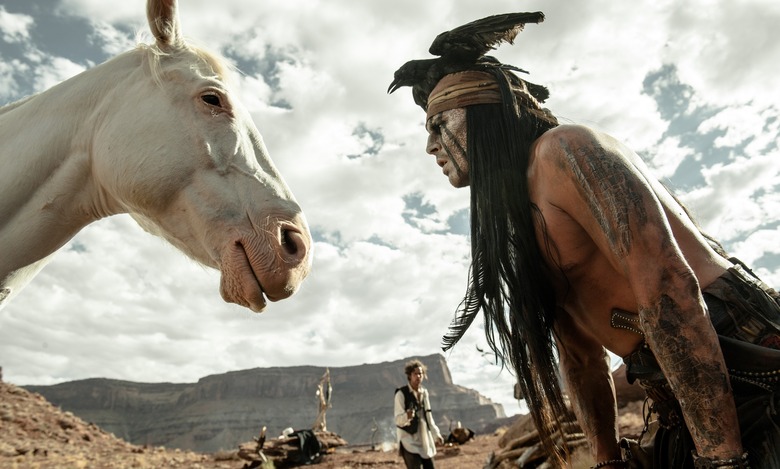 After months of trailers, TV spots, posters, and other marketing for The Lone Ranger, it's easy to forget the movie almost never happened at all. Back in 2011, Disney slammed the brakes over concerns about its over-$250 million budget, and decided to move forward only after director Gore Verbinski and producer Jerry Bruckheimer trimmed it down to $215 million.
As it turns out, though, even that lower figure wasn't enough to put the project in the black. Following a disastrous opening weekend, Disney stands to lose up to $150 million on The Lone Ranger. That's not quite as rough as the $200 million lost by John Carter in 2011, but it's pretty crappy. Hit the jump for more on what happened.
Making matters worse is the fact that The Lone Ranger has also earned terrible reviews, making it unlikely to get much of a boost from word-of-mouth. Nor were foreign audiences any more receptive. Westerns tend not to do well abroad, and with a take of $24.3 million in 24 non-U.S. markets, The Lone Ranger was no exception.
As of now, experts estimate that The Lone Ranger will earn around $275 million ($175 million domestically, $150 million internationally) in its entire theatrical run. Even John Carter did better worldwide, with $282 million, although The Lone Ranger's smaller budget and better U.S. performance makes it the cheaper mistake.
The good news for Disney is that Iron Man 3 and Monsters University did well enough this year to cushion the Lone Ranger blow. Additionally, Bruckheimer's reworked deal with Disney put some of the burden on his shoulders, so Disney may not be eating the cost alone.
Still, a $150 million write-down could sour Disney's relationship with Bruckheimer, and throw Depp's star power into question. Cinema Blend even posits that Depp may be headed down the same path as Mike Myers — another once-bright star knocked off his perch after a massive flop. In an ideal world, The Lone Ranger might teach Hollywood that throwing big names and big bucks at a musty old property isn't enough to guarantee a hit. Unfortunately, I'm pretty sure we don't live in that universe.