'Veronica Mars' Movie Will Feature A Few Notable Cameos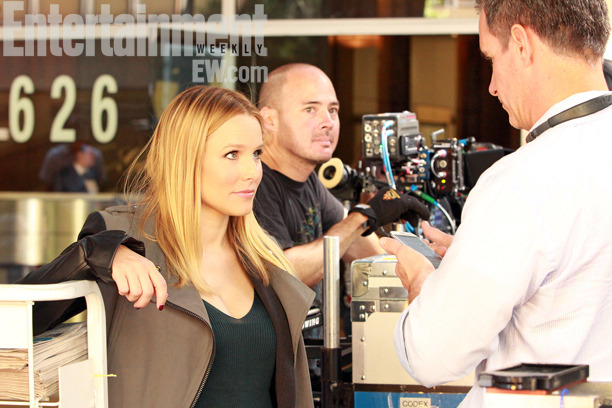 The Veronica Mars movie sequel is currently shooting in LA. And while we've known about the primary cast for a while, turns out there will be some recognizable cameos crossing paths with the keen-eyed detective. Hit the jump for details on the most notable actor who'll show up, which comes complete with new plot info. (Be warned that some spoilers for the movie follow.)
James Franco's predictably unpredictable career has taken him through Oscorp HQ, medieval Europe, Port Charles, the magical land of Oz, and, most recently, apocalyptic Los Angeles. Now he's reportedly set to drop by the drama-soaked town of Neptune, California.
As previously reported, the new film sees Veronica (Kristen Bell) returning to Neptune for her 10-year reunion. While there, she's tasked with helping Logan (Jason Dohring), whom she hasn't seen in years, uncover the truth behind his pop-star girlfriend's mysterious death.
An insider revealed to Zap2It that Franco will play one of several celebrity victims of a scam targeting the rich and famous, in which someone plants hidden cameras in their homes and then tries to sell the recordings. How exactly that ties into the main murder case isn't clear, but perhaps Logan or his gal pal will turn out to be one of the other victims. Franco and his reps have yet to confirm the casting.
Assuming this story turns out to be true, Franco will be one of a handful of new names (along with his former Freaks & Geeks co-star Martin Starr) attached to the project. In addition to Bell and Dohring, returning stars set to appear include Enrico Colantoni, Percy Daggs III, Tina Majorino, Chris Lowell, Ken Marino, Ryan Hansen, and several others.
Franco took a page out of the Veronica Mars playbook earlier this summer by seeking crowdfunding for his latest venture, a trio of films based on his short story collection Palo Alto. He also recently announced plans to direct and star in the William Faulkner adaptation The Sound and the Fury. As an actor, his upcoming appearances include the porn biopic Lovelace and Wim Wenders' Every Thing Will Be Fine.
Veronica Mars is slated for a 2014 release.