Comic Con 2013 Saturday Programming Features Marvel, Warner Bros., Lionsgate And 20th Century Fox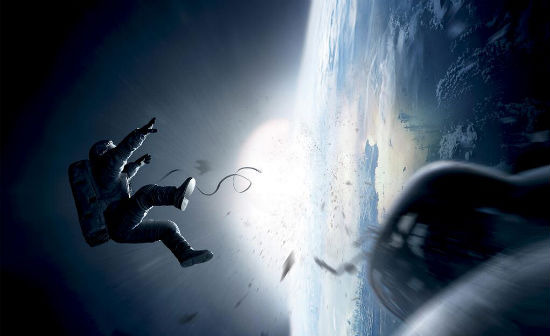 Saturday is traditionally the biggest day at San Diego Comic-Con and 2013 is no different. Four of the biggest studios will be bringing their films to Hall H. Warner Bros. has Godzilla, Seventh Son, 300: Rise of an Empire, Gravity and The Lego Movie (but no mention of future DC films), Lionsgate has I Frankenstein and The Hunger Games: Catching Fire, Marvel Studios brings Thor: The Dark World and Captain America: The Winter Soldier and 20th Century Fox is bringing...something. It's listed at "To Be Determined" on the schedule but you'd bet it's The Wolverine, Percy Jackson: Sea of Monsters and maybe, hopefully, X-Men: Days of Future Past?
After the jump, check out the full schedule and some other highlights including The Sandman, The Simpsons, Kevin Smith, Hellboy and more.
Read the full Saturday Comic-Con schedule at this link. Below are some highlights.
A&E Bates Motel
The Bates Motel is open for business in San Diego! Executive producers Carlton Cuse (Lost) and Kerry Ehrin (Friday Night Lights) will release new footage from the highly acclaimed A&E drama series Bates Motel exclusively for Comic Con attendees. The executive producers will be joined by the cast, including Academy Award nominee Vera Farmiga (Norma Bates), Freddie Highmore (Norman Bates), Max Thieriot (Dylan), Olivia Cooke (Emma), and Nestor Carbonell (Sheriff Alex Romero) to discuss the show's unique backstory and creation. Fans will get an opportunity to hear more about season 2, debuting in 2014 on A&E, and will have a chance to ask the cast and creators questions during a Q&A. Moderated by Tim Stack from Entertainment Weekly.
Saturday July 20, 2013 10:00am – 11:00am Room 6A
Marvel Television Presents
It's the biggest, most animated Marvel Television panel ever! Join Marvel's head of television, Jeph Loeb, for the latest from inside Marvel Universe on Disney XD, including what's next for Marvel's Ultimate Spider-Man, a new episode of the hit series Marvel's Avengers Assemble, and the world premiere of Marvel's Hulk and the Agents of S.M.A.S.H.
Saturday July 20, 2013 10:30am – 11:30am Room 6BCF
Warner Bros. Pictures and Legendary Pictures Preview Their Upcoming Lineups
Legendary Pictures: Godzilla — An epic rebirth to Toho's iconic Godzilla, this spectacular adventure pits the world's most famous monster against malevolent creatures who, bolstered by humanity's scientific arrogance, threaten our very existence. Gareth Edwards directs Godzilla, which stars Aaron Taylor-Johnson, Ken Watanabe, Elizabeth Olsen, and Juliette Binoche, with David Strathairn and Bryan Cranston. The screenplay is by Max Borenstein, Frank Darabont, and Dave Callaham. Thomas Tull and Jon Jashni are producing with Mary Parent and Brian Rogers. Alex Garcia and Patricia Whitcher are the executive producers, alongside Yoshimitsu Banno and Kenji Okuhira. The film is from Warner Bros. Pictures and Legendary Pictures.
Legendary Pictures: Seventh Son — The fantasy action adventure Seventh Son takes audiences to a time long past, where evil is about to be unleashed. Jeff Bridges stars as Master Gregory, a Falcon Knight who imprisoned the malevolently powerful witch Mother Malkin (Julianne Moore) years ago. Now escaped, she seeks vengeance, and Gregory has only until the next blood moon to train a new apprentice (Ben Barnes), the seventh son of a seventh son, to fight a dark magic unlike any other. Oscar nominee Sergei Bodrov directs an international cast that includes Alicia Vikander, Kit Harington, Olivia Williams, Antje Traue, and Djimon Hounsou. The film is from Warner Bros. Pictures and Legendary Pictures.
Warner Bros. Pictures: 300: Rise of an Empire — From producer Zack Snyder, Warner Bros. Pictures and Legendary Pictures present a new chapter in this epic saga, based on Frank Miller's graphic novel Xerxes and told in the same breathtaking visual style as the blockbuster 300. Directed by Noam Murro, 300: Rise of an Empire takes the action to a fresh battlefield-on the sea-with a cast of both new and returning stars, led by Sullivan Stapleton, Eva Green, Lena Headey, Hans Matheson, David Wenham, and Rodrigo Santoro. Gianni Nunnari, Mark Canton, Zack Snyder, Deborah Snyder, and Bernie Goldmann produce, with Zack Snyder and Kurt Johnstad again collaborating on the screenplay.
Warner Bros. Pictures: Gravity — From director Alfonso Cuarón comes the sci-fi Thriller Gravity, starring Sandra Bullock and George Clooney. Dr. Ryan Stone (Bullock) is a brilliant medical engineer on her first shuttle mission, alongside veteran astronaut Matt Kowalsky (Clooney). On a seemingly routine spacewalk, disaster strikes, leaving them completely alone-tethered to nothing but each other and spiraling out into the blackness. The deafening silence tells them they have lost any link to Earth...and any chance for rescue. As fear turns to panic, every gulp of air eats away at what little oxygen is left. But the only way home may be to go further into the terrifying expanse of space.
Warner Bros. Pictures: The LEGO Movie — From directors Phil Lord and Christopher Miller of 21 Jump Street comes the first ever full-length theatrical LEGO adventure, The LEGO Movie, about a perfectly average LEGO minifigure named Emmet who is mistakenly identified as the most extraordinary person and the key to saving the world. He is drafted into a fellowship of strangers on an epic quest to stop an evil tyrant, a journey for which he is hopelessly and hilariously underprepared. The original 3D computer animated story stars Chris Pratt, Will Ferrell, Elizabeth Banks, Will Arnett, Nick Offerman, and Alison Brie, with Liam Neeson and Morgan Freeman.
Saturday July 20, 2013 10:45am – 1:15pm Hall H
The Simpsons
Celebrate The Simpsons' 25th year on the air with creator Matt Groening, executive producer Al Jean, supervising director Mike Anderson, and consulting producer David Silverman, enjoy never-before seen footage from guest director Guillermo del Toro, and hear musical guests perform "We Put The Spring In Springfield!"
Saturday July 20, 2013 12:45pm – 1:30pm Ballroom 20
Lionsgate – Featuring I, Frankenstein and The Hunger Games: Catching Fire
I, Frankenstein stars Aaron Eckhart and Yvonne Strahovski appear with film director/writer Stuart Beattie and graphic novel author/writer Kevin Grevioux. Plus, the cast of the highly anticipated second installment of The Hunger Games: Catching Fire comes to Hall H for the first time. Panel moderated by Fandango chief correspondent Dave Karger. Never-before-seen footage is showcased from both films. Includes Q&A opportunity.
Saturday July 20, 2013 1:35pm – 2:35pm Hall H
Entertainment Weekly's Women Who Kick Ass
Fierce, fearless and flat-out fantastic, these female actors have left fans breathless. Michelle Rodriguez (Fast and Furious franchise), Orphan Black's Tatiana Maslany, Danai Gurira (The Walking Dead), and others open up about the power and privilege of playing women who redefine the rules and refuse to yield.
Saturday July 20, 2013 2:55pm – 3:55pm Hall H
Hellboy 20th Anniversary Panel
This year's Comic-Con marks the 20th anniversary of Mike Mignola's best-loved beast. Hellboy has achieved the status in the industry typically reserved for characters created 40 years before him. Following up on the first arc on one of his most popular miniseries to date, the all-new Abe Sapien ongoing series, and the continuing adventures of the supporting cast of the BPRD, this will be one of the biggest Hellboy panels to date! Join creator Mike Mignola and Dark Horse editor-in-chief Scott Allie, for an open forum on your favorite cast of characters.
Saturday July 20, 2013 3:00pm – 4:00pm Room 4
Vertigo: The Sandman 25th Anniversary and Beyond!
This year Vertigo's flagship title The Sandman returns to comics in an all-new series written by Neil Gaiman (TheSandman)! Join Neil for a celebration of the 25th anniversary of this timeless series and an exclusive look at what is in store for the Lord of the Dreaming with Neil and his past and future legendary collaborators, Dave McKean, Sam Kieth, Todd Klein, and J. H. Williams III.
Saturday July 20, 2013 3:15pm – 4:15pm Room 6DE
20th Century Fox
TBA
Saturday July 20, 2013 4:15pm – 5:45pm Hall H
Marvel Studios: Thor: The Dark World and Captain America: The Winter Soldier
Marvel Studios president and producer Kevin Feige and many surprise guests provide an inside look at the ever-expanding Marvel cinematic universe.
Saturday July 20, 2013 6:00pm – 7:00pm Hall H
Spotlight on Leonard Maltin
He's been called America's most knowledgeable film critic and historian, and he's the author of more than a dozen books on motion pictures and animation, in addition to his annual (and bestselling) Leonard Maltin's Movie Guide, a book no lover of film can be without. This year, he's a Comic-Con special guest and for this hour, Leonard Maltin will be interviewed by his longtime friend Mark Evanier.
Saturday July 20, 2013 6:00pm – 7:00pm Room 5AB
ComiKev 2013: Kevin Smith Uses His Mouth on You in Hall H
After all the interesting and exciting movie panels are over, Hall H belongs to a middle-aged man who hasn't made a flick in years! It's not Saturday night in Hall H 'til the Fat Lady sings...and that fat lady is the flight-challenged writer/director/podcaster/author/actor Kevin Smith! Ask ComiKev questions about the forthcoming Clerks III, or Jay and Silent Bob's Super Groovy Cartoon Movie, or his AMC show Comic Book Men! Watch Kev over-answer while sweating profusely! Get in on a tradition and wrap up a busy Saturday with the Clown Prince of Comic-Con!
Saturday July 20, 2013 7:15pm – 9:00pm Hall H