Metallica Comes To Comic-Con 2013 On Friday Along With 'Amazing Spider-Man 2,' 'Game Of Thrones, 'Walking Dead' And 'Veronica Mars'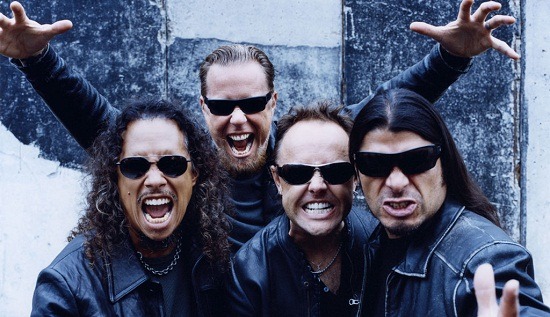 Not as many surprises on the Friday schedule for San Diego Comic-Con 2013, but that doesn't mean it's not big. Actually, it's huge.
The second biggest day of the Con will feature a loaded Hall H day including The World's End, Kick-Ass 2, Riddick, Veronica Mars, RoboCop, The Amazing Spider-Man 2 and even two huge TV entries, Game of Thrones and The Walking Dead.
But that's not all. Also on Friday you'll see The Legend of Korra, Ron Moore's Helix, Marvel's Agents of S.H.I.E.L.D., Drew Struzan, Joss Whedon, Vikings, Roger Rabbit and Metallica. Yes. Metallica.
Check out the full Friday schedule and see our select highlights below.
The full Friday July 19 Comic-Con schedule can be viewed at this link. Here are some of the major highlights. (And click here for Thursday)
Edgar Rice Burroughs: Tarzan, Carson of Venus, and the Next 100 Years of Adventure
Jim Sullos (president, Edgar Rice Burroughs, Incorporated), Scott Tracy Griffin (Tarzan: The Centennial Celebration), Andy Briggs (Tarzan: The Savage Lands), Martin Powell (Carson of Venus), Steven E. Gordon (The Eternal Savage), and Diana Leto (The Cave Girl) discuss the future of the Burroughs universe online, on the page, and in theaters. Panel attendees can enter a drawing to win signed original art at the panel's conclusion.
Friday July 19, 2013 10:00am – 11:00am Room 28DE
The World's End: Edgar Wright, Simon Pegg, Nick Frost Reunited
The director and stars of Shaun of the Dead and Hot Fuzz have joined forces for a third movie-and it's "Barmageddon," their biggest yet. As ever, they're as happy to be here as you are. So expect candid chatter and spirited surprises as they take the wraps off their new comedy, which Focus Features is opening nationwide in the U.S. on August 23.
Friday July 19, 2013 10:00am – 11:00am Hall H
Cartoon Network: Adventure Time
What's algebraic and schmowzow and righteous all over? It's Adventure Time! Holy stuff! As if chatting up the coolest kids in the cartoon kingdom wasn't enough, get ready for your eyeballs to be fixed on some never-before-seen content and your jaw to drop at a rad surprise or two. The panel features Adventure Time creator Pendleton Ward (Lumpy Space Princess), Jeremy Shada (Finn), John DiMaggio (Jake), Tom Kenny (Ice King), Olivia Olson (Marceline), Kent Osborne (head of story), and Adam Muto (supervising producer). Part of the back-to-back Regular Show/Adventure Time Panel Extravaganza, beginning at 10:00.
Friday July 19, 2013 11:00am – 12:00pm Indigo Ballroom, Hilton San Diego Bayfront
Star Wars: Collectibles Update
Join eFX, Gentle Giant Studios, Kotobukiya, and Sideshow Collectibles for product development insights and exclusive previews of the latest in Star Wars collectibles. Moderated by Chris Spitale of Lucas Licensing.
Friday July 19, 2013 11:00am – 12:00pm Room 7AB
Nickelodeon's The Legend of Korra Returns!
Executive producer and creator team Bryan Konietzko and Michael DiMartino (Avatar: The Last Airbender) and co-executive producer Joaquim Dos Santos (Avatar: The Last Airbender) discuss what's in store for the highly anticipated Book 2: Spirits. The mind-bending panel will be full of never-before-seen artwork and the ultimate of sneak peeks. You'll also get to hear from your favorite characters, as talented voice actors Janet Varney (voice of Korra), David Faustino (voice of Mako), and P. J. Byrne (voice of Bolin) share their experiences working on the series. Moderated by Bryan Konietzko.
Friday July 19, 2013 11:15am – 12:15pm Ballroom 20
Veronica Mars Special Video Presentation and Q&A
Join cast members Kristen Bell, Francis Capra, Enrico Colantoni, Percy Daggs III, Jason Dohring, Ryan Hansen, Chris Lowell, Tina Majorino and Krysten Ritter along with producer and director Rob Thomas in a panel moderated by Entertainment Weekly's Jeff Jensen. Fresh off the set of the film that was funded by over 90,000 devoted fans through Kickstarter, attendees will have an opportunity to see exclusive footage, hear details about the production, and ask the cast and producers questions about this upcoming movie.
Friday July 19, 2013 11:15am – 12:00pm Hall H
Helix
Leave sunny San Diego behind for an arctic chill as the team behind Helix (executive produced by Battlestar Galactica's Ronald D. Moore) discusses Syfy's hotly anticipated new series. Get an inside look at the thriller about a mysterious outbreak on Earth's coldest continent. The truth will spread! Moderated by Entertainment Weekly's Geoff Boucher.
Friday July 19, 2013 11:45am – 12:45pm Room 6A
Kick-Ass 2 and Riddick
Universal Pictures presents an all-star panel featuring talent from two of its highly anticipated summer films. In attendance will be stars and filmmakers from the action-comedy Kick-Ass 2. Attending from Riddick will be the action-adventure's star/producer Vin Diesel (Fast & Furious 6), along with actors Katee Sackhoff (Battlestar Galactica) and Dave Bautista (The Man with the Iron Fists) and Riddick's writer/director David Twohy (The Fugitive).
Friday July 19, 2013 12:15pm – 1:15pm Hall H
The Feature Film Art Department: The Art of Collaboration-and the Collaboration of Artists
How do as few as five – or as many as 50 – artists work together to create a coherent, believable world in which to stage the action of the modern motion picture? Members of the art department of Captain America: First Avenger discuss working on the film in Los Angeles while the film was shooting in London. Panelists include moderator and supervising art director John Dexter (also Pirates of the Caribbean 2 & 3), conceptual model maker Jeff Frost (Star Trek Into Darkness), lead vehicle designer Daniel Simon (Tron: Uprising), graphic designer Karen TenEyck (The Lone Ranger), and set designer and assistant art director Clint Wallace (Men in Black 3, Enders Game as art director).
Friday July 19, 2013 12:30pm – 1:30pm Room 24ABC
[adult swim]: Childrens Hospital
Watch a sneak peek of Childrens Hospital season 5 and hear from the show's creative team, led by creator and star Rob Corddry (Hot Tub Time Machine, The Daily Show with Jon Stewart), executive producer Jonathan Stern (Burning Love, Newsreaders), and executive producer David Wain (The State, Wanderlust). They will be joined by members of the show's ensemble cast of comedic heavyweights, including Lake Bell (How to Make It in America), Erinn Hayes (Parenthood), Ken Marino (Party Down, The State), and Rob Huebel (Human Giant, The Descendants).
Friday July 19, 2013 1:00pm – 1:45pm Indigo Ballroom, Hilton San Diego Bayfront
Warner Archive Collection presents Attack of the Killer Bs
The movies you hate to admit you love-and the Warner Archive unabashedly adores- get their overdue marquee moment as panelists shine the spotlight on some of the very best of the B-movies-all those quirky and crazed sci-fi, horror, and action films that transcend their B-movie-ness to become permanent fixtures in our collective imaginations. From The Frozen Dead and The Green Slime to The Hand and The Beast with Five Fingers; from Joe Don Baker waging a one-man war in Mitchell to Peter Graves leading the 5-Man Army in an impossible gold train robbery; these B's (and many more) will get the TLC they greatly deserve as part of an hour-long discussion of B- movies and the reasons we love them. Join ever-informed, fan-centric WAC Podcast hosts George Feltenstein, Matthew Patterson, and D. W. Ferranti, super-critic Leonard Maltin, and Academy Award-nominated screenwriter Josh Olson (A History of Violence) as they delve into cinematic fun, revealing highlights from WAC's upcoming slate of entertaining releases.
Friday July 19, 2013 1:30pm – 2:30pm Room 24ABC
AMC's The Walking Dead
Series stars Andrew Lincoln, Norman Reedus, Steven Yeun, Lauren Cohan, Danai Gurira, David Morrissey, Scott Wilson, and Chad Coleman join executive producer and showrunner Scott Gimple, executive producer Robert Kirkman, executive producer Gale Anne Hurd, executive producer Dave Alpert, and special effects makeup supervisor and executive producer Greg Nicotero in a panel moderated by Chris Hardwick (The Nerdist, Talking Dead). The panelists will discuss the record-breaking third season of The Walking Dead and what to look forward to in season 4, debuting this fall on AMC. Join the panelists for a one-on-one Q&A session and an official sneak preview of season 4.
Friday July 19, 2013 1:35pm – 2:30pm Hall H
Marvel's Agents of S.H.I.E.L.D. on ABC
Jeph Loeb (Marvel's head of television), Joss Whedon (Marvel's The Avengers), and surprise guests reveal top-secret new information about the first live-action television series from the House of Ideas. No Comic-Con attendee can afford to miss this historic panel!
Friday July 19, 2013 1:45pm – 3:00pm Ballroom 20
The Hardest Job in Entertainment?
Showrunners, a new documentary film that takes the audience behind the scenes, into the writers' room and on set with candid interviews with 20 of today's top showrunners, presents an intimate discussion with the creators of your favorite TV shows! Tara DiLullo Bennett (Lost Encyclopedia, Fringe: Septembers Notebook) moderates a panel on the craft of running a television series with contributors featured in the documentary: Hart Hanson (Bones), Bill Prady (The Big Bang Theory), and Jane Espenson (Husbands, Once Upon A Time) plus others. The panel will also feature exclusive new footage from the film, which also includes Joss Whedon, J. J. Abrams, Ronald D. Moore, Damon Lindelof, and many more! Click here for detailed information about ticketing for this event.
Friday July 19, 2013 2:00pm – 3:00pm Lyceum
Casting Directors
Moderated by Lora Kennedy (Warner Brothers, EVP, features casting; CD, Man of Steel). With a panel that includes Roger Mussenden (X-Men: Days of Future Past), Sharon Bialy (The Walking Dead), David Rapaport (Arrow), Randi Hiller (VP of casting for Walt Disney Studio, The Avengers, Captain America: The First Avenger, Thor), these leading casting directors will give behind-the-scenes insight to the casting process.
Friday July 19, 2013 2:20pm – 3:20pm Marriott Hall 2, Marriott Marquis & Marina
Game of Thrones Panel and Q&A Session
Based on the bestselling fantasy book series A Song of Ice and Fire by George R. R. Martin, HBO's Game of Thrones concluded its 10-episode third season in June and will begin filming its fourth season this summer. The series, executive produced and written by David Benioff and D. B. Weiss, is an epic story of treachery and nobility, set on the continent of Westeros, where summers and winters can last years. Featured cast include: (in alphabetical order): John Bradley as Samwell Tarly, Emilia Clarke as Daenerys Targaryen, Nikolaj Coster-Waldau as Jaime Lannister, Peter Dinklage as Tyrion Lannister, Michelle Fairley as Catelyn Stark, Kit Harington as Jon Snow, Rose Leslie as Ygritte, and Richard Madden as Robb Stark. The panel will be moderated by Elvis Mitchell.
Friday July 19, 2013 2:50pm – 3:45pm Hall H
Marvel: Cup O' Joe
Here is your chance to Q&A with Marvel's chief creative officer Joe Quesada, for this no-holds-barred exposé on everything Marvel. Got a question about a favorite hero? Want to hear groundbreaking news straight from the source? Need a rundown on breaking developments in Marvel comics, film, and TV? This panel is for you! Plus, don't miss out on the exciting developments in the biggest new series of the year, Guardians of the Galaxy! Featuring panelists editor-in-chief Axel Alonso, talent scout C. B. Cebulski, David Gabriel (SVP, print and digital publishing), writers Rick Remender (Uncanny Avengers) and Brian Michael Bendis (Guardians of the Galaxy), and some other Mighty Marvel guests!
Friday July 19, 2013 3:15pm – 4:15pm Room 6BCF
Sleepy Hollow
Executive producers Alex Kurtzman and Roberto Orci (Star Trek, Fringe, Spider-Man 2) and Len Wiseman (Underworld, Total Recall) unveil their highly anticipated project with an exclusive world premiere screening of the pilot, followed by a Q&A with fans featuring series lead Tom Mison (Parade's End) and Nicole Beharie (42, Shame).
Friday July 19, 2013 3:30pm – 4:30pm Room 6A
Sony & Screen Gems
Cloudy with a Chance of Meatballs 2 — You remember Sony Pictures Animation's Cloudy with a Chance of Meatballs — Flint Lockwood invented a machine that turned water into food, and it worked, but it also unleashed a dangerously delicious tsunami of food weather and Flint was forced to destroy it. Or so he thought...In Cloudy with a Chance of Meatballs 2, the adventure and fun continue when Flint discovers that his old invention is still working and is now creating new food-animal hybrids — foodimals! Come join stars Anna Faris and Terry Crews along with directors Cody Cameron and Kris Pearn, to get a taste of this new animated movie from Sony Pictures Animation.
The Mortal Instruments: City of Bones — Set in contemporary New York City, a seemingly ordinary teenager, Clary Fray (Lily Collins), discovers she is the descendant of a line of Shadowhunters, a secret cadre of half-angel warriors locked in an ancient battle to protect our world from demons. After the disappearance of her mother (Lena Headey), Clary must join forces with a group of Shadowhunters, who introduce her to a dangerous alternate New York called Downworld, filled with demons, warlocks, vampires, werewolves and other deadly creatures. Based on the worldwide best-selling book series. Please join best- selling author, Cassandra Clare, along with the film's director Harald Zwart and stars Lily Collins, Jamie Campbell Bower, Robert Sheehan and Kevin Zegers for a first look at exciting new footage and discussion of The Mortal Instruments: City of Bones.
RoboCop — In RoboCop, the year is 2028 and multinational conglomerate OmniCorp is at the center of robot technology. Overseas, their drones have been used by the military for years — and it's meant billions for OmniCorp's bottom line. Now OmniCorp wants to bring their controversial technology to the home front, and they see a golden opportunity to do it. When Alex Murphy (Joel Kinnaman) – a loving husband, father and good cop doing his best to stem the tide of crime and corruption in Detroit — is critically injured in the line of duty, OmniCorp sees their chance for a part-man, part-robot police officer. OmniCorp envisions a RoboCop in every city and even more billions for their shareholders, but they never counted on one thing: there is still a man inside the machine pursuing justice. Join stars Joel Kinnaman, Abbie Cornish, and Samuel L. Jackson along with director José Padilha for insight into this eagerly awaited movie.
The Amazing Spider-Man 2 — Last year, Andrew Garfield, along with director Marc Webb and producers Avi Arad and Matt Tolmach, launched a new chapter in the Peter Parker story with The Amazing Spider-Man. With a new installment in the franchise due in 2014, join us in Hall H for one of Comic-Con's most highly anticipated panels to hear a bit about what awaits Peter Parker in The Amazing Spider-Man 2.
Friday July 19, 2013 4:05pm – 6:15pm Hall H
GEEK Star Wars Roundtable Live!
Sense a great disturbance in the Force? Don't worry, it's only the cover story of GEEK magazine coming to the stage of the San Diego Comic-Con as panelists convene their own Jedi Council roundtable to discuss their new hopes for the saga and the astounding developments in a galaxy far, far, away. Kyle Newman (director, Fanboys), Steve Melching (writer, The Clone Wars), Christian Gossett (artist, Tales of the Jedi), Jonathan Rinzler (author, The Making of Return of the Jedi), and GEEK founding publisher and Sith Lord Mark A. Altman (writer/producer, Free Enterprise) discuss the return of Han, Luke, and Leia; the prequels; the end of The Clone Wars; and J. J. Abrams's epic challenge as Star Wars strikes back.
Friday July 19, 2013 5:00pm – 6:00pm Room 7AB
Making Roger Rabbit: 25th Anniversary
The making of Who Framed Roger Rabbit is revealed with a world class panel of animators led by legendary producer Don Hahn and featuring a special appearance by the voice of Roger Rabbit himself, Charles Fleisher. The panel includes animation masters Andreas Deja and James Baxter, animator/writer/historian Tom Sito, and special effx wizard Dave Bossert, along with incredible clips and stories from the making of this classic film.
Friday July 19, 2013 5:45pm – 6:45pm Room 6BCF
All Hail Vikings
HISTORY's Vikings cast triumphantly storms the stage here: Travis Fimmel (Ragnar), Katheryn Winnick (Lagertha), George Blagden (Athelstan), Jessalyn Gilsig (Siggy), Gustaf Skarsgård (Floki), and Clive Standen (Rollo), along with writer/creator Michael Hirst, and Dirk Hoogstra (EVP and general manager, HISTORY & H2). Don't miss this star-studded event filled with Season 2 teasers.
Friday July 19, 2013 6:00pm – 7:00pm Room 6A
Dark Horse: Joss Whedon
Joss Whedon has rewarded fans the world over with some of the most compelling characters and plotlines in the history of comics, television, and movies. Here's your chance to find out what he has in store next, and get exclusive insight into Buffy the Vampire Slayer, Serenity, and much more!
Friday July 19, 2013 6:15pm – 7:15pm Ballroom 20
At the Drive-In Featuring Metallica
Join all four members of Metallica, one of the most influential rock bands in history — James Hetfield (vocals, guitar), Lars Ulrich (drums), Kirk Hammett (guitar, background vocals), and Robert Trujillo (bass, background vocals) — along with director/writer Nimród Antal (Kontroll) and producer Charlotte Huggins (Journey to the Center of the Earth) for the world premiere of the theatrical trailer, poster, and an exclusive preview of footage, followed by a discussion on the making of this groundbreaking 3D motion picture. Metallica Through the Never stars Metallica and rising star Dane DeHaan (The Amazing Spider- Man 2) and combines a bold narrative and a spectacular never-before-seen live performance of the band's most iconic songs created exclusively for the film, which will be released by Picturehouse in North America on September 27, exclusively in over 300 IMAX 3D Theatres, and will expand into additional theaters on October 4.
Friday July 19, 2013 6:30pm – 7:00pm Hall H
Drew Struzan: The Man Behind the Poster
Movie poster artist Drew Struzan (creator of the Star Wars, Back to the Future, and Indiana Jones movie posters) is joined by celebrity guests and the film crew behind the documentary feature film about his career, set to premiere this summer. Enjoy movie clips, poster giveaways, and free movie tickets.
Friday July 19, 2013 7:00pm – 8:00pm Room 4
World Premiere of Justice League: The Flashpoint Paradox
Warner Bros. Home Entertainment, DC Entertainment, and Warner Bros. Animation invite you to be the first to experience Justice League: The Flashpoint Paradox, the highly anticipated next entry in the ongoing series of DC Universe Animated Original Movies. When time travel allows a past wrong to be righted for Flash and his family, the event's temporal ripples prove disastrous, creating a fractured alternate reality where the Justice League never formed, and even Superman is nowhere to be found. Amidst a new world being ravaged by a fierce war between Wonder Woman's Amazons and Aquaman's Atlanteans, Flash must team with a grittier, more violent Batman and government agent Cyborg to restore the continuity of Flash's original timeline. Come for the film, but stay for the star-studded panel that features Grey's Anatomy stars Justin Chambers and Kevin McKidd as Flash and Batman, respectively, along with C. Thomas Howell (Southland), Cary Elwes (The Princess Bride), Sam Daly (The Daly Show), and a few surprise voice cast members, plus the filmmaking team of producer James Tucker (Superman: Unbound), director Jay Oliva (Batman: The Dark Knight Returns), dialogue director Andrea Romano (Batman: The Dark Knight Returns), screenwriter Jim Krieg (Green Lantern: The Animated Series), and character designer Phil Bourassa (Young Justice). Moderator Gary Miereanu will add to the fun with a special announcement of the 2014 DCU movie slate, as well as exclusive, cast-autographed prizes for a few lucky fans. Based on the landmark mini-series by Geoff Johns and Andy Kubert, Justice League: The Flashpoint Paradox will be available as a digital download on July 19 and a Blu-ray Combo Pack on July 30.
Friday July 19, 2013 7:30pm – 9:30pm Ballroom 20
Your Opinion Sucks! Rotten Tomatoes Critics vs. Fans
Face off with your favorite Rotten Tomatoes critics such as Leonard Maltin (Badass Film Critic and historian), Ben Lyons (Extra), and Scott Mantz (Access Hollywood) when they join editor-in-chief Matt Atchity and senior editor Grae Drake of Rotten Tomatoes along with their editorial team. As Matt and Grae name popular movies of 2012 and 2013, everyone in the room uses their "Personal Tomatometer Paddle" to dis/agree with the score-and debate questions such as "Do reviews even matter anymore?" Courageous members of the audience who openly debate their opinion with the critics receive super cool prizes! Remember: Fortune favors the bold. The panel will be broadcast on Rotten Tomatoes Radio on SiriusXM.
Friday July 19, 2013 7:45pm – 8:45pm Room 8