Comic-Con 2013 Thursday Schedule Features Alfonso Cuaron, Marc Webb, Edgar Wright, 'The X-Files' And 'Sherlock'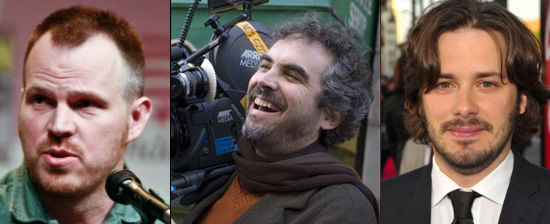 And so it begins. The schedule for Wednesday night and Thursday at San Diego Comic Con 2013 has been revealed kicking off four days of scheduling madness. There are several early highlights on what's traditionally the second slowest day of the Con, but one standout is a Hall H conversation between Alfonso Cuaron, Marc Webb and Edgar Wright. Webb and Wright's movies (The Amazing Spider-Man 2 and The World's End) are already confirmed for the convention, but this all but solidifies Gravity will be there too.
On the movie side of things there's also Europa Report, Ender's Game, Divergent and Terry Gilliam's Zero Theorum. On the TV side, there's Dexter, The X-Files and Sherlock. And that's only a small sampling. Below, check out the full schedule as well as some highlights.
The full Wednesday and Thursday Comic-Con schedule can be viewed at this link. Here are just a few highlights.
Teenage Mutant Ninja Turtles Featuring Kevin Eastman
A special discussion about all things TMNT featuring co-creator Kevin Eastman! Join Eastman and other members of the IDW Publishing TMNT creative brain trust, including editor Bobby Curnow and writer Tom Waltz, for what promises to be one shell of a fun and informative time!
Thursday July 18, 2013 10:00am – 11:00am Room 9
The Anatomy of Superhero Film Music: Bringing a Comic Book to Life
Leading Hollywood film directors and composers-including composer Marco Beltrami with director James Mangold (The Wolverine), composer Brian Tyler with director Shane Black (Iron Man 3), composer Henry Jackman (X-Men: First Class, Captain America: Winter Soldier) with director Matthew Vaughn (X-Men: First Class), composer Christopher Lennertz (Marvel: Agent Carter), composer John Debney (Iron Man 2, Sin City) and music supervisor Dave Jordan (The Avengers)-discuss the creation of the musical voice behind the hero. Following in tradition with a long-running franchise, the panelists will explore the challenges faced when bringing a comic book character to life and giving that character a voice. Additionally, composers will discuss working with directors and how they work together to convey the story of the character. Composers will discuss creating a theme, transforming the theme throughout the storyline, and following the often uphill battle that our heroes travel. All panelists will show examples of their work. With Q&A moderated by Ray Costa (award-winning journalist/ CEO of Costa Communications, a leading film music public relations firm).
Thursday July 18, 2013 10:30am – 11:30am Room 6A
Masters of the Web
Some of the most prominent and influential film pundits on the web discuss the film industry, writing for film online, film fandom, and a whole lot more with a special focus on the world of horror this year. Moderated by the director and writer of the upcoming Lionsgate film You're Next, Adam Wingard and Simon Barrett. Panelists include Ryan Turek (ShockTillYouDrop.com), Evan Dickson (Bloody-Disgusting.Com), Grae Drake (RottenTomatoes.Com), Heather Wixson (DreadCentral.Com), Lawrence Raffel (FearNet.com), James "Jimmy O" Oster (JoBlo.com), and hosted by John Campea (AMC Theatres). AMC is generously providing free movies passes to all attendees of the panel this year!
Thursday July 18, 2013 11:30am – 12:30pm Room 24ABC
Dreamworks Animation Filmmaker Focus
Join chief creative officer Bill Damaschke and directors David Soren (Turbo), Rob Minkoff (Peabody & Sherman), and Dean DeBlois (How to Train Your Dragon 2) as they discuss putting a great story through the animation process and onto the screen. Moderated by Anthony Breznican (Entertainment Weekly).
Thursday July 18, 2013 11:45am – 12:45pm Room 6A
The 14th Annual Animation Show of Shows
Ron Diamond (program curator, president of Acme Filmworks and AWN.com) presents the best and newest in international animation. Included is Disney's Oscar winning Paperman along with 10 animated shorts culled from the most notable festivals from around the world. Shows annually at Pixar, Dreamworks, Disney, ILM, Blue Sky, Sony, EA, UCLA, SVA, USC, SCAD, NYU, RISD, Harvard and CalArts.
Thursday July 18, 2013 11:50am – 12:50pm Hall H
Europa Report
At the movies, it seems there's so much science fiction, but so little science. Sebastian Cordero's Europa Report seeks to change that. The film depicts a near-future crewed mission to Jupiter's moon Europa, seeking evidence for life in an ocean beneath the moon's icy surface. The movie uses current science to tell a story of discovery and danger. This panel features the film's crew and cast, alongside scientists involved with a NASA concept for a real robotic spacecraft, the Europa Clipper, designed to investigate the mysteries of Europa, including whether it has the elements to support life. Participants include Sebastian Cordero (director, Rage and Chronicles), Bear McCreary (composer, Battlestar Galactica, The Walking Dead), producer Ben Browning, and actress Karolina Wydra, alongside JPL scientists Steve Vance and Kevin Hand. The panel will be moderated by astronomer Dr. Phil Plait (Slate magazine, Phil Plait's Bad Universe). Space.com called the film "One of the most thrilling and realistic depictions of deep-space exploration since Moon and 2001: A Space Odyssey."
Thursday July 18, 2013 1:10pm – 2:20pm Hall H
Ghost Ghirls: A Behind-the-Scenes Paranormal Experience with Jack Black
Hey Comic-Con! Jack Black is bringing his new quirky web series Ghost Ghirls to you. Ghost Ghirls follows the hilarious antics of two very blonde best friends, Heidi and Angelica, as they attempt to juggle their personal and professional lives-as ghostbusters. Each episode details the adventures of the funny duo as they work to solve the mysteries behind paranormal phenomena while attempting to convince their clients, some otherworldly visitors, and themselves, that they are legit. The show stars Amanda Lund and Maria Blasucci as the two paranormal investigators. It was created by Drunk History's Jeremy Konner, along with stars Lund and Blasucci. You will see exclusive episodes before they premiere online. Executive producer and comedic genius Jack Black will join the creators to ghoul-out for an interactive panel session, share the inspiration for the show, and answer questions.
Thursday July 18, 2013 1:00pm – 2:00pm
Indigo Ballroom, Hilton San Diego Bayfront
Sherlock
Steven Moffat (co-creator, executive producer and writer), Mark Gatiss (co-creator, executive producer and writer), and Sue Vertue (producer) discuss the latest adventures of Sherlock Holmes and his long-suffering faithful friend, Dr. John Watson. Coming to PBS Masterpiece during the 2013-14 season.
Thursday July 18, 2013 2:15pm – 3:15pm Ballroom 20
Entertainment Weekly's The Visionaries
From art house cinema to studio blockbuster, these uncompromising directors have electrified audiences with their virtuoso storytelling and breathtaking imagery. Marc Webb (The Amazing Spider-Man 2, 500 Days of Summer), Alfonso Cuarón (Gravity, Harry Potter and the Prisoner of Azkaban), and Edgar Wright (The World's End, Shaun of the Dead) lead this master class on the art of filmmaking and a wide-ranging discussion about the future of film.
Thursday July 18, 2013 2:30pm – 3:30pm Hall H
The Sidekick: Premiere Screening and Q&A
From director Michael J. Weithorn (King of Queens, A Little Help) and writer/actor Rob Benedict (Waiting, Supernatural) comes The Sidekick, the offbeat story of career "sidekick" Max McCabe. When Max begins to lose his youthful zip and is unceremoniously fired by his superhero boss, he finds himself cast adrift in a world that seems to have no use for an aging professional buddy. The panel will feature a 30-minute premiere screening and panel Q&A with Weithorn, Benedict, and cast members Lizzy Caplan (Mean Girls, Cloverfield), Martin Starr (This Is the End), Josh Meyers (Behind the Candelabra), Richard Speight Jr. (Band of Brothers), Jordan Peele (Key and Peele), cinematographer Steve Lubensky (Series 7), and other special guests to be announced.
Thursday July 18, 2013 3:00pm – 4:00pm Indigo Ballroom, Hilton San Diego Bayfront
We Still Love the '80s: 1983
Our 1982 panel was such a success, it's only apropos that it get a sequel. Welcome to 1983, now in 3D. If you thought nothing can compare to the greatest geek year ever, 1982, you're only half right. Get ready as GEEK magazine takes you back to the future; the year of such films as Return of the Jedi, War Games, The Right Stuff, Risky Business, Vacation, Scarface, Zelig, A Christmas Story, Blue Thunder, Krull, Psycho II, the 3D triptych of Spacehunter, Jaws 3-D, and Parasite and, of course, the ultimate 007 showdown, Octopussy vs. Never Say Never Again. GEEK founding publisher and moderator Mark A. Altman (Castle, Necessary Roughness) he promises a San Diego "all-time high" with Ashley E. Miller (Thor, X-Men: First Class), Robert Meyer Burnett (Free Enterprise, ST: TNG Blu-Rays), Steve Melching (Transformers Prime, Star Wars: The Clone Wars), Steve Kriozere (N.C.I.S., Femme Fatales), and David E. Williams (editor-in-chief, GEEKMagazine).
Thursday July 18, 2013 3:00pm – 4:00pm Room 5AB
TV Guide Magazine Celebrates The X-Files' 20th Anniversary
It's been two decades since FBI Special Agents Mulder (David Duchovny) and Scully (Gillian Anderson) first partnered to investigate unsolved paranormal cases. The X-Files made primetime safe for sci-fi, and spawned a generation of hugely successful writer/producers. Somewhere, the truth is still out there. TV Guide Magazine Los Angeles bureau chief Michael Schneider leads a panel scheduled to include series creator Chris Carter, plus writers/producers David Amann, Vince Gilligan, Howard Gordon, Darin Morgan, Glen Morgan, John Shiban, Jim Wong, and more guests to come.
Thursday July 18, 2013 3:30pm – 4:30pm Ballroom 20
Enders Game and Divergent
Summit Entertainment presents a special sneak peek at the highly anticipated film adaptation of the beloved, award-winning novel Enders Game. This is a must-see for fans, who will be shown all-new, exclusive footage and treated to a Q&A with stars Harrison Ford, Asa Butterfield, Hailee Steinfeld, and Abigail Breslin, along with producer Roberto Orci (Star Trek Into Darkness) and director Gavin Hood (X-Men Origins: Wolverine). The panel will also feature the first footage ever seen of the futuristic thriller based on the #1 New York Times best-selling novel, Divergent. Cast and filmmakers will complete a Q&A sharing details of the project's transition from book to film. Panelists will include novelist Veronica Roth, director Neil Burger, and cast members Shailene Woodley, Theo James, Miles Teller, Maggie Q, Ansel Elgort, Mekhi Phifer, Ben Lamb, Ben Lloyd-Hughes and Christian Madsen.
Thursday July 18, 2013 3:50pm – 4:50pm Hall H
Voltage Pictures: An Exclusive Preview of The Zero Theorum, Directed by Terry Gilliam
An eccentric and reclusive computer genius plagued with existential angst works on a mysterious project aimed at discovering the purpose of existence ­or the lack thereof­ once and for all. However, it is only once he experiences the power of love and desire that he is able to understand his very reason for being. Appearing on stage to introduce the special early look at this new film and take your questions are producers Zev Foreman (Killer Joe) and Dean Zanuck (Get Low). Moderated by Gina McIntyre of the LA Times' Hero Complex.
Thursday July 18, 2013 5:10pm – 5:40pm Hall H
An Unofficial Sneak Peek of The Hobbit: The Desolation of Smaug with TheOneRing.net
With 14 years on the front line of Middle Earth news, take a look with TORn staff at what you might not know about the second Hobbit movie. Rumors, spy reports, conjecture, inside info, debunking, and lively debate all play a part as Cliff Broadway (Ringers), Lisa Crouch (Barliman's), Larry D. Curtis (set visits), Rebecca Perry and Alex and Kellie Rice (Happy Hobbit), and additional staff dish the latest by and for fans of J. R. R. Tolkien.
Thursday July 18, 2013 5:30pm – 6:30pm Room 6A
Mortal Kombat: Legacy Season 2 Panel
Casper Van Dien (Starship Troopers), Brian Tee (The Wolverine), Ian Anthony Dale (Mortal Kombat: Legacy), Samantha Jo (Mortal Kombat: Legacy), and Ed Boon (creator of Mortal Kombat) join series creator and director Kevin Tancharoen (Mortal Kombat: Legacy), producer Lance Sloane (Mortal Kombat: Legacy/Act of Valor), and Machinima's executive vice president of network programming Aaron DeBevoise for an in-depth discussion about the highly anticipated second season of Mortal Kombat: Legacy, set to premiere exclusively on Machinima, the number one global video entertainment brand for young males. Moderated by Matt Atchity, editor-in-chief of Rotten Tomatoes.com, don't miss your chance to see exclusive, never-before-seen footage and hear from cast members about the second season of the groundbreaking show that has been called one of the most successful web series of all time.
Thursday July 18, 2013 6:00pm – 7:00pm Indigo Ballroom, Hilton San Diego Bayfront
South Park: The Stick of Truth
The creators of South Park, Trey Parker and Matt Stone, will discuss their upcoming South Park videogame, South Park: The Stick of Truth. Parker and Stone will talk role playing games, their vision for an interactive South Park adventure, and creating The Stick of Truth, the epic quest to become...cool.
Thursday July 18, 2013 6:00pm – 7:00pm
Room 6BCF
Showtime: Dexter
You've been there for every edge-of-your-seat moment, every kill, inside Dexter's most intimate thoughts, watching him transform before your eyes. Now, after eight amazing seasons, it's time to say goodbye to America's Favorite Serial Killer. Join the cast, writers/executive producers, and surprise guest stars who are too big to mention, for a final farewell panel that even Hall H can't contain! Ralph Garman (KROQ entertainment reporter) presides over a revealing interview and Q&A session with the stars and executive producers of Dexter. Featured panelists include series star/executive producer Michael C. Hall (Dexter), Jennifer Carpenter (Deb), David Zayas (Batista), and James Remar (Harry). Also appearing are executive producers John Goldwyn, Sara Colleton, Scott Buck, and Manny Coto. Satisfy your Dexter obsession all weekend. The new season of Dexter airs Sundays at 9:00 ET/PT only on Showtime.
Thursday July 18, 2013 6:30pm – 7:30pm Hall H