'Cutie And The Boxer' Trailer: A Glowing, Glorious Portrait Of Art And Commitment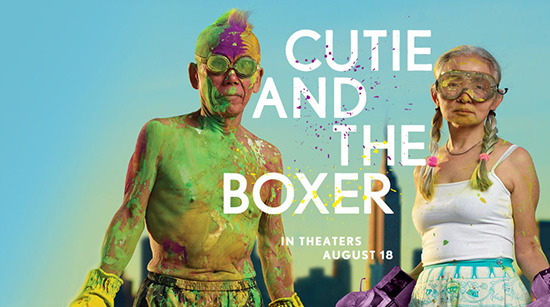 This is a wonderful movie. Cutie and the Boxer premiered at Sundance back in January, where it immediately grabbed a spot in the top tier of the festival programming. The story of painter/sculptor Ushio Shinohara and his wife Noriko Shinohara, also an artist, the documentary tackles the difficult complexities of navigating many years of marriage. The individual artistic ambitions of each half of the couple — which aren't incompatible, but which are unbalanced thanks to Ushio's self-definition as the breadwinner — add an extra layer of complication to a shared life that is already rife with struggle.
If that sounds dry, just check out the trailer below. Director Zachary Heinzerling was given intimate access to the Shinoharas, and they prove to be feisty and tender subjects. The film is built of beautiful images that never feel polished to dishonesty, and backed by a score that mirrors the alternately soft and prickly facets of each person.
Noriko's work is brought to life with endearing animation, and she ultimately becomes the storyteller, casting her relationship with Ushio — nicknamed "Bullie" — as a saga that casts their personal and professional journey as a fairy tale. There are glimmers of all those elements in the new trailer, embedded after the break.
Cutie and the Boxer opens on August 16. Apple has the trailer.
A reflection on love, sacrifice, and the creative spirit, this candid New York story explores the chaotic 40-year marriage of renowned "boxing" painter Ushio Shinohara and his artist wife, Noriko. As a rowdy, confrontational young artist in Tokyo, Ushio seemed destined for fame, but met with little commercial success after he moved to New York City in 1969, seeking international recognition. When 19-year-old Noriko moved to New York to study art, she fell in love with Ushio—abandoning her education to become the wife and assistant to an unruly, husband. Over the course of their marriage, the roles have shifted. Now 80, Ushio struggles to establish his artistic legacy, while Noriko is at last being recognized for her own art—a series of drawings entitled "Cutie," depicting her challenging past with Ushio. Spanning four decades, the film is a moving portrait of a couple wrestling with the eternal themes of sacrifice, disappointment and aging, against a background of lives dedicated to art.