'Frozen' Japanese Trailer Reveals First Footage Of Anna And Elsa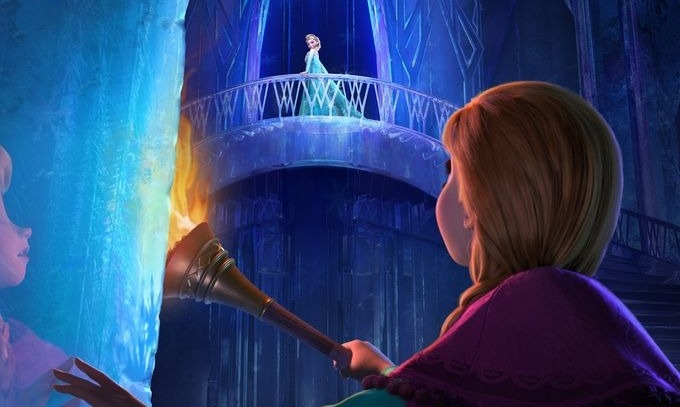 After all the
about Disney's Frozen as an eye-popping fairy tale epic about the bonds of sisterhood, it was a bit surprising to find that the
was... a 90-second short about an anthropomorphic snowman and a weirdly dog-like reindeer. Cute as the video was, it didn't offer much of an idea as to what the film would really be like.
Fortunately, a new trailer does a much better job of showing off the movie's grand, gorgeous sweep. The only catch is that it's dubbed over in Japanese. Oh well. At least we can still enjoy the frightening snow monsters and dazzling snowy landscapes. Check it out after the jump.
[via
]
Now that's more like it. There's tons of action and adventure, with a bittersweet family drama at the core. And all of it is rendered in top-notch CG animation. It's just a shame that we're not getting the original voice cast here, because Disney's lined up a good one. Kristen Bell voices the heroic Anna, Idina Menzel her sister Elsa (a.k.a. the Snow Queen), Jonathan Groff Anna's mountain man helper Kristoff, Josh Gad their chatty snowman buddy Olaf, Alan Tudyk the Duke of Weselton, and Santino Fontana Anna's princely suitor Hans.
Chris Buck and Jennifer Lee direct. Frozen lands November 27.
When a prophecy traps a kingdom in eternal winter, Anna, a fearless optimist, teams up with extreme mountain man Kristoff and his sidekick reindeer Sven on an epic journey to find Anna's sister Elsa, the Snow Queen, and put an end to her icy spell. Encountering mystical trolls, a funny snowman named Olaf, Everest-like extremes and magic at every turn, Anna and Kristoff battle the elements in a race to save the kingdom from destruction.