'Dark Knight Trilogy Ultimate Collector's Edition Blu-Ray' Out September 24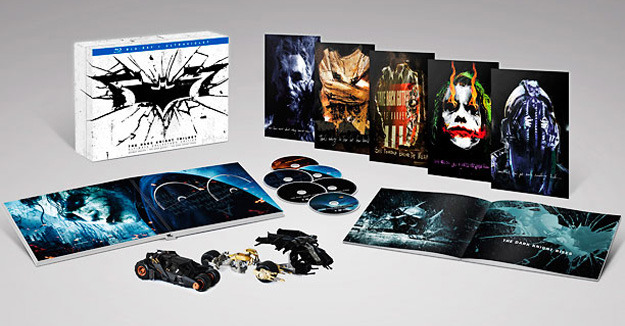 Last week, images of this set leaked and we asked the question "Is This The 'Dark Knight' Trilogy Ultimate Collectors Edition Blu-ray Box Set?" The answer turns out to be...kind of. The official set, seen above, has now been revealed and it shares many features with last week's images along with a few treats all its own. (Which suggests either those images were an international or preliminary version of the set). The real set is scheduled for release September 24 with an MSRP of $99.97.
Below, check the image out in high res and read the full details on the six disc collector's edition Blu-ray which includes brand new special features and artwork from Mondo. (Unfortunately, no Christopher Nolan director commentaries, however.)
Here's the high resolution version of the image.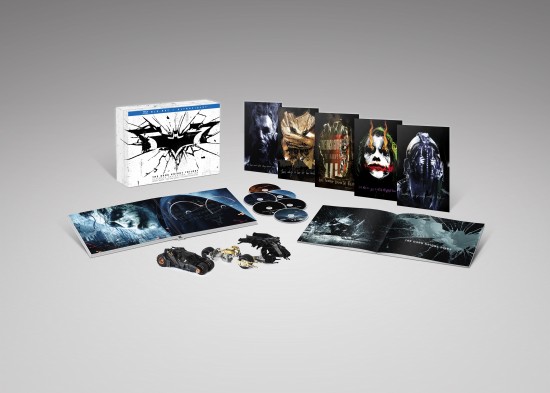 And here's the press release from Warner Bros.
Christopher Nolan's reimagining of the Batman franchise beginning with 2005's Batman Beginsenjoyed phenomenal critical and box-office success.
Now on September 24, Nolan's three Batman films – Batman Begins, The Dark Knight, and The Dark Knight Rises – will be released by Warner Bros. Home Entertainment as The Dark Knight Trilogy: Ultimate Collector's Edition. The six-disc set will feature all three films with their existing extra content, two new featurettes and exclusive new collectible memorabilia. This must-own collection for fans of DC Comics' Caped Crusader is available in premium packaging and will sell for $99.97 SRP.
 About the Ultimate Collector's Edition (UCE):
Disc 1 – Batman Begins Feature and Special Features
Disc 2 – The Dark Knight Feature
Disc 3 – The Dark Knight Special Features
Disc 4 – The Dark Knight Rises Feature
Disc 5 – The Dark Knight Rises Special Features
Disc 6 – Bonus Disc of New Special Features (details follow)
NEW Special Features:
The Fire Rises: The Creation and Impact of The Dark Knight Trilogy - The inside perspective on the fascinating story behind the creation of one of the most celebrated franchises and how it changed the scope of movie making....forever.  Full of never-before-seen footage, rare moments, and exclusive interviews with  Guillermo Del Toro, Damon Lindelof, Michael Mann, Richard Roeper, Zack Snyder and others.
Christopher Nolan & Richard Donner: A Conversation - For the first time, Directors Christopher Nolan (The Dark Knight Trilogy) and Richard Donner (Superman) sit down to discuss the trials and triumphs involved in bringing the two most iconic superheroes of all time to the big screen, and how Superman influenced Nolan when developing Batman Begins.
 IMAX® Sequences: The Dark Knight; The Dark Knight Rises - See your favorite scenes as they were intended in the original IMAX© aspect ratio 
Exclusive NEW Memorabilia:
Premium Mattel Hot Wheels Vehicles: Batmobile, Batpod and Tumbler
Newly commissioned collectible art cards by Mondo featuring Scarecrow, Joker, Bane, Harvey Dent, and Ra's al Ghul
48-page hardcover book featuring production stills and behind the scenes images from all three movies