First Look: Benicio Del Toro As Pablo Escobar In 'Paradise Lost'
Oliver Stone, Antoine Fuqua, Joe Carnahan, and Brad Furman have all tried to bring Pablo Escobar to the big screen in recent years, to little avail. But now first-time director Andrea Di Stefano could succeed where his colleagues have not. Sort of.
Di Stefano's debut feature Paradise Lost is not exactly an Escobar biopic, though it features the figure prominently and was reportedly inspired by true events. Described as a romantic thriller, it centers around a young couple (Josh Hutcherson and Claudia Traisac). The notorious drug kingpin, played by Benicio Del Toro, figures into the story as the girl's uncle. Check out the first image and set video of him in costume after the jump.
Young surfer Nick thinks all his dreams have come true when he goes to visit his brother in Columbia. Against an idyllic backdrop of blue lagoons and white beaches he falls madly in love with a beautiful Colombian girl called Maria.
It all seems perfect until he meets her uncle, one Pablo Escobar.
As "meet the family" horror stories go, that one sounds like a doozy. Producer Dimitri Rassam previously likened Paradise Lost's approach to Escobar to The Last King of Scotland's treatment of Idi Amin. We can probably expect Escobar to play a significant role in the movie, then, even though he's not the protagonist.
Pathé also premiered the first still from the movie: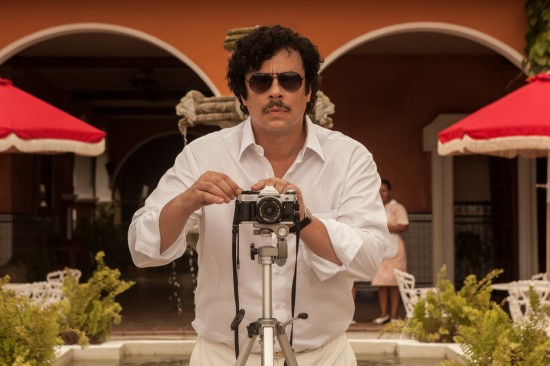 Escobar earned his fearsome reputation, and Paradise Lost will no doubt touch upon some of his unsavory deeds. But here, he looks downright harmless. Like any other doting uncle taking a family photo. Then again, we don't know what's on the other side of that lens, do we? Maybe it's something awful.
He looks even less scary in the first video from the set, which aired in France. But that's because much of it was filmed between takes, so Del Toro is mostly just seen smiling and talking to his co-stars.
Do you think Del Toro makes a good Pablo Escobar?