'Afternoon Delight' Trailer: Juno Temple Spices Up Kathryn Hahn's Marriage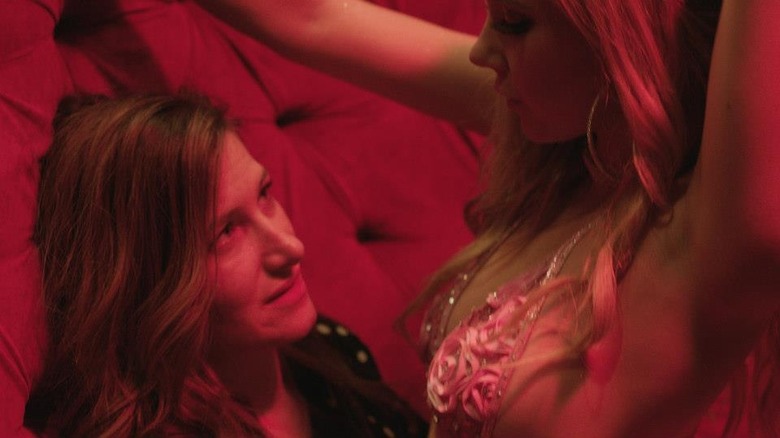 Despite her considerable talent and versatility, Kathryn Hahn's mostly been relegated to supporting roles in films like Wanderlust and Our Idiot Brother, and guest spots on shows like Girls and Parks & Recreation. So it's great to see her take center stage for once in Afternoon Delight, a Sundance dramedy written and directed by TV vet Jill Soloway.
Hahn plays Rachel, whose brings her husband Jeff (Josh Radnor) to a strip club in an effort to spice up their marriage. She becomes friendly with one of the dancers, 19-year-old McKenna (Juno Temple), and eventually offers to take her in. Trouble quickly follows. Watch the trailer after the jump.
If nothing else, Afternoon Delight deserves credit for trying to take a fresh approach to the mid-life crisis drama. A male character who want to save a stripper is a cliche, but a woman who does offers fresh possibilities. McKenna also looks less stereotypical and more fully realized than most movie hookers — even if she is played by Temple, who's played that type before.
Afternoon Delight gets a limited release starting August 30. Jane Lynch, Jessica St. Clair, Annie Mumolo, Michaela Watkins, and Keegan Michael Key also star.
When bored housewife RACHEL SCHAEFFER (Kathryn Hahn) drags her husband JEFF (Josh Radnor) on a double date to a strip club, she finds herself mesmerized by MCKENNA (Juno Temple), a young stripper who combines innocence and sexiness in an irresistible package. The two strike up a friendship and Rachel takes McKenna in, only to find that she is more than just a dancer, but also a "full service sex worker."
A breakdown of friendship and marriage follows as Rachel faces questions from Jeff, her best friend STEPHANIE (Jessica St. Clair) and therapist DR. LENORE (Jane Lynch). Ultimately, she hits rock bottom and needs to find her way back, or lose her husband and the life they have, forever.