'The Hobbit: The Desolation Of Smaug' Video Blog: Peter Jackson And Crew Finish Up The Expanded Hobbit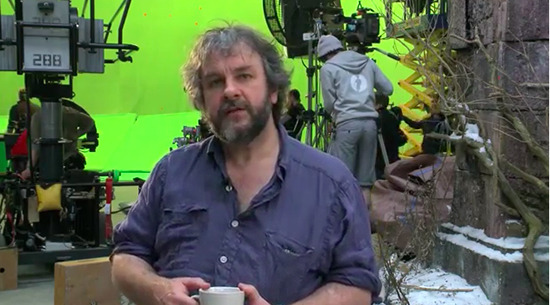 Peter Jackson won't be bringing the second chapter of his adaptation of The Hobbit to Comic Con this year. After all, what more do we need as a sizzle reel for the second movie than the first film, released barely more than six months ago? Furthermore, the director says that he doesn't have time to complete a good new footage reel, and that cast and crew availability further close out chances of putting together a Comic Con panel.
Fans of Jackson's take on Middle-Earth can all still get a new look at The Hobbit: The Desolation of Smaug, however. A new video blog provided by Jackson shows the new work done in the past few months on the second and third chapters. This video blog, like most of the others Jackson sends from set, is long enough to be fairly detailed and to show the scope of the production. Even the task of doing pickup shots — the connective "in-between" bits often reserved for reshoots or extra hours late in the game — takes an army of people on movies like these.
Granted, part of the pickup process here is required to enact Jackson's plan to spread the Hobbit story across three films rather than two. So it's not exactly a typical scenario. Regardless, what follows is another good look at the effort required to capture Middle-Earth on film. (Or digital files, in this case.) Check it out below.
The Hobbit: The Desolation Of Smaug opens on December 13.