Guillermo Del Toro Describes 'Crimson Peak' As A "Kinky" Meld Of His Spanish And Mainstream Styles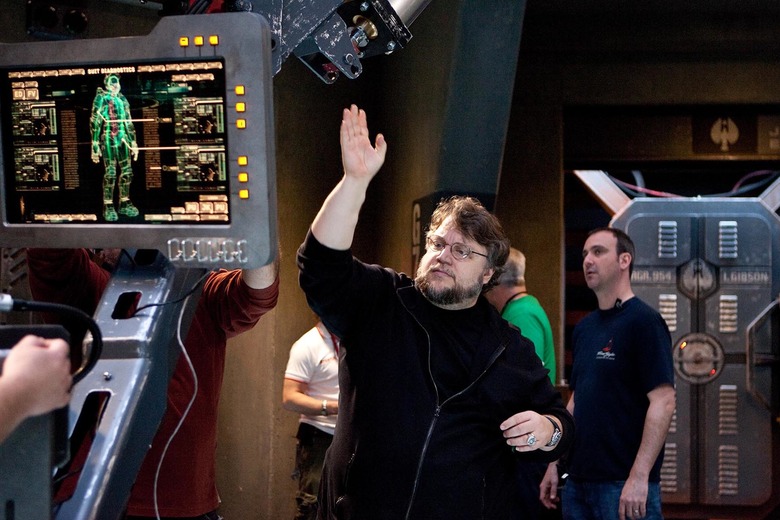 As Guillermo del Toro begins the last big promo push for his giant monsters and robots extravaganza Pacific Rim, he's starting to talk a bit more about his next movie, the haunted house period piece called Crimson Peak. The director has talked about the movie as a big haunted house movie in a grand old style, but aside from the cast (Charlie Hunnam, Mia Wasikowska, Benedict Cumberbatch and Jessica Chastain) we haven't known many details about the film.
Now he has described moments of " very visceral, physical violence," that are part of a film that flows from almost "sedate romance" to brutal scenes designed to give the audience a shock.
STYD spoke to del Toro over the weekend, and the director explained the film as follows:
Crimson Peak is a much, much, much smaller movie, completely character-driven. It's an adult movie, an R-rated movie, pretty adult. Shockingly different from anything I've done in the English language. Normally, when I go to do a movie in America for the spectacle and younger audience, for Blade or whatever. This movie's tone is scary and it's the first time I get to do a movie more akin to what I do in the Spanish movies... The thing I do in those movies is recontextualization, take a movie and then move it into a completely different place. Like a Gothic and then move it into the Spanish Civil War [The Devil's Backbone]. This is a Gothic romance, haunted house, in the north of England.
That's a good primer for his approach to the film. Want some specifics about what to expect? We don't have those yet, but this is pretty intriguing:
[The film] has a lot of kinky moments. The only kinky moment I've ever shot is the leg fuck in The Devil's Backbone. [laughs] This has a little more kinkiness than that.
In addition, during roundtables for Pacific Rim, Charlie Hunnam echoed the director's comments, saying that the film is "a very, very spooky Jane Austen-style haunted house extravaganza." He said that he'll play a very gentle, shy and learned guy who doesn't get the girl — a very different role than what he's used to.
While location scouting for Crimson Peak began a while ago, the film won't begin shooting until February of 2014.