Girls Play Games In First Clip From Lars Von Trier's 'Nymphomaniac'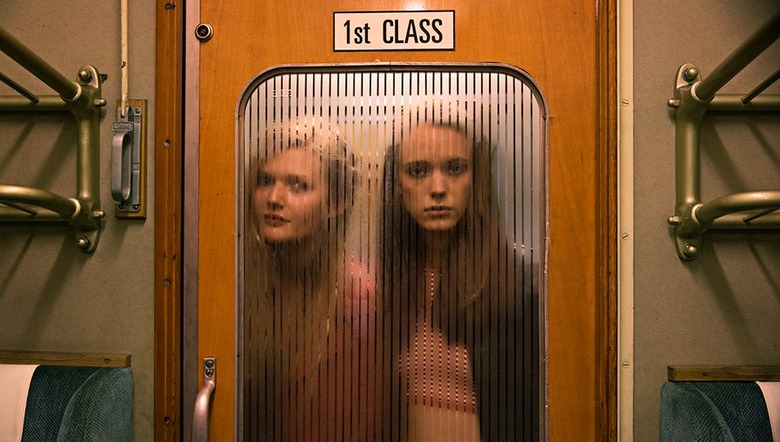 Lars Von Trier's Nymphomaniac doesn't even have a U.S. release date yet, but Magnolia has already offered up a little morsel to whet our appetite for the film.
The just-released clip comes from the first chapter of the film, called "The Compleat Angler." Although Joe is the nymphomaniac of the film's title, in this early scene she's the naive one. It's her worldlier friend B (Sophie Kennedy Clark) who schools her in the art of seduction while on a train. Stacy Martin plays the younger version of Joe, who's portrayed as an adult by Charlotte Gainsbourg. Watch it after the jump.
Not quite sure what's going on up there? Here's the official description:
Chapter 1: The Compleat Angler
How does an ordinary bag of chocolate sweets become a symbol of sexual victory?
As Joe and her experienced friend B embark on a train trip, they bet on how many men they can seduce on the ride.
The grand prize is a delicious bag of chocolate sweets, and it soon becomes clear to Joe that in order to win, she needs to lure the prey into biting the hook like a skilled fisherman.
Nymphomaniac opens with Seligman (Stellan Skarsgård) finding a beaten up woman left in an alleyway. As Seligman tends to Joe's wounds, she chronicles her erotic life from birth to middle age, in eight chapters. "The Compleat" Angler is followed by "Jerome," "Mrs. H," "Delirium," "The Little Organ School," "The Eastern and The Western Church (The Silent Duck)," "The Mirror," and "The Gun." Intriguing titles, even if I have no idea right now hat any of them mean.
Shia LaBeouf, Jamie Bell, Udo Kier, Uma Thurman, Willem Dafoe, Mia Goth, Christian Slater, Nicolas Bro, and Connie Nielsen also star. Nymphomaniac opens December 25 in Denmark. Because nothing says "Happy Holidays" like raw, explicit (but apparently CG-ed) sex.