Leonardo DiCaprio And Jamie Foxx Reunite For 'Mean Business On North Ganson Street'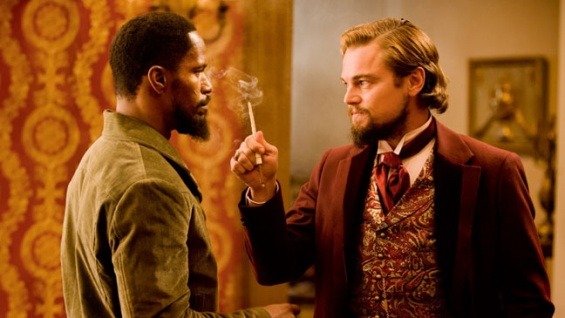 No surprise: Warner Bros. and Leonardo DiCaprio will continue to do business together, and now DiCaprio is getting back together with his Django Unchained nemesis Jamie Foxx for a new film at the studio. Mean Business On North Ganson Street, an as-yet unpublished crime novel from S. Craig Zahler, will form the basis for a new feature that Zahler will script. Because the novel doesn't even have a publisher at this point details are thin, but after the break we'll pass along what we've got.
Deadline announces the project, and has the early description of the story:
The tale starts off with a bang: DiCaprio is a hardened detective who, after being told by a man that his beautiful wife is missing, tells him she is a hooker who obviously made off with his money. After the man commits a desperate tragic act right in the squad room, the disgraced detective is sent to a hellhole rust belt town called Victory, Missouri, where violent crime is skyrocketing. Partnered with an equally bad-assed detective who was demoted for publicly brutalizing a suspect (Foxx), the new partners get to do some real work. Police officers start showing up dead execution-style, and the cops think it might be open season on Victory's police department.
I hope WB and Appian Way (which is producing) don't cut the title down to something brief like "Mean Business." I love the novel's title, in part because it recalls some classic films, like Bad Day at Black Rock and Big Deal on Madonna Street. (Both of which are really great ways to spend a couple hours; track down either or both if they're new to you.)
No director is attached at this point.