'Ender's Game' To Invade Comic-Con With Hall H Panel And Fan Exhibit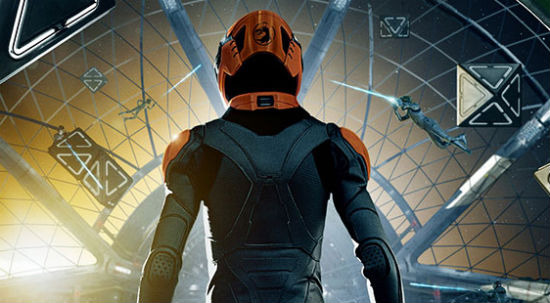 Fans who travel to San Diego Comic-Con in July will be able to take a flight to Battle School. Summit Entertainment has revealed they'll be bringing their sci-fi adaptation Ender's Game to the convention in full force. It starts Thursday July 18 with a Hall H panel featuring stars Harrison Ford, Asa Butterfield, Hailee Steinfeld and Abigail Breslin. (Yes, Harrison Ford will be back at Comic-Con.) The experience continues on the Hilton Gaslamp lawn with an exhibit showcasing eight rooms representing the most recognizable environments of Ender's world, and finally a show-floor booth with plenty of goodies. Read more below.
Here's the official press release from Summit regarding Ender's Game at Comic-Con.
Summit Entertainment will showcase the studio's highly anticipated film event ENDER'S GAME at Comic-Con 2013, presenting never-before-seen new footage, appearances by cast members and filmmakers, and several massive, interactive fan events. A full slate of activities related to the film to be unveiled at this year's Comic-Con, including:
Hall H Panel – The studio's panel on Thursday, July 18th will feature ENDER'S GAME filmmakers and cast, including producer Bob Orci, director Gavin Hood, and cast members Harrison Ford, Asa Butterfield, Hailee Steinfeld and Abigail Breslin.
Exclusive Fan Experience – Attendees will be able to visit an elaborate, specially constructed ENDER'S GAME exhibit outside of the Hilton Gaslamp, featuring 8 unique rooms representing the most iconic environments of Ender's world, complete with original film props and set pieces used in the movie. Throughout the experience, attendees will be able to see exclusive film footage on LED screens, interact with new digital content, integrate photos of themselves into the highly anticipated Battle Room, and register to win a home make over.
Convention Floor Booth – Summit Entertainment's booth located within the Grand Hall will highlight ENDER'S GAME footage. Premium promotional items will be distributed to the 120,000 attendees walking the convention floor, and booth visitors will be given the opportunity to win "fast passes" to the ENDER'S Game Exclusive Fan Experience, granting them entry without having to wait in line.
If you can't make it to Comic-Con, keep it locked right here. I'll be there with Peter, Russ and Angie, bringing you the best from Hall H, Ballroom 20, and anywhere else we get into.
Are you excited for Ender's Game showing up at Comic-Con?