'Breathe In' Trailer: Guy Pearce Has Inappropriate Feelings For Felicity Jones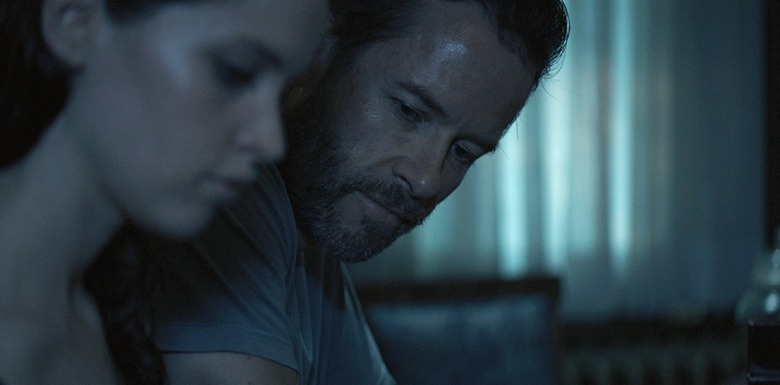 Guy Pearce was last seen in Iron Man 3, and Felicity Jones will soon appear in The Amazing Spider-Man 2. But in Drake Doremus' Breathe In, they'll both ditch the superpowered world for a quieter, messier, more grounded one.
In his follow-up to 2011's festival hit Like Crazy, which also starred Jones, Doremus once again delves into the complicated desires that connect and separate people. Pearce plays music teacher Keith, whose family plays host to British exchange student Sophie (Jones). A talented piano player — not to mention a soulful, striking young woman — she draws Keith's attention, and a forbidden bond begins to form. Amy Ryan and Mackenzie Davis also star, as Keith's wife and daughter, respectively. Watch the first trailer after the jump.
It's a very familiar story. At least in this trailer, it looks like Nobody Walks with a British accent and bluer lighting. It's also a premise that easily lends itself to melodrama. Indeed, the foreboding music suggests some very serious consequences up ahead for Keith, Sophie, and their wildly inappropriate connection. I kept waiting to see if any of the characters would murder each other in a jealous rage, Lifetime Channel-style.
But the festival reviews indicate that Doremus handles the potentially soapy stuff "with delicacy, restraint and a very grown-up attitude," as THR puts it. Others praise the strong lead performances for elevanting Breathe In beyond its generic storyline, as with Like Crazy; The Playlist was particularly taken with the "undeniably intoxicating and strikingly palpable" chemistry between Jones and Pearce. All of which adds up to what Collider believes is "one of the best family dramas in recent years."
Breathe In opens July 19 in the UK. The Cohen Media Group has yet to announce a release date for the U.S.