Julianne Moore Eyed For 'The Hunger Games: Mockingjay'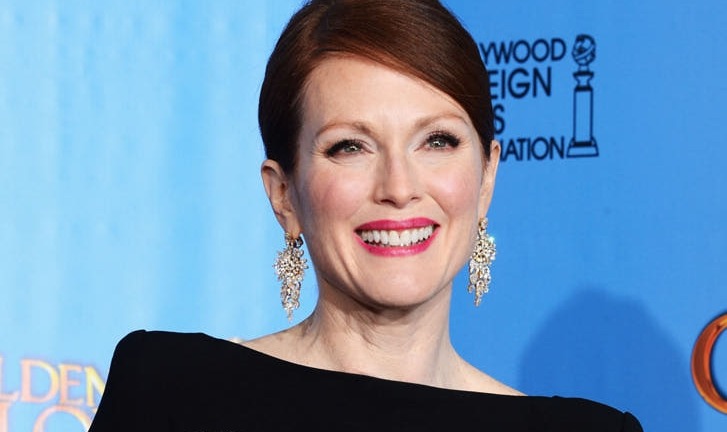 Francis Lawrence cast several intriguing actors in juicy new roles for The Hunger Games: Catching Fire, and now he's getting a head start locking down still more great talent for The Hunger Games: Mockingjay. The director is reportedly eyeing Julianne Moore to play Alma Coin, a prominent character who first appears in the third installment of Suzanne Collins' dystopian YA trilogy. Get more details after the jump.
To say too much about Moore's character would risk pushing into spoiler territory. I'll try not to give away too many details, but if you'd rather not know anything about the next two movies, I suggest you skip ahead to the following paragraph. In short, Alma Coin is a politician who works with Katniss to lead the rebellion against the Capitol. Despite their common goals, Katniss is wary of Coin due to the older woman's cold, manipulative personality.
Moore's in the middle of a busy time in her career. She won her first Emmy for playing Sarah Palin in HBO's Game Change, and appears in five films this year: What Maisie Knew, The English Teacher, Joseph Gordon-Levitt's Don Jon, Kimberly Peirce's Carrie, and The Seventh Son. She also has Jaume Collet-Serra's Non-Stop and David Cronenberg's Maps to the Stars coming up in her near future.
The next installment of the Hunger Games series, Catching Fire, lands in theaters November 22. Lawrence returns as director, along with stars Jennifer Lawrence, Liam Hemsworth, Josh Hutcherson, Elizabeth Banks, Woody Harrelson, and Donald Sutherland. New stars include Philip Seymour Hoffman, Jenna Malone, Sam Claflin, Amanda Plummer, and Jeffrey Wright.
Mockingjay, Part 1 is slated to open November 21, 2014, followed by Mockingjay, Part 2 on November 20, 2014. Lawrence will once again direct. Danny Strong, who wrote Moore's Game Change, is scripting both movies.