Sequel Bits: 'The Hobbit', 'Dumb And Dumber To', 'Ghostbusters 3', 'Hellboy 3'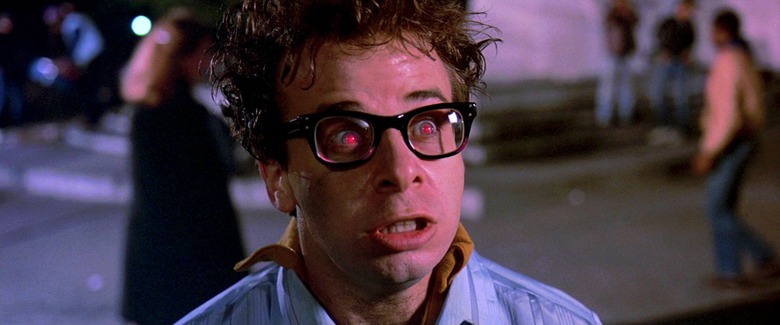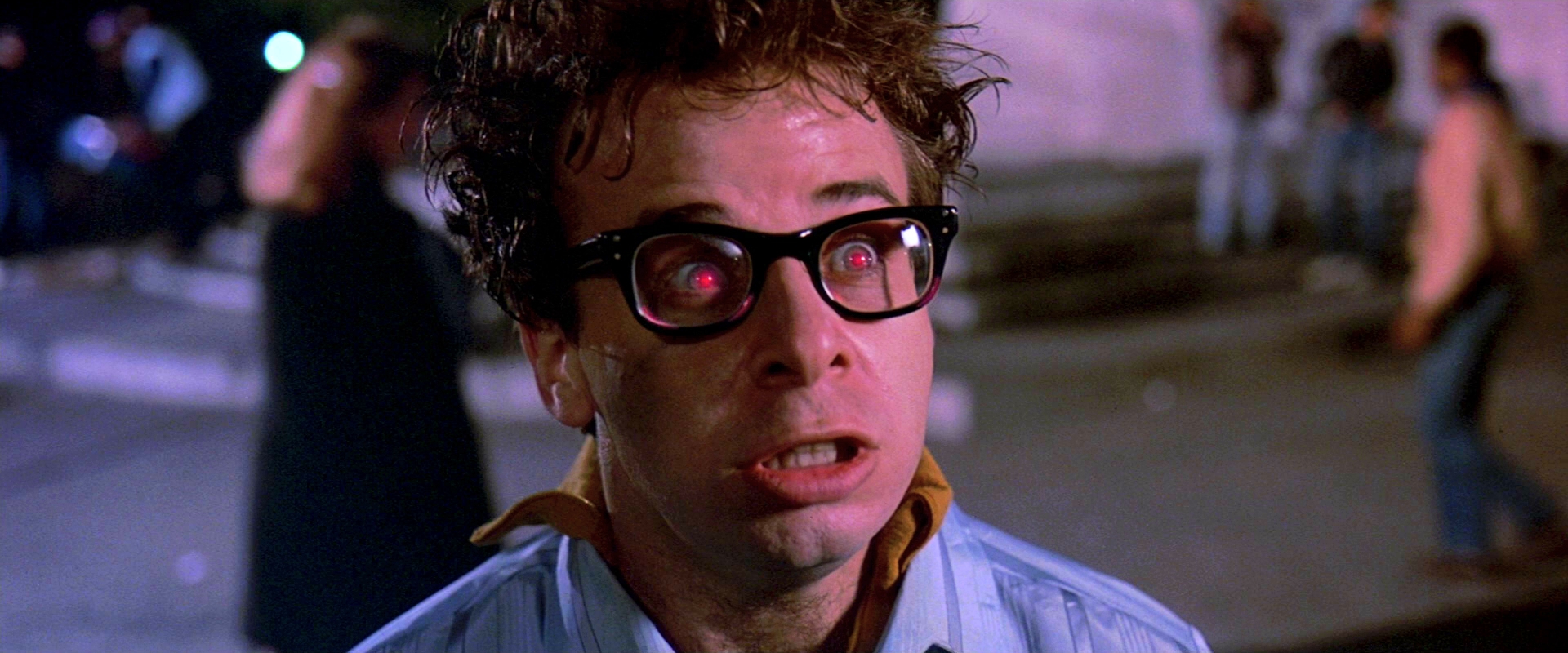 Rick Moranis isn't locked in for Ghostbusters 3 yet, but if you're curious where he thinks his character Louis Tully would've ended up, he has some ideas. Also after the jump:
Peter Jackson discusses the extended cut An Unexpected Journey
... and you can check out new behind-the-scenes pic from Desolation of Smaug
Jack Horner says the most recent Jurassic Park 4 plot "didn't pass muster"
Lorenzo di Bonaventura has been in touch with actors about Red 3
Aussie electronic duo Empire of the Sun will score Dumb and Dumber To
Benjamin Bratt talks about replacing Al Pacino in Despicable Me 2
Doug Jones is still holding out hope for a third Hellboy
Val Kilmer's Heat sequel idea involves being married to Natalie Portman
See a poster for Warwick Davis' (fake) proposed Willow sequel
"There's a few scenes that are quite good," he said. "There's a scene of the dwarves being very disrespectful to elves at Rivendell. [...] And there's also some extended Barry Humphries stuff." Watch the full exchange below:
[Empire]
Meanwhile, a new behind-the-scenes snap from Empire offers a little peek three elves who'll crop up in The Hobbit: The Desolation of Smaug: Legolas (Orlando Bloom), his dad Thranduil (Lee Pace), and the new character Tauriel (Evangeline Lilly).
As elf action goes, this isn't really that badass... but they do make a pretty trio, don't they? The Hobbit: The Desolation of Smaug opens December 13. [via Collider]
As the consulting paleontologist on all three Jurassic Park films, Jack Horner knows as much about the franchise as anyone. And according to him, the fourth (which he's also working on) was pushed back because the script wasn't much good.
I have our original JP4 script from 2004, and it was actually a pretty good story, but then a series of unrelated events took place that put the whole process on hold. More recently new writers were brought in to create a different story, but it simply didn't pass muster with Steven [Spielberg] (or, quite frankly, anyone else) so it has once again been tabled as far as I know. In both instances, the first and second scripts, I worked with the writers giving them information about our new ideas, and also worked with the artists who were to make the new animals.
Last we heard, Colin Trevorrow and Derek Connolly had submitted a new draft of the screenplay by Rick Jaffa and Amanda Silver. It's not clear which of those writers he's talking about, but either way it appears there's a lot to be done before Jurassic Park 4 can get going again. Maybe 2015 will turn out to have been optimistic after all. [TresCom]
Weeks before Red 2 opens, producers are already moving full steam ahead on Red 3. Writers Jon and Erich Hoeber were rehired last month to write a script, and producer Lorenzo di Bonaventura says he's already been in touch with a few actors about casting.
We have had a couple of people – their agents certainly have reached out to us. Yeah, no, it's one of the fun things to do, is in the world that we have, anything is almost possible in terms of casting and then you have to figure out how to ground it, but we can attract really outrageous characters. Actors don't get that opportunity all that much.
But before anyone can get locked in for Red 3, Red 2 will have to perform at the box office. The film opens July 19. [Screen Rant]
Dumb and Dumber To has directors, stars, and a studio, and now it also has composers. Aussie electronic duo Empire of the Sun will score the movie, as revealed by the Farrelly Bros. on Twitter. Check out one of the tunes from their new album, Ice on the Dune, below.
Bill Murray's out. Dan Aykroyd's in. And Rick Moranis? Might we see ubernerd accountant / lawyer Louis Tully back in Ghostbusters 3?
I haven't talked to Danny (Aykroyd) about it. Somebody he's associated with called me and I said, 'I wouldn't not do it, but it's got to be good.' You know, I'm not interested in doing anything I've already done, and I thought the second one was a disappointment.
Moranis has, however, spent some time considering where his character Louis Tully may have ended up. "But I guess I'm interested in where that guy is now," he said. "I sort of see him as being Bernie Madoff's cellmate in jail. Both of them being so orderly that they race to get up and make their beds." [Empire]
All acting jobs come with their own challenges, but in Despicable Me 2 Benjamin Bratt faced a pretty unique one: taking over for screen icon Al Pacino. Bratt was brought in to play the villain Eduardo when Pacino abruptly pulled out, months before the film's opening.
So I come into a situation where the character that I have to find the soul of has been formed based on someone else's performance. And it's mathematically exacting, that process, because you have to fit everything within this parenthetical. You have to get all the words into his mouth at the right time, with the right tone, the right intonation, based on whatever the character's doing, based on something you never did or created. So very, very tough.
Hear the rest of the conversation below:
video platformvideo managementvideo solutionsvideo player
Despicable Me 2 lands July 3. [HitFix]
Hellboy 3 doesn't appear to be happening anytime soon, but there are plenty of people still holding out hope. That includes Doug Jones, who counts fish-man Abe Sapien among his favorite roles.
I think Abe Sapien, from the Hellboy movies is the one I'm most proud of. He's near and dear to my heart. After doing two feature films and two animated features and a video game, he and I have gotten very close, over the years. And hopefully, we can do a Hellboy 3, one day.
[Collider]
No one's seriously working on a sequel to Michael Mann's Heat, as far as I know, but Val Kilmer has some thoughts on what should happen if someone does.
Here's my pitch. You remember Natalie Portman in it? She's Pacino's adopted daughter, so she comes home and says, 'Daddy, daddy, I want you to meet my fiancé.' And it's me. He's retired and I come to Chicago where he's retired back to and I'm going to torture him, and then I'm going to kill him.
Sounds pretty silly, but to be fair, who among us hasn't dreamt about getting engaged to Natalie Portman?
Kilmer also spoke to Larry King about his excitement for Top Gun 2, and his fond memories of Top Gun 1.
I think it wouldn't be that difficult to maintain the spirit of it. Tony was the most generous, positive director I've ever worked for in film. He's not known as an actor's director because he's such a vivid stylist with the camera ... but he really loved acting and getting the shot.
But we all know what Kilmer really wants to do is make a Willow sequel. In an episode of Life's Too Short, Kilmer joined forces with his former co-star Warwick Davis to try and make it happen. They even mocked up a poster for the pitch.
Here's a better look at that poster: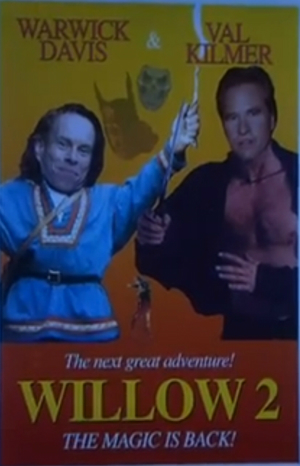 And yes, that's a joke. The Willow stuff, I mean. I'm pretty sure he's serious about the Heat and Top Gun 2 stuff. [via TheWrap]