'Hell Baby' Trailer: 'Reno 911!' Creators Birth A Satanic Horror Comedy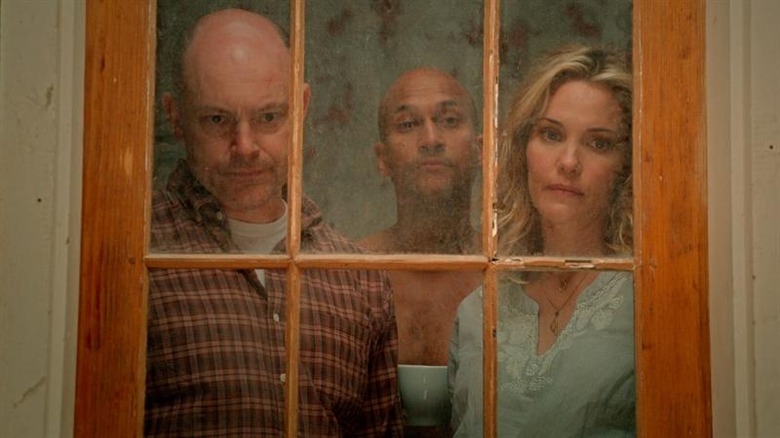 A hopeful, pregnant couple moving into a decrepit old house: that never turns out well in the movies. In Hell Baby, though, filmmakers Thomas Lennon and Robert Ben Garant try to have a little fun on the way to the inevitable doom that follows such a bad life choice.
Rob Corddry and Leslie Bibb star as the married pair, who are expecting twins. They purchase a suspiciously cheap mansion in New Orleans, only to discover that it's — surprise, surprise — haunted. The Vatican dispatches its crack exorcism team (played by Garant and Lennon) to help. Hilarity ostensibly ensues. Watch the first trailer after the jump.
Hell Baby looks pretty hit or miss, and it's hard to tell from here whether the hits are good enough to make up for the misses. Keegan Michael Key's part as the couple's weird neighbor looks promising, and Corddry got to have a couple of funny moments, but a lot of the gags look straight out of a Scary Movie (or an A Haunted House).
(From Russ: Having seen Hell Baby at Sundance I'd call it miss more than hit, but there are some scenes — including many with Key — that are tremendously funny.)
Hell Baby hits iTunes July 25, and theaters September 6. Michael Ian Black, Riki Lindhome, Rob Huebel, and Paul Scheer also star.
"Hell Baby," a comedy scripted by Thomas Lennon and Robert Ben Garant (Night at The Museum, Reno 911!: Miami) marks their co-directing debut. Jack (Rob Corddry) and Vanessa (Leslie Bibb) are an expectant couple that moves into the most haunted fixer-upper in New Orleans — a house with a deadly demonic curse. Things soon spiral out of control for Jack and Vanessa, as well as their-not-so-helpful neighbor F'Resnel (Keegan-Michael Key), Vanessa's friendly psychiatrist (Michael Ian Black), Vanessa's Wiccan sister Marjorie (Riki Lindhome) and the detectives assigned to look into the rising body count (Rob Huebel and Paul Scheer). Only the Vatican's elite exorcism team (Garant and Lennon) san save them — or can they?