'Arrested Development' Writer To Pen 'Knight Rider' Movie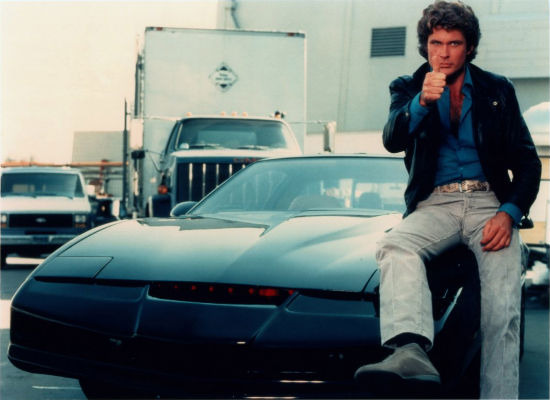 With the Fast and Furious movies making billions for Universal, it's no surprise other studios are trying to make their own car films. And if those films are based on well-known properties, that's even better. Need for Speed is currently in production at DreamWorks, and now The Weinstein Company is moving ahead with a film based on the Eighties TV show Knight Rider.
Brad Copeland, who wrote the 2007 hit Wild Hogs, as well as TV shows Arrested Development and Grounded for Life, has been hired to pen the screenplay about a man who fights crime in his smart, talking car. The original series ran from 1982-1986 and made a star of David Hasselhoff. NBC rebooted the show in 2008, but that only ran one season. The film will presumably start fresh rather than relying on that TV reboot.
The Los Angeles Times broke the news of this project moving ahead, saying the film is being imagined as a bigger budget action movie than we're used to seeing from the company behind recent hits Silver Linings Playbook, The Master and Django Unchained. Also, Copeland's hiring suggests it'll have a much stronger base in comedy than action.
Hasselhoff has made no secret of the fact he wants to be in the new film version of Knight Rider and, frankly, it's probably something fans want to see too. Maybe his character Michael Knight passes Kitt down to a younger Knight who finds themselves in the thick of an underground crime scene. Who knows? What we do know is the action has to be on par of the other car movies being released, and the technology has to be better. Knight Rider was always about cool car gadgets so, in present day, the car would have to do amazing things to impress audiences.
Do you think now is the time for a Knight Rider movie? Is Copeland a good choice?