Cool Stuff: 'Back To Back To The Future' Reinstates Eric Stoltz As Marty McFly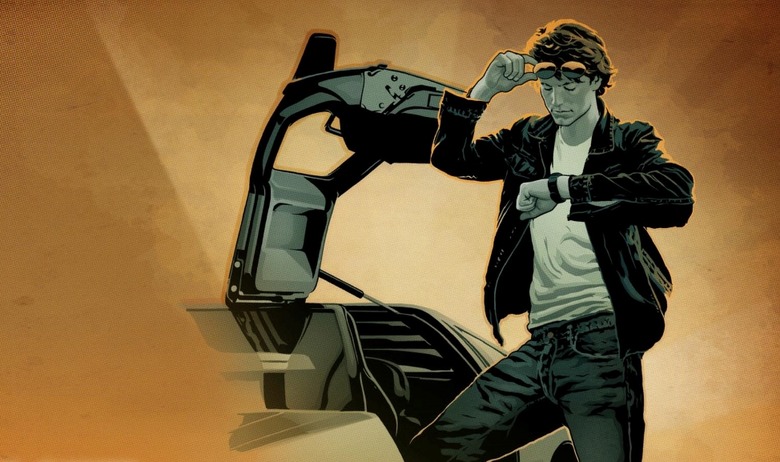 It's a fairly well known bit of trivia among Back to the Future fans: When production was just getting under way, director Robert Zemeckis spent four weeks filming with Eric Stoltz in the lead before he decided the part had been miscast. He dropped Stoltz and brought on Michael J. Fox. That, of course, turned out to be exactly the right decision. These days, it's bizarre to imagine anyone but Fox playing Marty McFly.
At the time, though, it wasn't an easy choice. For one thing, actress Melora Hardin became collateral damage in that changeover — she was considered too tall to play Fox's love interest, so she was let go before she shot a single scene. Producer Bob Gale that conversation with Hardin "the hardest thing I ever had to do," and said he was "sick about it for days."
In real life, of course, Gale can't change the way things turned out. But in fiction, he's received a chance to do just that. David Guy Levy's comic Back to Back to the Future imagines Gale and Hardin accidentally sent back in time, where they decide to keep Stoltz from ever getting replaced. The first issue is available for free on the web now. Hit the jump to learn more about it.
All I could think after reading this statement was that here was the man who wrote the most popular films ever made about time travel, and he had this major regret. So I decided I wanted to tell the story where he gets to go back in time himself, through a parody of the films he helped create, and right this wrong.
Appropriately enough for a comic book about time travel, any profits from Back to Back to the Future will be used to invest in the future. As Levy explains below, the first three issues of the six-issue series will be given away online for free. The other three will cost $2 each to download, with all proceeds going to the Young Storytellers Foundation.
Click here to download a .ZIP file containing the first issue, with art by Jeffrey Spokes. Keep an eye on the series' Facebook page and official website for further updates.