Ridley Scott And Cormac McCarthy's 'The Counselor' Teaser Trailer [Updated]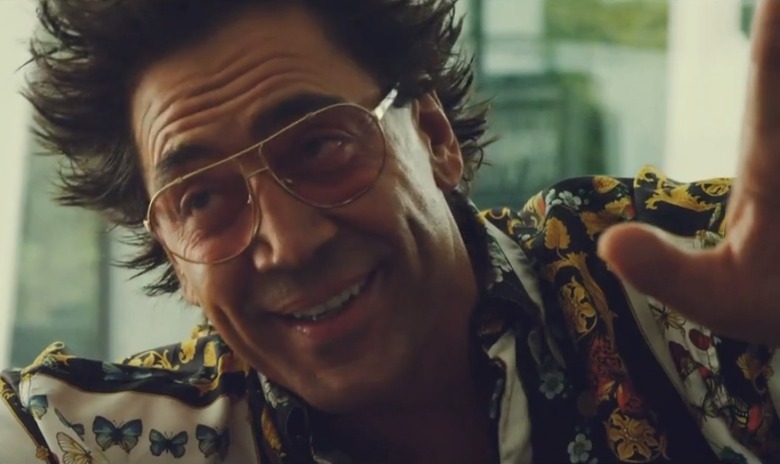 A film directed by Ridley Scott, scripted by Cormac McCarthy, and starring Michael Fassbender, Javier Bardem, Brad Pitt, Penélope Cruz, Cameron Diaz, and John Leguizamo can't possibly help but come with sky-high expectations. Happily, the first teaser for The Counselor isn't letting us down.
To be fair, it's tough to tell exactly what's going on here since the audio is Russian. For all I know, Pitt's dubbed voice could just be reciting the opening lines of One Fish Two Fish Red Fish Blue Fish. But the movie looks utterly intense and very, very gorgeous, and if anyone's earned the benefit of our doubt it's this group. Hit the jump to watch the footage.
Update: We've now got the English-language version of the teaser.
Here's the Russian-language version we ran earlier today, just in case that English version is pulled.
[via The Film Stage]
Seriously, what is it with Bardem and oddly coiffed baddies? Is there something about that face that makes directors want to top it with a terrible 'do, or does the actor think there's something inherently evil about ugly hair?
Maybe it's just Bardem's way of nodding at the role that broke him through to international stardom: the pageboy-wearing killer of No Country for Old Men, who was also created by McCarthy. The writer's connection to the project is a bit different this time around, however. While the Coen brothers' No Country was based on one of his novels (which, ironically enough, started out as a movie script that never got made), The Counselor was originally penned for the screen by McCarthy himself. Scott quickly attached himself to direct, and this A-list cast followed.
Fassbender leads the thriller as an attorney who decides to dip his toe into the drug trade to make a quick buck. Unfortunately, when a deal with a slimy associate (Pitt) and a wealthy acquaintance (Bardem) goes sour, the counselor finds he's already fallen in way over his head. Cruz plays Fassbender's girlfriend, and Diaz is Bardem's.
Fox has The Counselor set for an October 25 release. Dean Norris, Natalie Dormer, Rosie Perez, and Goran Visnjic also star.