For $20 Million, Liam Neeson Is Willing To Star In 'Taken 3'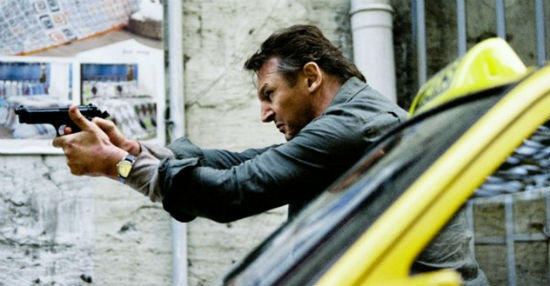 Shortly before the release of Taken 2, star Liam Neeson sounded deeply skeptical about the prospect of a Taken 3. "I don't think it's going to happen," he shrugged. "I can't see a possible scenario where audiences wouldn't go, 'Oh, come on...! She's taken again?'" But for an eight-figure salary, he's apparently willing to keep an open mind.
Neeson is in final negotiations to star in the next Taken movie, which is being scripted once again by Luc Besson and Robert Mark Kamen. And his very particular set of skills will be even more richly rewarded this time around. Hit the jump for more details on his massive payday.
For Taken 3, Deadline reports that Neeson will earn something in the vicinity of $20 million. To put things in perspective, that's just $5 million less than the entire production budget of the first film. Still, the franchise's continuing popularity will probably make that high price tag worth it. The first film grossed $226 million worldwide, and the second did even better with $376 million.
No plot details have been revealed, although — contrary to Neeson's fears — Kamen has said they'll shake up the formula for the third film. "We've taken everyone we can take — it's going to go in another direction," he revealed last year. "Should be interesting."
The team taking that new direction, though, may remain largely intact. Stars Famke Janssen and Maggie Grace, who appeared in the first two movies, are likely to reunite with Neeson for the third film. And while there's no director as of yet, the trade notes that Taken 2 helmer Olivier Megaton is a possibility. Production is expected to get underway in February.