Sequel Bits: 'Fast & Furious 7', 'Top Gun 2', 'Riddick', 'Pirates 5', Stephen King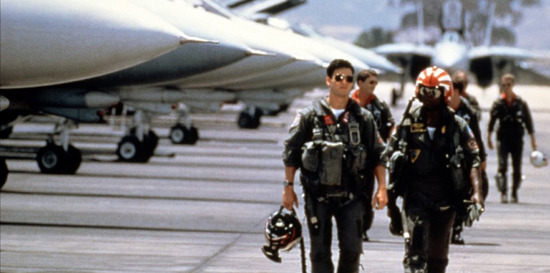 Feast your eyes on posters for Riddick, Planes, and Percy Jackson: Sea of Monsters in today's Sequel Bits. Also after the jump:
Brad Pitt thinks a World War Z sequel has potential
Jerry Bruckheimer talks Pirates 5 and Top Gun 2
Don't believe those Transformers 4 title rumors, says Michael Bay
Jason Statham is "really excited" about Fast & Furious 7
Stephen King is too scared to write an It sequel
... but you can see the book trailer for The Shining sequel now
Days after Sin City: A Dame to Kill For got pushed to 2014, Robert Rodriguez's other upcoming movie, Machete Kills, has been delayed as well. Thankfully, it's not by nearly as long. Open Road has shifted the Danny Trejo-starring actioner from September 13 to October 4, which was Sin City's original release date. [THR]
Although Brad Pitt faces his fair share of zombies in this weekend's World War Z, he's already eager to see even more. There's "plenty more material to mine" from Max Brooks' novel, Pitt told press at a recent screening. "We could barely get a fraction of the book in. So we'll see. We'll see."
Director Marc Forster, on the other hand, was more cautious with his prognosis. "Let's see how this goes," he said. "We hope this movie goes well, and we shall go from there." [THR]
It's only been a few weeks since Joachim Rønning and Espen Sandberg were announced as the directors of Pirates of the Caribbean 5, but producer Jerry Bruckheimer says they're already hard at work on the next waterlogged adventure. "Last Friday they came to Hollywood and settled in and started working on it. We're hiring production designers now and it's moving forward," he said.
Future plans include filming in Louisiana "because of the tax breaks," though the picture will "obviously" be set in the Caribbean as well. Pirates 5 is due out July 10, 2015.
The producer also offered a status report on another of his long-gestating sequels, Top Gun 2. "We're at a point right now where everybody wants to make it," he said. Bruckheimer revealed that they still planned to carry on with Tony Scott's vision ("I think so") though screenwriter Chris McQuarrie is no longer working on the script. "He's working on Mission: Impossible 5," Bruckheimer explained. [The Playlist]
Transformers 4 has long been rumored to bear the title Transformers: Rise of Galvatron. However, director Michael Bay is now warning fans not to believe those lies.
"I wanted you to hear from me directly that we have not yet chosen a title and anything being reported is absolutely not true," he wrote. "When we have a title to announce, I promise you will hear it from me first." Whatever it winds up being called, the next Transformers opens June 27, 2014. [MichaelBay.com]
Jason Statham plays a tough guy in the movies, but even he knows better than to press his luck by giving away spoilers on Fast & Furious 7.
I'm sworn to secrecy. You know what they're like. Universal will kill me if I say anything. They really will. People think I'm gonna play the bad guy. People think I'm gonna be the villain. People don't really know what's comin', and I think there's something exciting about that. People are just dying to know what extent and what involvement I'm going to have in the movie. I think all good things come to those who wait.
Oh, please. He's obviously playing Khan, right? Find out when Fast & Furious 7 opens July 11, 2014. [EW]
It has scared the bejeezus out of countless people since it was first published in 1986, and you can count Stephen King himself among that number. In a Reddit IAmA session, he confessed that he's too terrified to write a sequel. "I don't think I could bear to deal with Pennywise again. Too scary, even for me," he said.
But King evidently feels a bit braver when it comes to the Overlook Hotel. Watch a trailer for his new book Doctor Sleep, a sequel to The Shining, below.
Doctor Sleep hits shelves September 24. [via Bleeding Cool, Vulture]
The Cars spinoff Planes centers around a cropduster with a fear of heights — which becomes an even bigger problem when he enters an elite around-the-world aerial race. Fortunately, he'll have a few pals to help him along the way. Check 'em out in the character poster below.
Planes lands August 9. [Facebook]
Meanwhile, the new poster for Percy Jackson: Sea of Monsters crowds Percy and all his friends together on a single sheet.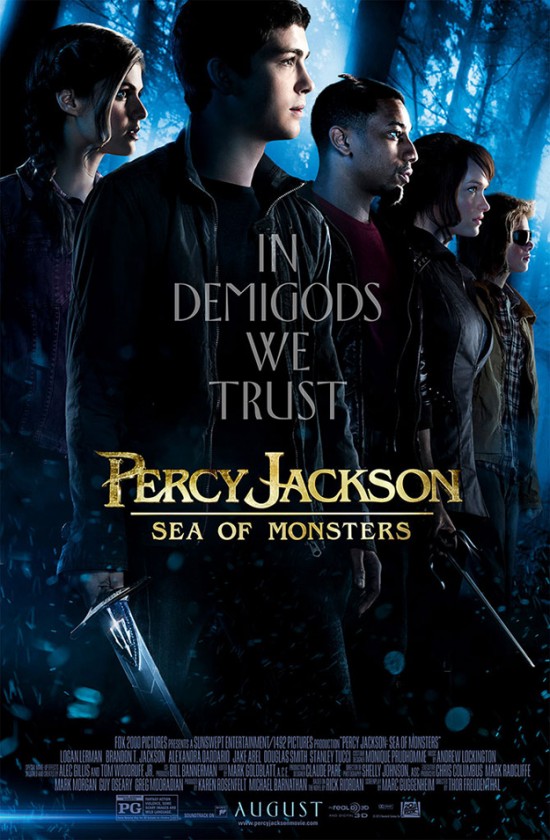 Percy Jackson: Sea of Monsters premieres August 7. [Yahoo]
In contrast, the hero of Riddick will be surrounded by far more foes than allies. Maybe that's why he's chosen to stand all alone on the IMAX poster.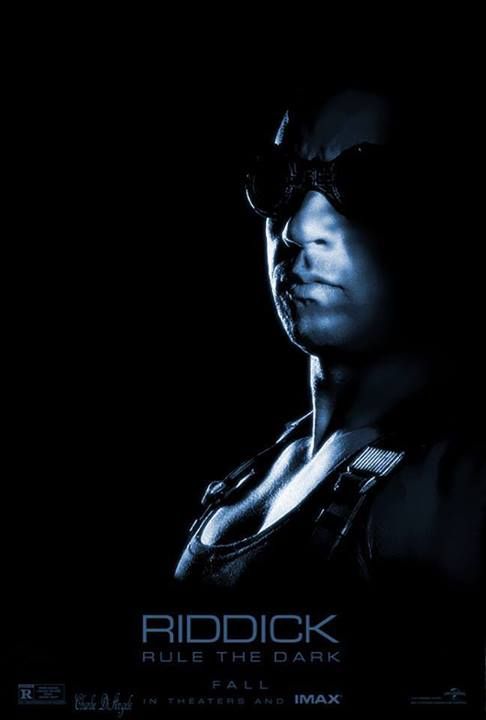 Riddick opens September 6. [Coming Soon]