Sarah Gadon Joins 'The Amazing Spider-Man 2', But Who's She Playing? [UPDATED]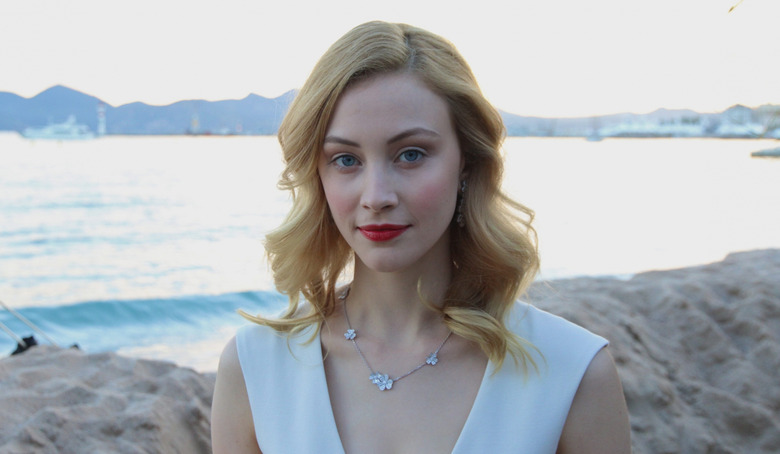 [UPDATE: Sarah Gadon has responded to the MJ rumors on Twitter.
To all those a twitter, I will not be playing MJ in Spider-Man. I have a role in the film, but it is not that one

— Sarah Gadon (@SarahGadon) June 21, 2013
Original story follows.]
The Amazing Spider-Man 2 promises to introduce a whole bunch of classic comic book characters into Marc Webb's Spideyverse — so many of them, in fact, that it made sense when word got around earlier this week that he'd decided to drop Shailene Woodley from the film. Mary Jane Watson may be a major figure in the Spider-Man books, but she wouldn't have had much to do in the movies until The Amazing Spider-Man 3 anyway.
Then we started to hear that Woodley hadn't just been cut from the sequel, but from the entire franchise, and that Mary Jane would be recast for future installments. And not long after that, a story spread that Sarah Gadon had already booked the part. After the jump, we attempt to sort through all this confusion.
Woodley herself was the one to reveal her exit from The Amazing Spider-Man 2 in an interview with EW. "Of course I'm bummed," she said. "But I'm a firm believer in everything happening for a specific reason... based on the proposed plot, I completely understand holding off on introducing [Mary Jane] until the next film."
Initially, we assumed that that meant Woodley would be back on set for The Amazing Spider-Man 3. But not long after, whispers began swirling that she'd "probably" be replaced for any future installments. And lo and behold, ET Canada revealed last night that Gadon had been added to the cast.
Huge news for @sarahgadon – she just confirmed to us that she is joining The Amazing Spider-Man franchise pic.twitter.com/HpRcAMhQGU

— ET Canada (@ETCanada) June 21, 2013
The wording there is kinda vague. Jeff Sneider had already shot down stories of Gadon playing Mary Jane by this point, and as he pointed out after the actress was confirmed for the franchise, Gadon could well have signed on for an entirely different role. For her part, Gadon has yet to comment publicly on the story.
But considering the timing, we can't help but raise an eyebrow. And for what it's worth, at least one outlet has heard from "a source very close to the production" that Gadon is indeed playing Mary Jane. The alleged switch is ostensibly due to Woodley's scheduling issues, but there have been murmurs that the unenthusiastic fan reaction to Woodley's casting as MJ may have been the real culprit. (I dearly hope that last part isn't true.)
Canadian up-and-comer Gadon is perhaps best known in the U.S. for her collaborations with the Cronenbergs. She's starred in David Cronenberg's last two films (A Dangerous Method and Cosmopolis) and is set to appear in his next (Maps to the Stars). She also had a role in Brandon Cronenberg's Antiviral. Outside of that family, she's also attached to star in Universal's Dracula reboot.
If Woodley really has left the franchise — and it's not totally clear right now that she has — that's disappointing news. But I have no doubt she'll do just fine either way. The Descendants turned her into one of the most in-demand young stars working today, and she has another buzzy performance coming up in James Ponsoldt's The Spectacular Now. Plus, she's already the lead of her own potential franchise. She stars as Tris Prior in the dystopian YA adaptation Divergent, due out next spring.