'Museum Hours' Trailer: A Dreamy Film, And A Serene Mental Playground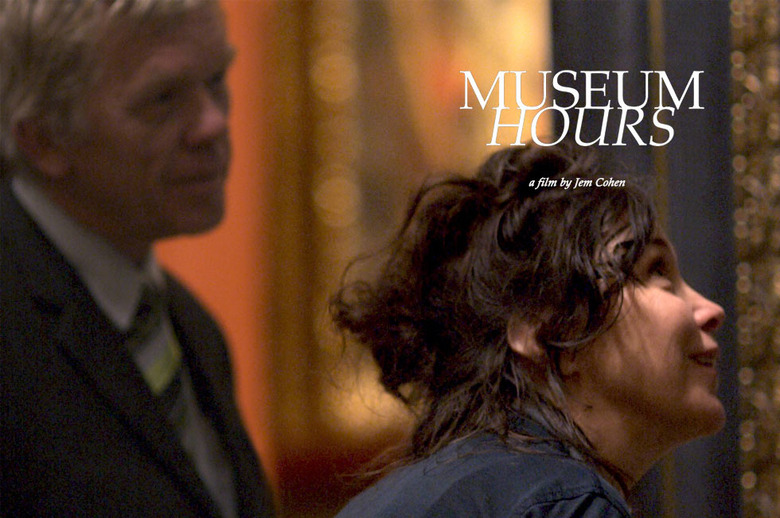 In the quiet, there's an opportunity to direct your attention inward, as well as out to whatever is before you.
Museum Hours is a gorgeous, quiet, and very dreamy film from Jem Cohen. The director might be best known for making films that deal with very loud subjects. He made Instrument, about the band Fugazi, and Building a Broken Mousetrap, which documents the spectacularly long-lived (and simply spectacular) Dutch punk band The Ex.
This trailer for Museum Hours introduces the film explicitly as a shift toward the quiet, as it allows one of the two primary characters (played by Bobby Sommer) to explain how his past life in the music business is now balanced by a job as a museum guard. He assists a woman (Mary Margaret O'Hara) who has come to Vienna because of a family illness, and the two form an unusual friendship. Their story is tender, with a dry humor.
I saw the film at SXSW, and found it to be a pure mental playground. There's a lot in the movie to take in, but it is also a film that builds a space in which your mind can wander. Some might say that a movie that doesn't command your attention from the first to last moment is a failure; I would argue that in a time when everything is competing for attention, a film that lets your mind roam and loop back around to the story is a thing to cherish.
The trailer will probably tell you if this one is for you; check it out below.
Apple has the trailer. Museum Hours opens in New York City today. A further schedule of planned dates is here.
Acclaimed filmmaker Jem Cohen's new feature, Museum Hours, is a mesmerizing tale of two adrift strangers who find refuge in Vienna's grand Kunsthistorisches Art Museum. Johann, a museum guard, spends his days silently observing both the art and the visitors. Anne, suddenly called to Vienna from overseas, has been wandering the city in a state of limbo. A chance meeting sparks a deepening connection that draws them through the halls of the museum and the streets of the city. The exquisitely photographed Museum Hours is an ode to the bonds of friendship, an exploration of an unseen Vienna, and the power of art to both mirror and alter our lives.