Robert Downey Jr. Signs Deal To Appear As Iron Man In 'The Avengers 2' And 'The Avengers 3'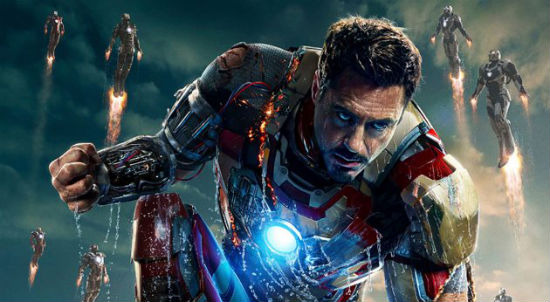 Robert Downey Jr. will be back as Iron Man, but not in an Iron Man movie. The actor, whose lucrative multi-picture contract with Marvel Studios ended with Iron Man 3, has just signed a two picture deal to appear as the character both The Avengers 2 and The Avengers 3. A potential fourth Iron Man film is not part of the deal, which gives us some major hints at where the Marvel Cinematic Universe is going.
Marvel themselves broke the news, which had been a major topic of discussion since before Iron Man 3 came out. Most recently, this exact scenario was the rumor and now it has come true.
So where does Downey's deal leave the Marvel Cinematic Universe? Well we now know a fourth Iron Man film is not a part of Phase Three. The character does, however, survive until at least that time. There's certainly a chance he could cameo somewhere between The Avengers 2 and 3, too. That potential commitment would certainly not be made public.
It also leaves the possible opening for the character to die in The Avengers 3, which would happen in about 2018. Downey himself said he probably only wanted to play the character until he was 50, and that happens in 2015. But apparently, the smaller commitment of not toplining his own sequel made the extension more attractive.
Here's the full press release from Marvel. What are your thoughts?
"I am Iron Man."
Tony Stark's famous closing line to the very first Iron Man film takes on new life today as Marvel is pleased to announce the signing of Robert Downey, Jr. to reprise the role of the "billionaire, genius, playboy, philanthropist."
Under the two-picture agreement, Downey will star as Tony Stark/Iron Man in "Marvel's The Avengers 2" and "Marvel's The Avengers 3." Downey is represented at CAA by Bryan Lourd, Jim Toth and Matt Leaf and by his attorneys Tom Hansen and Stewart Brookman of the firm Hansen Jacobson.
Downey, Jr.'s last two Marvel films, 2012's "Marvel's The Avengers" and this year's "Iron Man 3," rank as two of the top five grossing films of all time, collectively earning over $2.7 billion worldwide to date.
"Marvel's The Avengers 2" is being written and directed by Joss Whedon. Featuring favorites from the first Avengers film and new Marvel characters never before seen on the big screen, "Marvel's The Avengers 2" is slated to begin production in March 2014 and open in theaters May 1, 2015.
Also of note is that last sentence. "New Marvel characters never before seen on the big screen." Quicksilver will have already been seen on the big screen, right? That only leaves Scarlet Witch so expect more soon.