Sequel Bits: 'Riddick', 'Kick-Ass 2', 'Despicable Me 2', 'Star Trek Into Darkness', 'Veronica Mars'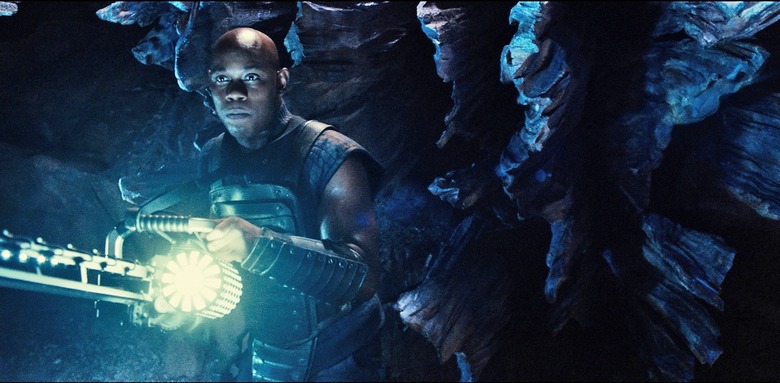 This one's jam-packed with images and video, so I hope you've got a good Internet connection. After the jump:
Veronica Mars' Deputy Leo is returning to Neptune
Dolphin Tale 2 gets a cast and a fall release date
Curse of Chucky will hit this fall; see creepy new pics
Chris Pine gets silly in a Star Trek Into Darkness set video
Vin Diesel talks Riddick's R rating; 15 new stills drop
Kick-Ass 2's UK poster makes a colorful splash
Despicable Me 2 reveals clips, a blimp, and a featurette
New Girl's Max Greenfield is set to reprise his role as Deputy Leo in the Veronica Mars movie sequel, which started shooting this week. "I'm really excited about it," gushed the actor. But he won't be hanging around for long. "I think I'm going there for a day," he said. [THR]
Winter the dolphin will swim into moviegoers' hearts again next fall. Warner Bros. has set a September 19, 2014 release date for Dolphin Tale 2, which reunites the real-life marine mammal with director Charles Martin Smith.
Also set to return for the sequel is most of the original cast, including Harry Connick Jr., Ashley Judd, Morgan Freeman, and Kris Kristofferson. Winter will be joined by another dolphin, a baby named Hope. [Coming Soon]
The original Child's Play struck fear into the hearts of many, but the Good Guys doll looks downright harmless in this new batch of set photos from Curse of Chucky. My favorite is the one of him chatting amiably over coffee with his co-star Fiona Dourif.
Actress Jennifer Tilly recently confirmed a September 24 release date for the direct-to-DVD sequel, although there's word that that may change. The film follows grieving Nica (Dourif), who begins to suspect that the doll Chucky (voiced once again by her dad Brad Dourif) is behind a string of gruesome murders. [Bloody Disgusting]
The plot of Star Trek Into Darkness involved a lot of doom and gloom, but evidently the atmosphere behind the scenes was considerably more lighthearted. Bad Robot has uploaded an adorable video of stars Chris Pine and Zachary Quinto getting a little silly on set. We can't embed it here, but click on the image below to go check it out.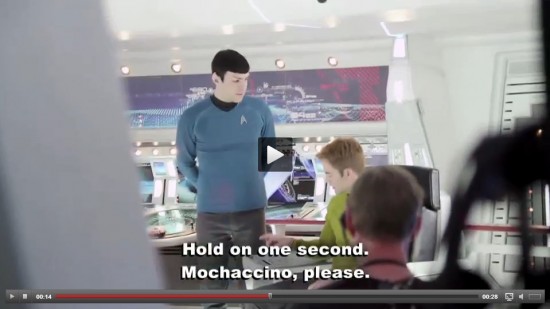 Viewers who thought 2004's Chronicles of Riddick wasn't hard enough were happy to learn that Riddick had received an R rating. But as you'd expect, the studio wasn't quite as thrilled. Vin Diesel explains:
Oh my God, of course they wouldn't [want that], nobody's doing them. You can't count on your hands a bunch of rated-R movies that are getting a lot of play. They're so far and few between. In fact, we were victims of that in going the studio route with "Chronicles of Riddick". Budget went up, and we went into that film we were going in rated-R, and the first thing taken out was rated-R. You want to spend that kind of money, you want to expand the mythology like that, you have to reconfigure the way you're going to produce this movie and make it PG.
But Diesel thought it was important to stick to his guns.
Some people argue, "Hey, there's the 'Dark Knights' that are PG but pushing the R envelope," but it does mean something. It means something in your approach to making a movie. There's something appropriate and liberating and honest and free about going into a picture like this and being able to make it a rated-R picture and not have to comply with an understandable studio mandate of PG filmmaking for the blockbusters in Hollywood.
The result is a movie filled with what the MPAA deems "strong violence, language and some sexual content/nudity." But Little of that sex and violence is on display in these 15 new stills.
Riddick opens September 6. David Twohy directs. Katee Sackhoff, Dave Bautista, Jordi Mollà, Matt Nable, Bokeem Woodbine, Nolan Gerard Funk, Karl Urban, and Noah Danby also star. [HitFix]
Quite a few recent comic book films have eschewed colorful costumes for grittier, more subdued looks. Not so Kick-Ass 2. The four leads (Aaron Taylor-Johnson, Chloe Grace Moretz, Christopher Mintz-Plasse, and Jim Carrey) form half a rainbow on the new UK poster for the movie.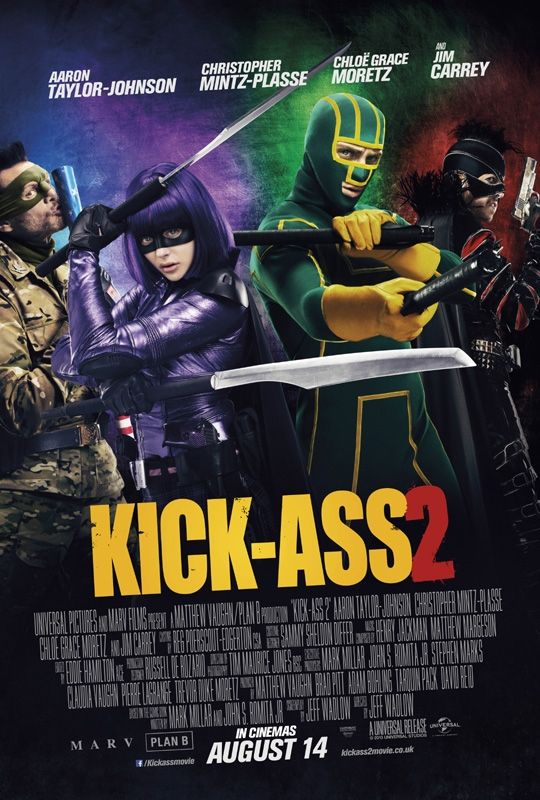 Kick-Ass 2 makes its way to theaters August 16. [Coming Soon]
Speaking of bright, colorful things, Universal is very eager to show off how cute and funny Despicable Me 2 can be. Star Steve Carell explains the plot in this new featurette:
The studio has also uploaded a bunch of playful clips from the film.
Meanwhile, the "Despicablimp" continues to spread minion-style goofiness wherever it goes. The 55-foot-high, 165-foot-long aircraft has been making the rounds since March and was recently spotted over LA.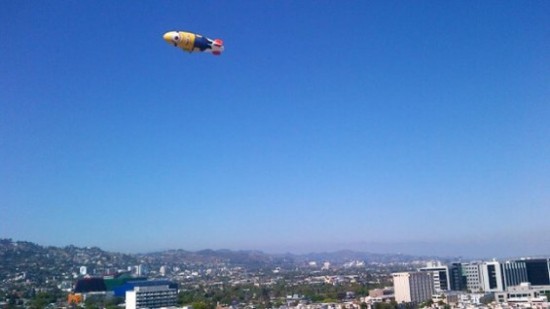 If you haven't already ODed on the adorable, Despicable Me 2 opens July 3. [via io9, THR]